J-Smash recently released a music video for his 2018 single "Never Fall." The song, which features the rapper Emtee, is the second single from the DJ/producer's debut EP Rise of a King. The 18-year-old from the Limpopo province managed to get an impressive lineup of established artists on the project. Alongside Emtee, artists such as Yanga Chief, Big Star, Kimosabe, B3nchMarQ, A-Reece and MarazA all contribute verses and hooks.
J-Smash is a producer and DJ, who is following in the footsteps of a legion of DJs in South Africa and around the world who release music. In his own words: "I'm a mini DJ Khaled."
Below, J-Smash talks to OkayAfrica about how he got into the game, how his EP came together, and the experience of being in studio with Emtee, among other things.
Read: The 30 Best Songs by South African Hip-Hop DJs
Note: This interview has been edited for clarity and length.
---
How did you get to work with such established artists on your debut EP, as a relatively unknown artist?
I just connected with those guys. It all started when I was at home in Limpopo. I tried reaching out because I couldn't work with artists from around where I'm from. So, I was like, 'Okay, cool, if you guys don't want to work with me, let me go somewhere outside. Let me find these guys.' So I went on the internet, linked up with one guy, Tumi Tladi. He led to another guy, and that guy led to another, so that's just how it usually happens. I just found myself surrounded by all these artists, because they like me and my energy, and the sound I was bringing to them.
Who does the production in your music?
Sometimes, I just work together with guys. I just come up with the idea like, 'Okay, guys, let's do this, let's do that.' I actually like having the final say on the product. I like planning everything, like, 'Okay. This is what we're going to do. I need this guy, and that guy on the song.' But everything is up here. I just imagine stuff, like, 'Okay, bro, can you do this on this beat? Can you remove this? Can you put this? Okay, can the hook go like this?' And whatsoever. I'm part of the whole production. Actually, I do what DJ Khaled does, so I'm a mini-DJ Khaled. (Chuckles)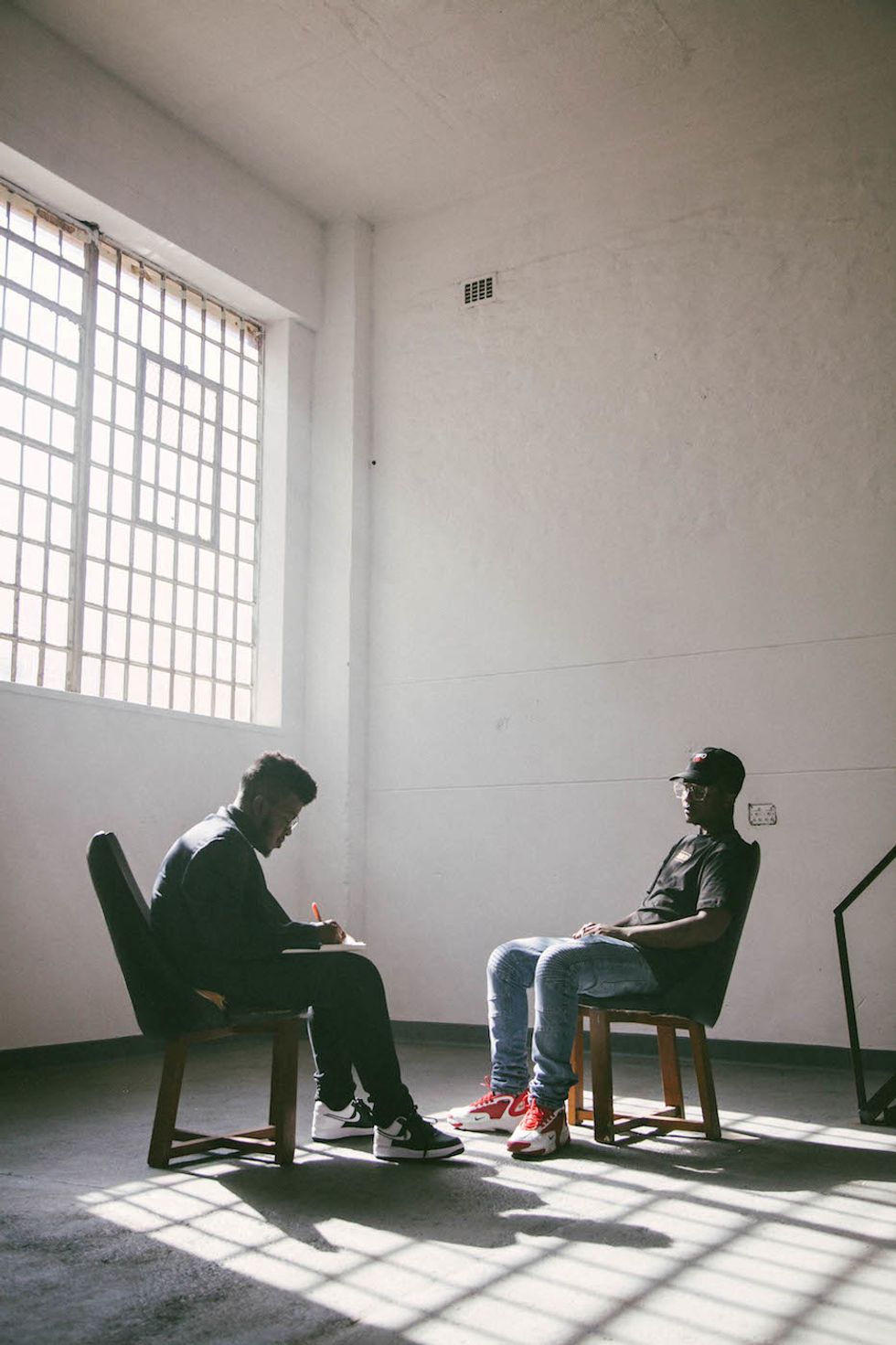 J-Smash and Emtee on the set of the "Never Fall" music video. Photo by Sabelo Mkhabela.
When and how did you get into music?

I don't really know when, but what I know is that I started producing when I was in grade nine or 10. My brother used to play hip-hop. And I just used to be like, 'Whoa! If I could make a beat like that, that would be dope.' And he had Fruity Loops, we used to play around with it, and then eventually I made something from it. And then there was a group called Ghost Gang, they wanted a producer. So I was like, 'Let me take this chance. Let me be a producer, and grow with these guys.'
When did you start coming to Joburg?
I just came last year. But I've been communicating with artists on social media. Sometimes I used to dodge school, take a bus, come here, do my stuff, go back home the following day.
And now you're a full-time musician?
Yes, but I actually want to study sound engineering. I want to expand. Because you do need some sort of education, so it can be more of a profession than just a hobby.
So with Rise of a King, were you together with all the featured artists in studio?
Some of the guys sent their verses. Some I was with them. I used to spend two months working on one song because you have to call this guy like, 'The verse, what's going on?' 'Yo, the hook …?' It was just so hard, but today, we're here.
Have you felt like someone has taken you less seriously or taken advantage of you because you are younger?
At first, it was hard. But eventually, for them to take you seriously, you've gotta pull out that CV ... Like, 'I've worked with these guys.' Then they take you seriously. But now the industry's getting younger, and the industry's starting to realize that we are actually the truth and the voice in terms of the industry. So, now they actually give us the chance because we are basically the industry.
What artist would you say is the one who opened doors for you?
It's Tumi Tladi and Ginger Trill. Those were the people that actually opened the doors. But now it was up to me to take myself to another level, with just those two artists that I had. The song ("I Don't See You Niggas") that actually made some kind of moves for me, I had to use that to get to the Emtees. From then on, I just had to build to get to where I am today. Because it's not about you having the biggest feature, you also have to have a plan. Working with those guys taught me a lot. Like, 'Okay, you have to have a structure. You have to have plans.' It actually opened my mind. When I was that side, I didn't know a lot of things. But now I know, 'Oh, you have to register your songs.' 'You have to get PR.' 'You gotta plug your music, you gotta do this …' It actually helped me a lot. Rather than just me reaching out to a big feature, then when I get it, I don't even know what to do with it, and it doesn't work.
J-Smash FT Emtee - Never Fallwww.youtube.com
How was the experience of being in studio with Emtee working on "Never Fall"?

It was crazy! It was such an amazing experience because he's just a music genius, honestly speaking. All I had to do was to just pick the right beat. I had to choose over 50 beats for me to get the one that I thought was like, 'This is the one for Emtee.' It was produced by a guy called Street Karnival. I had to picture the whole song. The whole structure. I had to go through a lot until I got the beat that made me feel like, 'This is the one.' When I got there, I played him a bunch of beats and he picked that one. He came up with the hook, did the verses, and that was the whole song done on the spot. And I saw that Emtee actually really fucks with my energy and what I'm doing. It was such a great experience to see such a big artist giving himself time to come to studio, chill with me, do the whole song. I mean, that guy's a multi award winning artist. And him giving his time to you and being like, 'Okay, kid, I believe in you and what you're doing. Let's do this,' it was so humbling to me, and I appreciated that.
Please tell us about the foundation that you just started.
I was just sitting chilling and then I just thought about a foundation, and I thought it doesn't take much for one to help people. I want to inspire young people like myself, people that are young, that you don't have to be rich or you don't have to be at a certain age for you to start a foundation. It's just all about how you can give back to people, regardless of your age. You can still give back to the people. Giving back doesn't even take anything from your own dreams. So that's the idea that I had. And I love people, I love my craft, and I love everything. And I was like, 'Yoh, you know what, I'm going to have a foundation.' And then from there on, that's how it all started.
Stream Rise of a King below.