We've got to talk about Janelle Monáe.
Over the past half decade, she's embarked on a profound journey that's solidified her as an artist, creator and activist who isn't afraid to shoot down the stars—or shoot with them.
After having roles in Hidden Figures and Moonlight—two Oscar nominated movies where one won an Oscar, a stellar speech at the Grammy's and a stunning presence at the Black Panther red carpet, she's ready to grace us with "Dirty Computer," the latest musical venture in her Afrofuturistic saga.
To whet our appetites before the album, which is set to release on April 27, Janelle dropped not one but two music videos yesterday. Both are distinctly entertaining: one is a black, intersectional feminist anthem and the other a psychedelic soundtrack of sexual fluidity.
Watch both, then read some of the highlights we gathered from the hypnotizing visuals and powerful wordplay.
---
"Django Jane"
A bossy, sharp-edged track that proves Janelle is here to stay, and slay.
Janelle serves "Rhythm Nation" vibes with African Accents
Janelle sits atop a throne reminiscent of West African royalty, surrounded by black women in studded leather jackets and shades. Atop her and her crew's heads are kufi caps—similar to the one she wore with her asymmetrical blue gown at the Black Panther premiere. She and her crew share drinks at a Moroccan-inspired dinner table. It's a marriage of African and African American—shared blackness interpreted in a rap song.
We gon' start a motherfuckin' pussy riot/Or we gon' have to put 'em on a pussy diet
Janelle shouts out Pussy Riot, the Russian punk rock group who were incarcerated for protesting and fighting for their rights. This line also references comments she made in Marie Claire last year suggesting that we should go on a sex strike until men take women's rights seriously, which caused a stir with many, but she's since addressed. By revisiting this, Monáe either wanted to show off her lyrical skills or implant the idea in our minds again.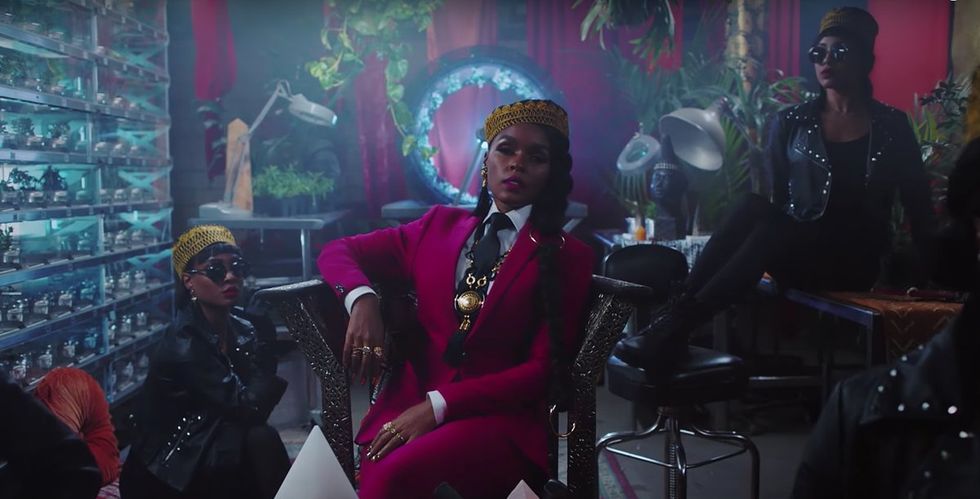 Video still via YouTube.
We ain't hidden no more, Moonlit nigga, lit nigga
Preceding this line, Janelle shouts out her Mom who cleaned hotels and her father who drove for a living. She's acknowledging that humble, working class backgrounds is something to be proud of. By adding Hidden Figures and Moonlight to this line, she says that their hard work and love is acknowledged, and that she made it.
They been trying hard just to make us all vanish/I suggest they put a flag on a whole nother planet
White male supremacy tries hard to oppress and suppress anyone "other:" Black people, people of color, women, LGBTQ and more. They might as well find a new planet to roam on—'cause there's too much of us to ever successfully obliterate.
Jane Bond, never Jane Doe/And I Django, never Sambo
Self explanatory lyrics, but still fire. Jane (short for Janelle) identifies with James Bond—not Jane Doe, the default name given to unidentified women. Basically, she's not basic. She also aligns herself with Django, Quentin Tarantino's black hero who escaped slavery, and not Sambo, the racial term used to degrade black people.
Nigga move back, take a seat, you were not involved/And hit the mute button/Let the vagina have a monologue
It's time for women to hold the mic, to share our opinions and experiences and to take the lead on social change. Men need to make room for us.
•
"Make Me Feel"
The ecstatic, vibrant video shows Janelle in a funkadelic, multi-gendered playground of love and sensuality.
Prince

The bouncy beat is a sample of Prince's "Kiss." Janelle and Prince have made music together—their duet "Givin 'Em What They Love" is a gem—so her reinterpretation of "Kiss" feels natural. Also—purple reigns fiercely throughout the whole video.
Black Mirror's "San Junipero"
This may be just 80s culture in general, but the club scenes—equipped with an arcade and flashing neon colors—Janelle and Tessa Thompson's fantastic outfits, and them as leading ladies of the video, reminded me a lot of the widely adored Black Mirror episode,"San Junipero."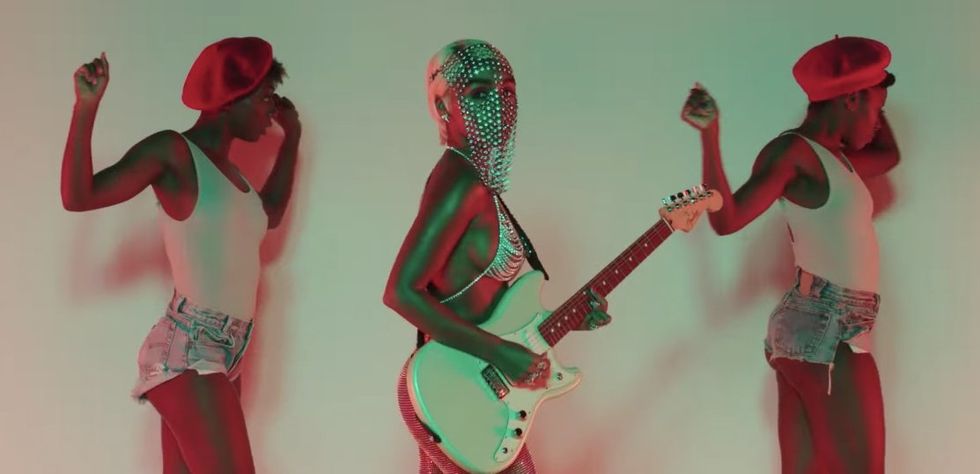 Video still via YouTube.
Yeah, baby, don't make me spell it out for you/You keep on asking me the same questions (why?)/And second guessing all my intentions
Janelle may be alluding to the media continually questioning her sexuality. Due to her androgynous style and ambiguous lyrics, many have wondered if she likes men or women—which really is none of our business, but society likes knowing everything about celebrities.
Janelle's always dodged the question whenever an interviewer asks it, but this video shows her engaging with both women and men—expressing that maybe she's bisexual, queer, sexually fluid, or just wants to play with us.
"It's like I'm powerful with a little bit of tender/An emotional, sexual bender"
An awesome hook that exudes unapologetic sexual fluidity.