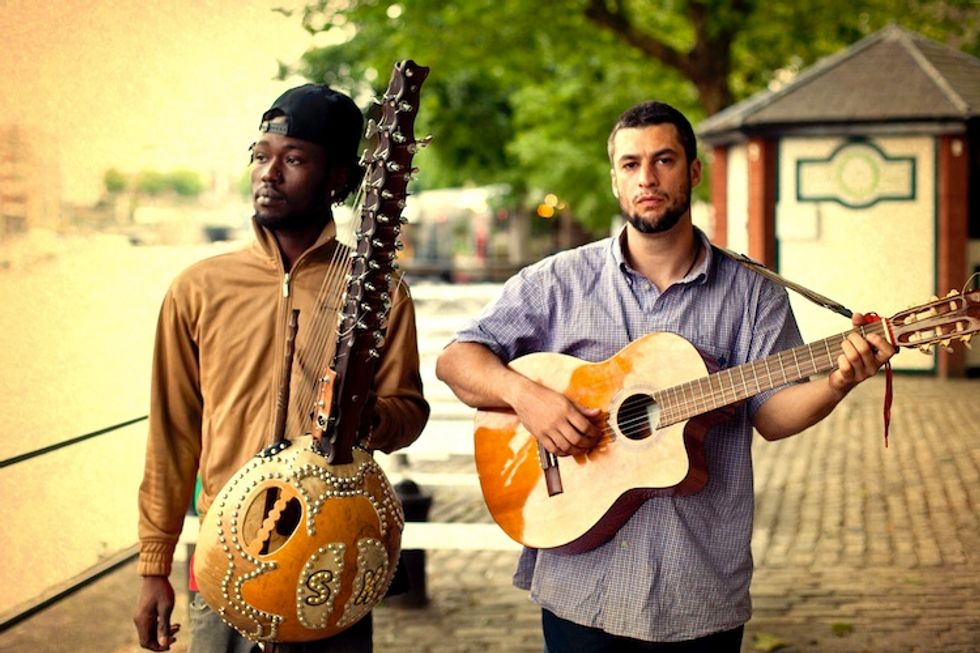 Watch singer Joe Driscoll and Sekou Kouyate's video for 'Faya,' the first track from their upcoming afro-blues hip hop infused album.
---
New York/England-based rapper/beatboxer/singer-songwriter Joe Driscoll and Guinea's Kora extraordinaire Sekou Kouyate have been making music together ever since they met way back in 2010 at the Nuit Metis festival in Marseille. Since then the duo have taken their fresh afro-blues infused hip-hop folk to audiences worldwide– and, word is out that they'll be joining the likes of Jupiter & Okwess International and The Nile Project at Zanzibar's Sautiza Busara Festival.
The duo's full-length debut Faya is set to drop February 18th. The video for the album's first taste features a hooded Driscoll and a candle-lit Kouyate spreading their moody atmospheric vibes across Bristol city. Kouyate's spellbinding kora provides a perfectly unexpected melodic undertone to Driscoll's dexterous flow. Watch the video and grab a download of "Faya" below. Look out for Joe Driscoll & Sekou Kouyate's debut February 18th viaCumbancha Discovery.