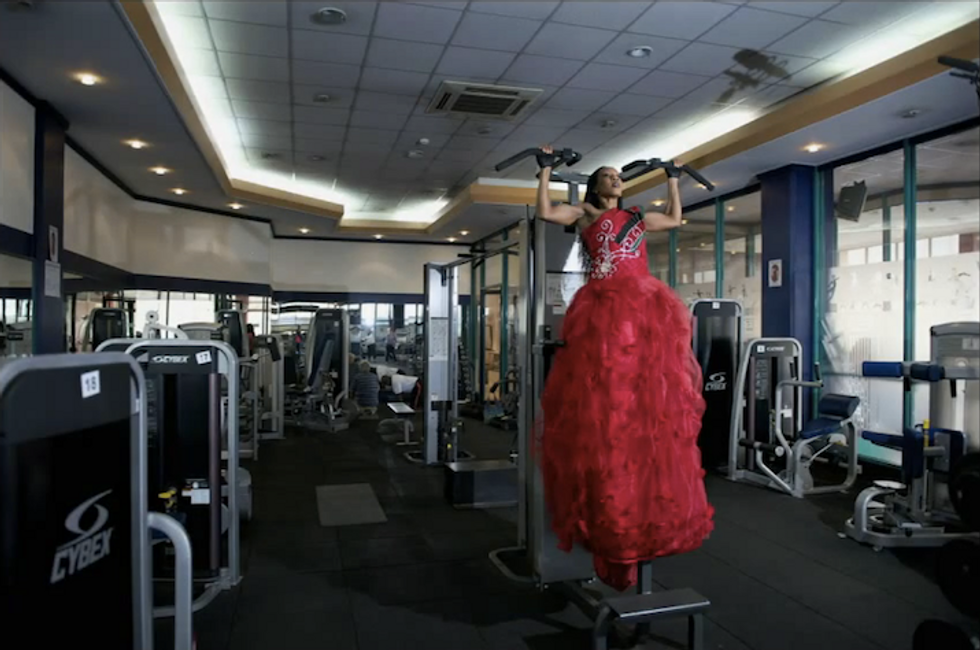 ---
*Barbara Minishi, from the Red Dress series
It's been 10 years since Kenyan female photographer Barbara Minishi found her voice in photography.  At first, the industry wouldn't make room for her. Deciding to forge her own niche in the market, today she is one of Kenya's most recognisable photographers. Minishi is even the subject of a recent episode on the Al Jazeera English series, Artscape: A new African Photography about artists breaking stereotypes. Between photo shoots, kickboxing classes and travel, Okayafrica learns the vision behind Minishi's evocative images.
OKA: Your being called the 'New African photographer' suggests that there is a new guard at the helm of African photography. Do you agree that the cultural centre in photography is shifting?  
BM: I would not call it a 'new' guard per se as I feel that it has always been there. It's just that now there is more of an active creative 'freedom' to tell our own stories our own way and also due to digital democracy more people are aware, inspired, and dedicated to getting their vision out in the open.
OKA: Who in Kenya would you say has paved the way for you as a photographer?
BM: I would not say anyone paved the way for me. When I started out in 2003 there was no one Kenyan photographer who did what I wanted to do and from whom I could learn. Nonetheless, I do credit people who were not photographers who had faith in me and were willing to give me a chance when I started out. I would mostly credit Carol Wahome who went so far as even lending me her camera to use on shoots she styled. She gave me my first chance to do a shoot for the weekend supplement of a newspaper and it just grew from then on. I had an individual vision and there was no one around me that did it. I feel I was lucky to discover that I connected to photography as a way that I could have a voice, and I was stubborn enough to follow it through on my own terms. I think my naiveté has worked in my favour.
OKA: The first episode of Artscape: The New African photography opens with Emeka Okereke's observation that "a photograph is a window and not a view."  Does this statement resonate with you, if it does, how so?
BM: I do appreciate such statements and observations however I tend to not to get caught up in definitions and analysis. It is quite interesting how an artist can say or create something that can be translated in so many ways and resonate with people on different levels.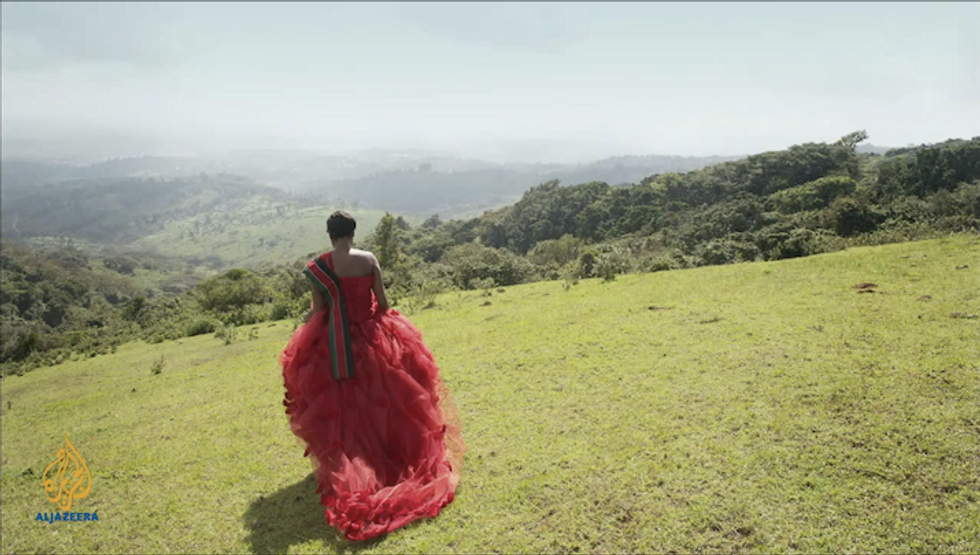 *Barbara Minishi, from the Red Dress series
OKA: What was your motivation and goal for participating in the film and would you say the documentary was able to accomplish that goal?
BM: I approach my work with honesty and integrity. My initial conversation with Al Jazeera was based on this foundation as they were curious about my work and direction. There was no motivation or concrete goal to make a point with the documentary.
OKA: The question of how Africa is represented in Western media has been topical for a long time now.  How important was representation to you when you started out as a photojournalist?
BM: Yes, lots has been said and each viewpoint has its weight and validity, however sometimes I feel we get stuck in discussing and analysing viewpoints that we forget that life is going on. I would rather shoot more quality photographs than talk about the lopsided view. I consider myself a creative who happens to currently use the medium of photography. I would not categorize myself as a photojournalist. I create what I want to see. Again, definitions and analysis tend to often disinterest me when used too much.
OKA: Generally do you see an improvement in the way Africans are portrayed in Western media?
BM: When I started out representation was important to me. It was odd seeing a plethora of just news or human disaster-type images. The only books I saw about Kenya were on landscape and exotic tribal people. I felt there was more that could have been portrayed. It's no wonder my first story was on contemporary dance. Looking back, it's not that I actively set out to go against this grain; it was just me doing what I was attracted to. Please note, I do stress the importance of news and disaster images and their place in our society however it was odd that those were the primary images in focus and while I understand and applaud their significance, Africa is much, much broader than that.
I am attracted to beauty, culture and vibrancy of the human spirit. If something attracts you and resonates with your soul, I am a firm believer that you'll do it. That is why some photographers specialize in the things they do be it war, documentary, art etc. There is a niche for anyone and everyone to show their story and its wonderful how more and more image makers and creators are following this. Africa has a voice and it is great that individuals are doing their bit to contribute to this grand, dynamic visual landscape. Yes, there are daily pertinent issues, at the same time there is daily life with hope, love and inspiration. They are all vital. They co-exist and we can focus on each of them, positive and negative.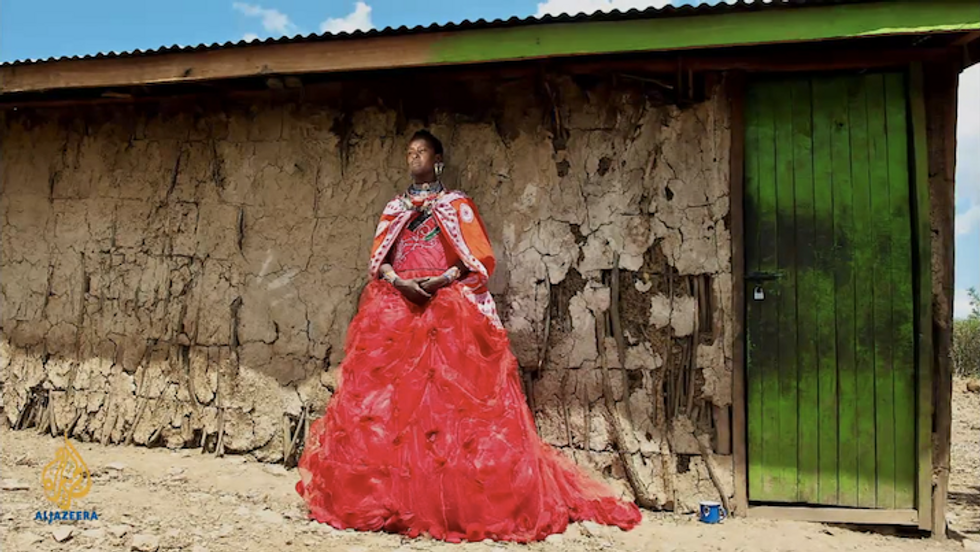 *Barbara Minishi, from the Red Dress series
OKA: What can we expect from you going forward, anything interesting in the pipeline?
BM: Ha! I have an inspiration book started in 2004 for project ideas. Really, it amazes me what my mind picks on to do depending on the phase of my life and my environment. I am a student of life following the syllabus of photography, however the exact lesson plan is never quite set in stone. I do know that I'm at a point where world travel is an important necessity to me and something seems to be brewing from that. I read a lovely quote by Henry Rollins that said, "A great way to learn about your country is to leave it." I am finding that to be true. Not just in terms of learning about my country however, also about learning about other cultures, getting inspired and getting lost and found in places totally out of my comfort zone.
OKA: What do you hope people will take from the Al Jazeera documentary?
BM: Hmmmm, [that is] a tricky question as I can't speak for others…  Nonetheless, in general- I would hope it would resonate with anyone struggling with following their heart, to realise that they can do whatever they want in terms of a birthing and growing their creative life. I realized I loved photography and chose to do it despite opposition; never having gone to school to learn photography and with no resources at all. Every day was a challenge and a blessing and it still is. I am doing what I love and that's how I feel I am of service. I know I still have a long way to go with developing my voice, however this journey is one I am having fun with and learning from daily.
by Okayafrica Contributor Unathi L. Sondiyazi