Emotional weight is a resonant quality in Kizz Daniel's music.
The Nigerian artist began creating his fourth studio album, Maverick, only three months ago at his Lagos residence, where he invited producers and artists. "We had a different body of work, scheduled to be dropped this year, titled Color of Happiness," Kizz Daniel reveals to OkayAfrica some days ago. "So we decided to hold off on that due to some in-house reasons, and we immediately decided to make another body of work."
As its title implies, Maverick sees Kizz Daniel creating on his own terms. In it he links introspective cuts about family, life, and loss with his established mastery of afro-inspired bops. "Basically, it's talking about my journey," he says. "A lot of things have happened in past years. It's been three years since I dropped my last body of work and obviously I have a lot more things to say now."
If listeners were in doubt about this primary motivation, the artist born Oluwatobilola Daniel Anidugbe makes it clear from the album's dawn. "Red & Green" describes the ups-and-downs of existence, framed within folk melodies. "When I red dem japa, when I green all of them come for their hamper," he sings, holding people accountable to their actions, exuding signature wit and candor.
---
Kizz Daniel - Red & Green (Official Visualizer)www.youtube.com
That atmosphere continues with "My G," the second track on the album. Kizz Daniel hits back at critics, essentially proving why his career rests in his own hands. "Ko kan aye, what I do with my life/ If I broke, I go contain am," he sings with confident revelry. Although the album generally covers the vast terrain of pop hit songs—six previously released songs appear here—there are moments of stark vulnerability, doused in the stirring vocal style Kizz has mastered over the years. "Feran You Two" features his two sons Jalil and Jelani, its poignant quality supplied by Kizz's vow to protect them amidst the reverberating choir voices.
"Maverick is like a sneak peek into my life for the past three years," he explains the process behind his albums. "I approach each project differently. I'm not trying to approach it because I'm trying to make a point. No, I'm not trying to prove anything. For every album, I have a strategy; there's different approaches to it."
For this one, the sonic vision is simple: imbibing personal and communal themes while furthering a pan-African sonic base. From Nomcebo Zikode, the South African singer behind the uber-hit "Jerusalema," to Ghanaian-British rapper Not3s, and a talented cast of Nigerian acts which include Yemi Alade, Chike, Young Jonn and Johnny Drille, Kizz Daniel sought artists that would give him "what [he] wanted." It's not markedly different from what he's done with collaborations on his previous projects, as he often finds interactive points within the sprawling genres that's described as Afrobeats.
"You can't disregard the contribution of the fans, the people supporting and consuming your music. Without them, it's not going off," he says with a light chuckle. I had asked about what it feels to have seen records like "Buga" and "Cough" become popular across continents, uniting widespread demographics through sound. "All thanks to the fans for making our little effort in the studio seem pretty bigger and alive out there."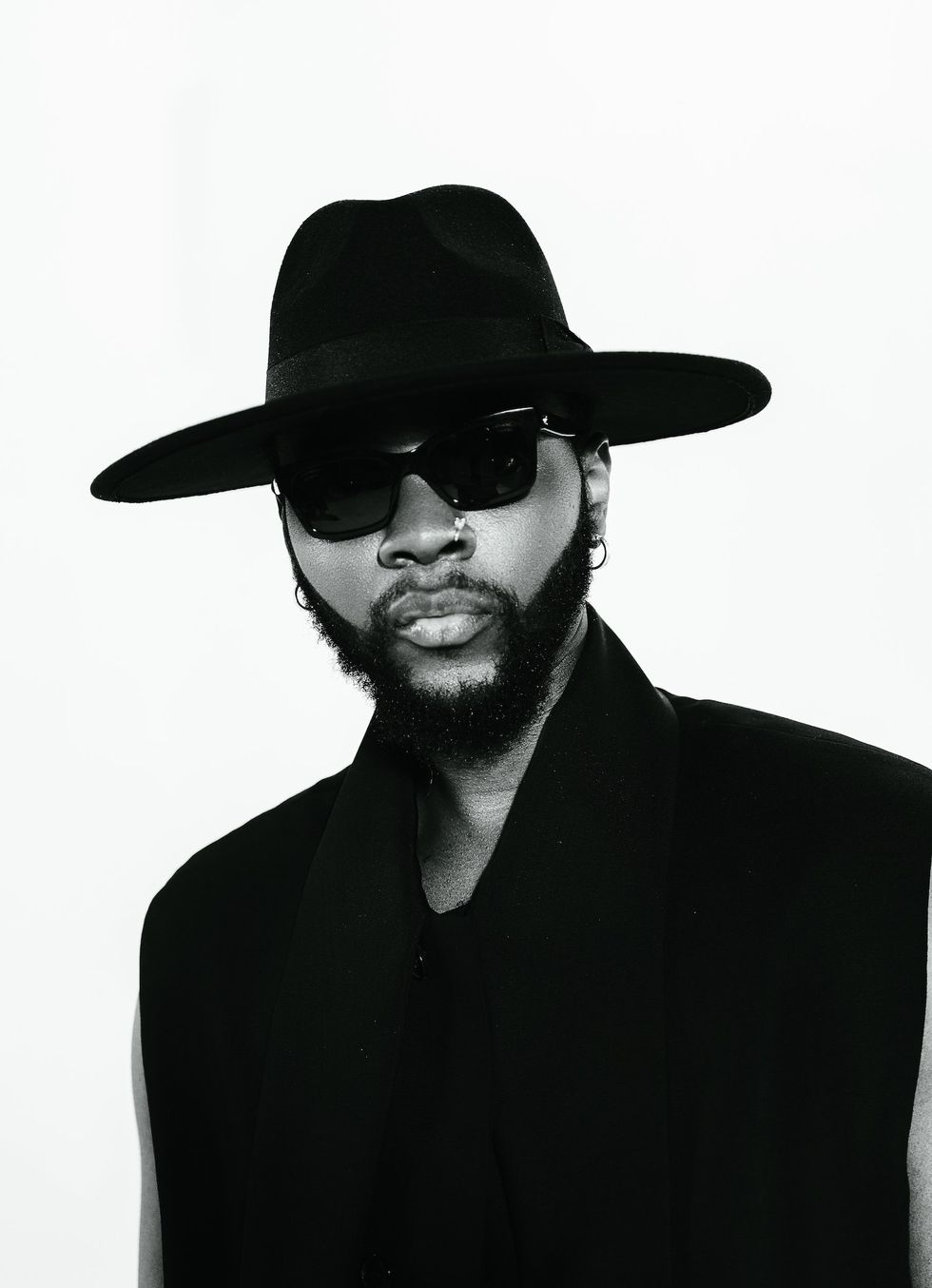 Kizz Daniel.Photo: Somi Daniel.
Kizz Daniel was born and grew up in Abeokuta, a modest town on the outskirts of Ogun state in southwestern Nigeria. The town's cultural vivacity is reflected in mediums like film, music, and festivals, while its very name translates into "the city under a rock," a reference to the many rocks surrounding the city, historically important as they provided cover from armed invaders during wars.
Likewise, the artistry of Kizz Daniel was formed by the rocks of musical legacy. He must have listened to the live-centric genres of Fuji, Apala and Juju, which traditionally evolved from Yoruba-speaking societies in Nigeria. With expanding consciousness as an artist, his grasp on contemporary sound was revealed by artists like 2Baba, formerly known as 2Face Idibia, the Plantashun Boyz crew which he belonged to, which also featured Faze and Blackface; the street-influenced Danfo Drivers and African China. From the West, the bluesy flamboyance of artists like Lionel Richie and Michael Jackson were also some important influences.
"For me, the way I consume music, it's not necessarily about the person singing," he explains. "Sometimes most music that I consume, I don't even know the name of the artist. I fall in love with melodies and all these things... I suck at remembering artists' names—if I hear something nice, I Shazam it, and add it to my playlist. That's how I've been since even before I entered the music business."
He mimes the chorus of 2Baba's "True Love," making this one point: these were the sounds of the era. You heard it everywhere, "on the street, in homes," he recalls. Considering that music, and art in general, sets off a chain of influences, it's no surprise Kizz Daniel has reached similar ubiquity with his music. 2016's debut album New Era had everything going for it including its timing, which coincided with a sonic shift in Nigerian pop, the boyish aura of a younger Kizz, and the promotional acuity of his then record label G-Worldwide, which he would fight a prolonged legal battle against before he broke out to form his own outfit, known as Flyboy Incorporation.
Kizz Daniel, Johnny Drille - Feran Mi (Official Visualizer)www.youtube.com
These factors were however all reliant on the distinct talent of Kizz Daniel. Records like "Jombo" and "Laye" retain an urban Highlife core, infusing saccharine melodies into the bouncy beats of DJ Coublon, who produced the majority of the album. "Upon Me" was a rapturous depiction of Nigerian Pop, coasting on a narrative clarity that was one of the album's biggest strengths. "Sin City" and "Good Time" remain Kizz Daniel classics, holding up his singular position at the zenith of afropop.
No Bad Songz and King of Love followed in 2018 and 2020 respectively, solidifying Kizz's status as an album artist. Offering distinct visions, both albums didn't have strong narrative concepts, but the songs were too good to ignore. While the former was didactic in scope with songs which colorfully repurposed Nigerian pidgin (some striking titles are "Oyibe," "Poko" and "Ikwe"), the latter reached a necessary refinement, blending Kizz's smooth husk with amorphous sensibilities, so the project seems like a carousel ride.
The 2021 EP Barnabas is perhaps his most reserved project yet, featuring a cohesive core that's amplified by its economical seven songs. "Pour Me Water" and "Oshe" were some of its big records, with the latter featuring the fine progression of its chorus: "But we go trouble their timeline, give them a reason to love/ Chop all their megabite," he sings. A record away, there's "Eh God (Barnabas)", whose "I no dey follow Pastor dey beef Imam, father na father" is one of the most religiously-aware lyrics to emerge from Nigeria, a marker of Kizz Daniel's almost unparalleled grasp on the realities of his people, a champion of narratives previously underexplored.
Kizz Daniel - Oshe (Official Video) ft. The Cavemen.youtu.be
I had to ask Kizz Daniel about his technical preferences. Which section of a song, for instance, does he consider the most important? Is it the revelatory zest of an opening line, is it the catchy hook, or the encompassing closing verse? None of those, he says. "The most important part of a song," he affirms, "is the artist. Because everything is in the hands of the artist. The way music is now, the weirdest thing can work. There's no formula to it. It's about what do you want to do? How well can you be relatable?"
He explains further. "The people want to consume music that connects to them, whether through dance, or how they're feeling at that particular moment," he says. He makes his point singing the chorus of Libianca's "People"—"I've been drinking more alcohol for the past five days, did you check on me?"—saying that it was "all she needed to say. It's not like the rest of the song is not beautiful, but that line alone got me".
The next minute is spent expanding on the idea of people checking up on you, and not just assuming one's alright because they're a celebrity. "We all have a lot of things that's bothering us that we're scared to share with people, because we're afraid of being judged," he says. He seems to say that perspective is king, and what is a Maverick if not the artistic refusal of anyone else's philosophy? "Be real, and that's when the real music will come out," he says now. "You don't have to have Beyonce's voice or Jay-Z's swag — as long as you connect with people, you're good."
Our conversation winds up with the discussion of Afrobeats, and what the movement is doing on a global scale. As one of its front runners, the perspective of Kizz Daniel is surely important in parsing the conversations surrounding it. "I think I saw something, the Grammys incorporating new African categories—that's a big win," he says. "We're getting somewhere; I think that's obvious."