---
Kudzanai Chiurai. Untitled X, 2011. (Courtesy of Goodman Gallery)
Kudzanai Chiurai creates inflammatory portrayals of African leaders. His new photo series, Selections From Revelations, ends January 17 at the Museum of Contemporary African Diaspora Arts (MoCADA) in Brooklyn.
Kundanzai Chiurai is a Johannesburg-based Zimbabwean artist living in exile. Trained as a painter in South Africa, Chiurai was the first black student to graduate with a bachelor's degree in fine arts from the University of Pretoria.
Chiurai began as a landscape painter but during Zimbabwe's 2009 elections his work became increasingly political. A stencil image he made depicting President Robert Mugabe in flames with horns on his head prompted threats of arrest and he fled the country.
Despite his exile, he kept doing political art. His outdoor murals depicting the Zimbabwean elections and the xenophobic attacks that followed in South Africa were featured in a 2011 exhibition at The Museum of Modern Art in New York titled Impressions from South Africa, 1965 to Now.
Starting this month, MoCADA presents Selections From Revelations, Chiurai's photo series documenting and satirizing the rise of a fictitious African leader. In the images, Chiurai creates constructed environments reflecting Western imaginings of contemporary African politics. His dramatic photographs are laden with capitalist and post-colonial signifiers like oil tins, discarded tires and corporate branding.
According to the MOCADA website,"Chirurai's chaotic compositions result in flattened picture planes which distort the viewer's depth perception, a visual effect that mirrors the monolithic and reductive representations of the continent as perpetuated in global mainstream news media."
'Selections From Revelations' runs October 17, 2015 through January 17, 2016, at MoCADA in Brooklyn, NY. Find out more about the show via MoCADA.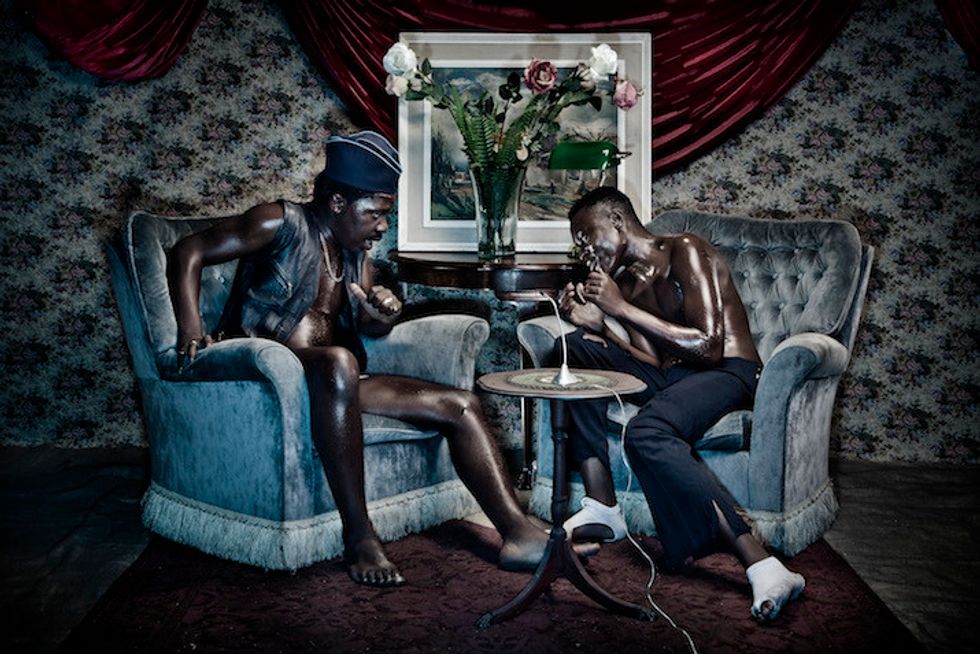 Kudzanai Chiurai. Revelations XI, 2011. (Courtesy of Goodman Gallery)
Kudzanai Chiurai. Untitled VIII, 2011. (Courtesy of Goodman Gallery)
Kudzanai Chiurai. Revelations VI, 2011. (Courtesy of Goodman Gallery)
Kudzanai Chiurai. Revelations I, 2011. (Courtesy of Goodman Gallery)
Kudzanai Chiurai. Revelations IV, 2011. (Courtesy of Goodman Gallery)