London's cultural hub October Gallery brings to the masses the Democratic Republic of Congo's promising, young artist Eddy Kamuanga Ilunga's first solo United Kingdom exhibition, "Eddy Kamuanga Ilunga."
---
The energetic works of the 25-year-old creative and founder of dynamic Congolese art collective 'M'Pongo juxtapose modern and traditional aesthetics and pay homage to Mangbetu people, known for their elongated heads, musicality (they invented the Mangbetu harp and guitar) and artistry. Ilunga centers his series, on display from June 30 to July 30, on the precarious state of the clan of the Orientale Province. Commenting on the threat modernization poses on the continued existence of the warriors' culture, the Kinshasa-born artist's oil-acrylic paintings reference the Mangbetu's colorful textiles and cultural symbols as well as one of the DRC's most valued natural resources coltan—used to power the world's computer chips and mobile phones—which compose his subject's ebony skin.
"His paintings possess a monumental quality that is both heroic and elegiac with a striking and sophisticated interplay of intensity and emptiness, two and three dimensions, and Congolese pattern painted as European drapery," the October Gallery's press release states.
Eddy Kamuanga Ilunga, Reconnaissance, 2016.
Courtesy of October Gallery.

This is Ilunga's first exhibition at the October Gallery and continues the excitement building around the Kinshasa Academy of Arts-educated visual artist since presenting his works at New York's Armory Show in March and at  London's 1:54 Contemporary African Art Fair in 2015.
If you find yourself in London Saturday, July 2, be sure to reserve your spot here for Ilunga's conversation with independent curator Gabriela Salgado about his new body of work.
Find a sampling of his work below: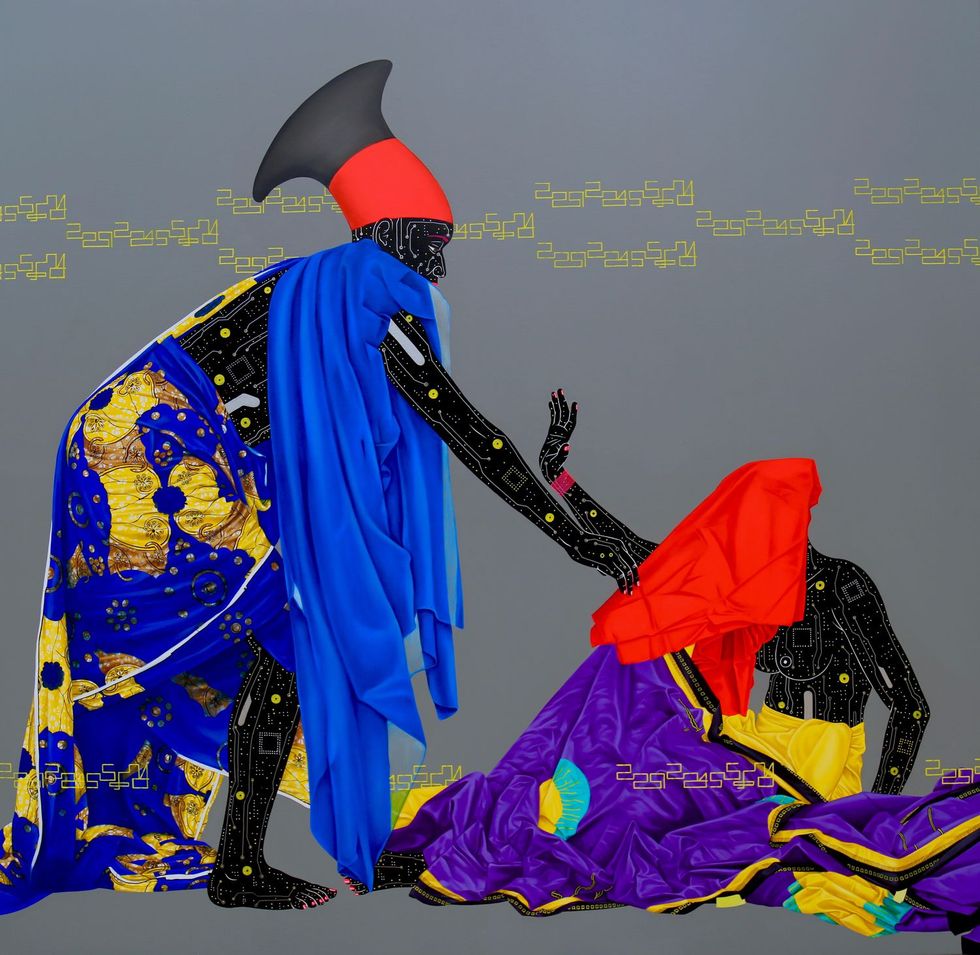 Eddy Kamuanga Ilunga, False memories, 2016. Courtesy of October Gallery.
Eddy Kamuanga Ilunga, Identity Victim, 2016. Courtesy of October Gallery.
Eddy Kamuanga Ilunga, Oubliez le passé et vous perdez les deux yeux, 2016.
Courtesy of October Gallery.