MacDella Cooper is one of 20 candidates in Liberia's presidential run and the only female vying to succeed President Ellen Johnson-Sirleaf whose mandate expires in 2017.
At the height of Liberia's 14-year civil war, Cooper fled to neighboring Ivory Coast before relocating to the U.S., where her mother and siblings lived. There, the middle-class world she inhabited in Liberia was traded for a two-bedroom apartment in a housing project, food stamps and government aid. Determined to overcome the barriers she encountered as an immigrant, Cooper turned her focus to education, graduating high school in the top one percent and winning a full scholarship to college.
In 2004, the fashion model turned fashion coordinator founded the MacDella Cooper Foundation (MCF), a not-for-profit organization dedicated to educating abandoned children and orphans in Liberia. The foundation would bring the mother of three home to Liberia and eventually give her impetus to run for president.
The 40-year-old, who has never held any political office, says she's not running to ensure gender balance at the polls but to lead Liberia from where President Johnson-Sirleaf leaves it. If she wins, Cooper would be Liberia's second female president and fourth in Africa.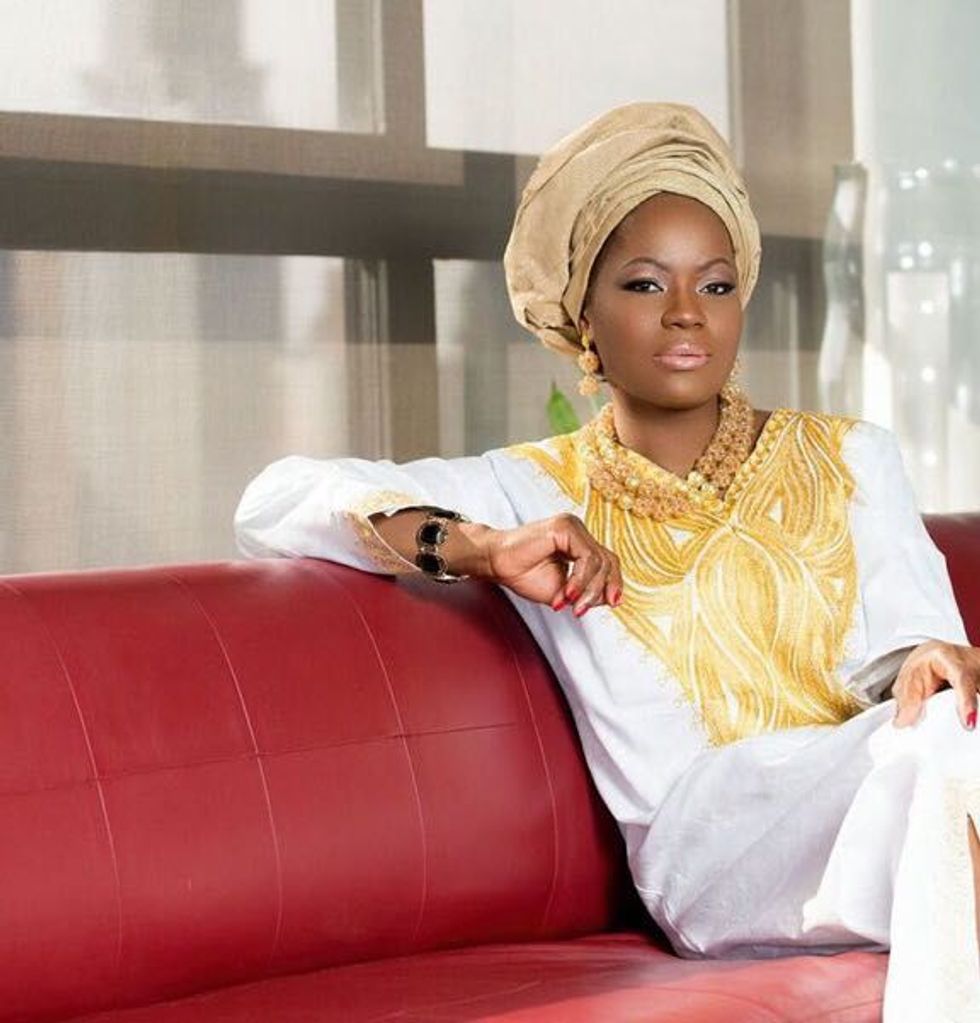 Photo courtesy of MacDella Cooper.
This interview has been condensed and edited for clarity. 
What motivated you to run for president?
Liberians endured an unthinkable and possibly unspeakable atrocities during the civil war. People were killed, including my father and many of my close relatives. My two older siblings and I, all teenagers, ended up in a refugee camp in Ivory Coast. I received clearance from the U.S. Government, after living two and a half years in Ivory Coast, to join my mother and siblings in Newark, New Jersey.
I received a full academic scholarship to the College of New Jersey, and after graduating I joined the corporate team at Ralph Lauren. It was there that I fostered and built global collections that help me found the MacDella Cooper Foundation (MCF).
Through MCF, I maintained a direct link with Liberia, providing relief materials and basic amenities to women and children. Years of running my foundation gave me unparalleled experiences and motivated me to do more for my country. My commitment to Liberia is founded on the moral imperative to improve the quality of life for all Liberians.
You fled Liberia during the civil war for America and built a comfortable life. Why was it important for you to return home?
One is never comfortable in life after losing a father to war or [witnessing its] atrocities. Even though my job at Ralph Lauren gave me the opportunity to travel the world, my thoughts never [wandered] far from Liberia's sufferings. MCF was my initial and official effort to help those who were not fortunate enough to escape Liberia during the civil war. It was my way of giving back to a country that deserved more.
You're the sole female presidential contender. Why hasn't President Johnson-Sirleaf's presidency inspired a stronger showing in politics among Liberian women?
Her presidency inspired me and I believe it will continue to inspire women in Africa. Nevertheless, structural obstacles impede progress. The glass ceiling in politics remains and much work is left to address the lack of opportunities, justice and equity for women. Though the election of President Johnson-Sirleaf may have opened some doors, male-dominated political arenas and the belief that women cannot hold high political positions persist.
You've never held an elected political position. Why run for the highest office of the land rather than test the waters as a lawmaker, for example?
I have always been a determined and daring person. It is how I survived the civil war as a young teenager. That determination compels me to run for the highest position of the land. More importantly, one doesn't have to have a political background to hold any position. I've engaged with civil society at the lowest level through MCF and know what it takes to lead Liberia and close the gap of communication between government and [the people]. I know the change Liberians seek and have, through MCF, implemented those on a small scale. Now, we will scale it up and implement it across Liberia.
How did you handle the setback after the Union of Liberian Democrats ousted you as its flagbearer following the civil law court's annulment of your election?
In the same manner I have handled every other challenge in my life. I regrouped, reset, and moved forward. It is the same approach I intend to take facing the inevitable challenges of the Presidency.
You're now the flagbearer for the Liberia Restoration Party, one of Liberia's newly certificated parties, and have set up a GoFund Me page for your campaign. What are you and the LRP doing to gain sufficient traction to win the elections October 10?
We are young, contemporary and open to fresh ideas. Fundraising is the lifeblood of any political endeavor, and we're are leveraging our international relationships and fundraising on multiple continents. [Also] we are running a grassroots campaign across Liberia, knocking on doors and meeting voters in 15 counties to earn the votes of our people.
Why are you confident Liberians will elect you over a seasoned politician like, say, Vice President Joseph Boakai who is also running for president?
Liberians need basic [amenities] to fully enjoy peace. Our infrastructure is in disrepair, people do not have reliable electricity, running water, or sanitation which should all exist as a result of "10 years of peace". Then there is the issue of corruption. We need fresh thinking, a contemporary mindset, and youthful energy. I am very confident that I possess these three qualities and more to [change] Liberia.
You campaign slogan is "Leading with hope and reform." How do you plan to lead and reform Liberia as president?
Hope for me is helping Liberians in every capacity, and that entails making it a national agenda to provide basic necessities. I aim to reform stagnant policies, prioritizing access to education and healthcare, building our transportation system and electricity grids to attract investments.
Reform is complex and tedious, and we are not promising change will occur overnight. However, we're hopeful change will occur during my presidency.
There's a divide between natives and Americo-Liberians which you've said politicians have exploited at the expense of Liberians. As an Americo-Liberian, how have you navigated this sensitive topic?
I am a native Liberian who was forced to leave her motherland [during the civil war]. We don't have the luxury of encouraging divisiveness among ourselves, so I navigate this topic by putting my country and her pressing needs first.
As a mother, what sort of Liberia do you want for your children?
An illuminated Liberia, a healthy and revitalized economy and an engaged citizenry–that is the Liberia all children deserve.