Shekudo is the brainchild of Nigerian-Australian designer Amy Akudo Iheakanwa. She uses textiles to create luxurious accessories that draw women in. Where Nigeria offers her her aesthetic, her Australian background contributes to the way she markets her free, easy-going products. Produced in Lagos, Shekudo prides itself on local artistry and social responsibility. It's purpose is to employ artisans and expose the craftsmanship that is alive and well in Nigeria.

Iheakanwa co-founded the brand with Shetu Bimpong but is now the sole creative director, and the February repositioning of the Shekudo has been critical. The brand is now backed by inspiring and necessary narratives of all sorts. It is the story of a founder who has embarked on a journey of self-discovery. It is the story of finding inspiration in the kaleidoscope of colors found in the bustling city that is Lagos. It is the story of Nigeria's 500-year-old aso oke process. It is the story of the number of hands that contribute to making a shoe, bag, or earring from scratch and a community of weavers, silversmiths, shoemakers and carpenters.
Though in its early stages, Iheakanwa has great plans to expand her production and incorporate community through training and capacity building for destitute women with limited options and skills available to them. With today's African diaspora serving as the frontrunners of cultural influence, brands like this one can only shine.
We sat down with the founder of Shekudo to learn more about the brand.
This interview has been edited for length and clarity.
---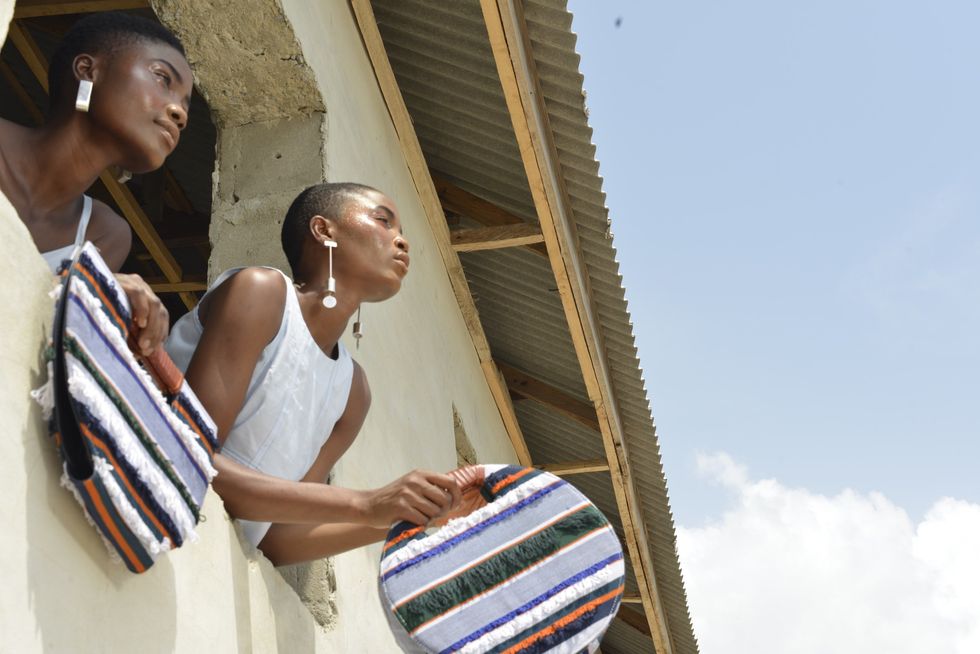 Photo courtesy of Shekudo.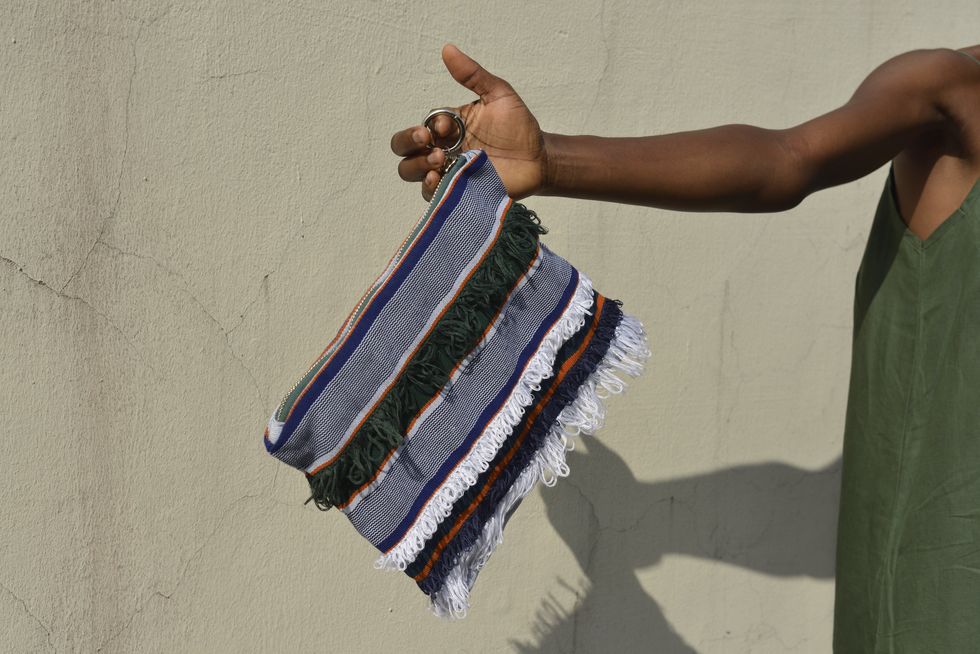 Photo courtesy of Shekudo.
Audrey Lang for OkayAfrica: You hail from both Australia and Nigeria, but were born in Australia. What was it like growing up there?

Amy Akudo Iheakanwa: I grew up in a small country town so it was difficult because there weren't as many black people. The only other black people I identified with were indigenous, Aboriginal people. Since we weren't considered Aboriginal and we weren't considered white, we were stuck in between but usually got classed as being Aboriginal by the whites. When we moved from the country town, we moved to a city closer to Sydney and that was good. I grew up with a lot of Ghanaians and Nigerians, so the wider community in Sydney. There's a fair amount, not huge, but a fair amount of Africans. We went to a lot of Nigerian parties. My closest friends growing up were actually one Ghanaian babe and my friend, who I started the brand with, who is both Ghanaian and Nigerian.
I was identified as being black but when I came back to Nigeria, I was identified as being a white girl. It could get a little frustrating, at times, cause you are like, 'I don't fit there and I don't fit here' and you are trying to fit in and prove yourself. My mum's family is comprised of farmers and they are all amazing people and very Aussie. I feel more called towards my Nigerian side. I'm very much Australian and I'm very proud of being Australian but I'm also very proud of being Nigerian. I think my parents tried to give us the best of both worlds. I really give my dad props because he tried to engage us with Nigerian culture really early with the food and the music and traveling back there. So confusing but good. Character building.
How long have you been in Nigeria?
I moved over last May. I've been here a year and 4 months. I got straight in to searching for artisans and the business. I went to a few different places to see what's going on in weaving and manufacturing and then I relaunched Shekudo here, with a new face in February. We did start it in Australia.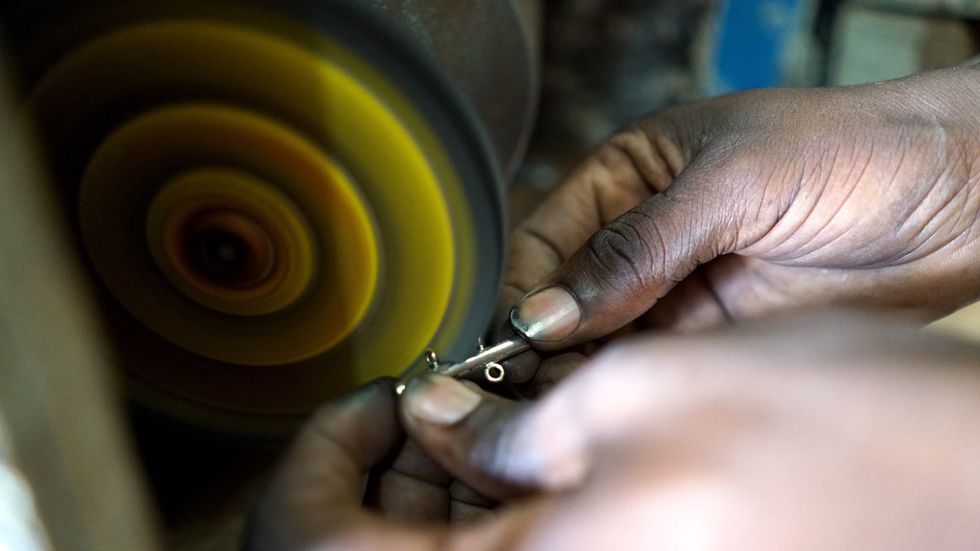 Photo courtesy of Shekudo.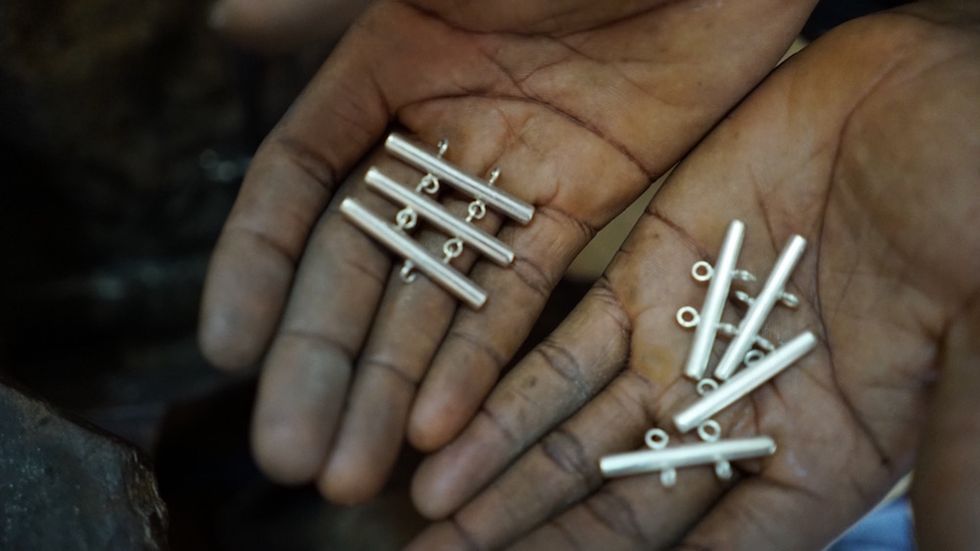 Photo courtesy of Shekudo.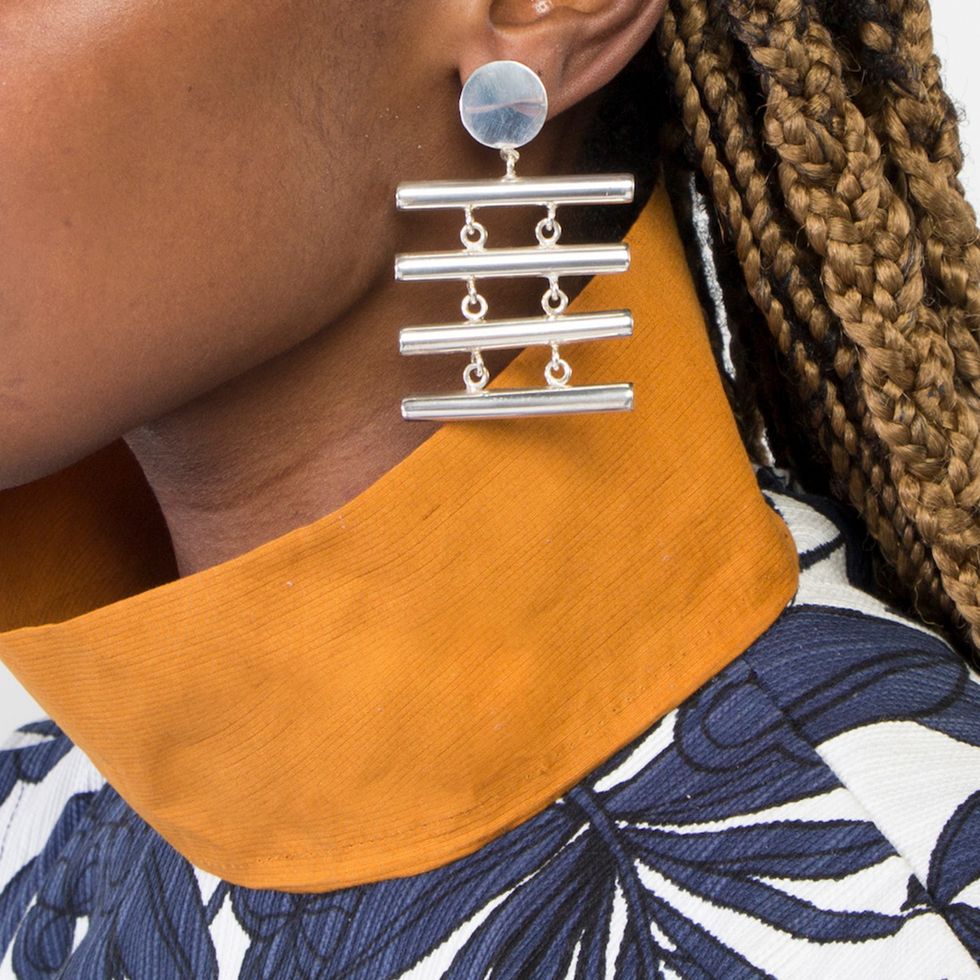 Photo courtesy of Shekudo.
Is Coming Home the first collection?

When we started in Australia, we were doing clothes. My friend and I had two clothing collections in Australia; one was called 'Laguna Colorada', based on a trip we took to Bolivia, and the other was called 'Wahala', which was inspired by Nigeria. We were using a lot of ankara prints and we wanted to move away from that. It wasn't too serious back then so moving over to Nigeria, that's when I decided to give it a fresh look and move into accessories. It is the first collection under the new face of Shekudo. It is the official first collection.
Where did the idea for Shekudo come from?
It was initially started because we felt like we couldn't find pieces we really loved to wear and we loved ankara a lot, at the time. I don't so much now, but I really enjoyed it and wanted to merge that with a contemporary kind of thing. This was about 5 years ago when it wasn't popular at all. It's arguable, but I think we were the first people in Australia to actually work with ankara properly and kind of release a full collection. It's a lot more known now, once it blew up in the states and in London it became more popular. We wanted to have fun and create pieces that we loved and then sell them off.
Now, for me, it's a completely different thing. It's gotten a new meaning and it's evolved a lot for me. My sole purpose is to work with artisans here in Nigeria and expose the craftsmanship that we have here, whether it's through shoe making, our silversmiths, ceramics, weavers. I'm trying to work with all of those artisans and recreate what they're doing and give it a new life and more of a contemporary look. I'm going to expose what we have in Nigeria to the rest of the world because to me something like aso oke is a very beautiful, intricate, amazing process that's over 500 years old and we have things comparable to cultures like Japan and parts of Eastern Europe, where they've got all these old lovely traditions.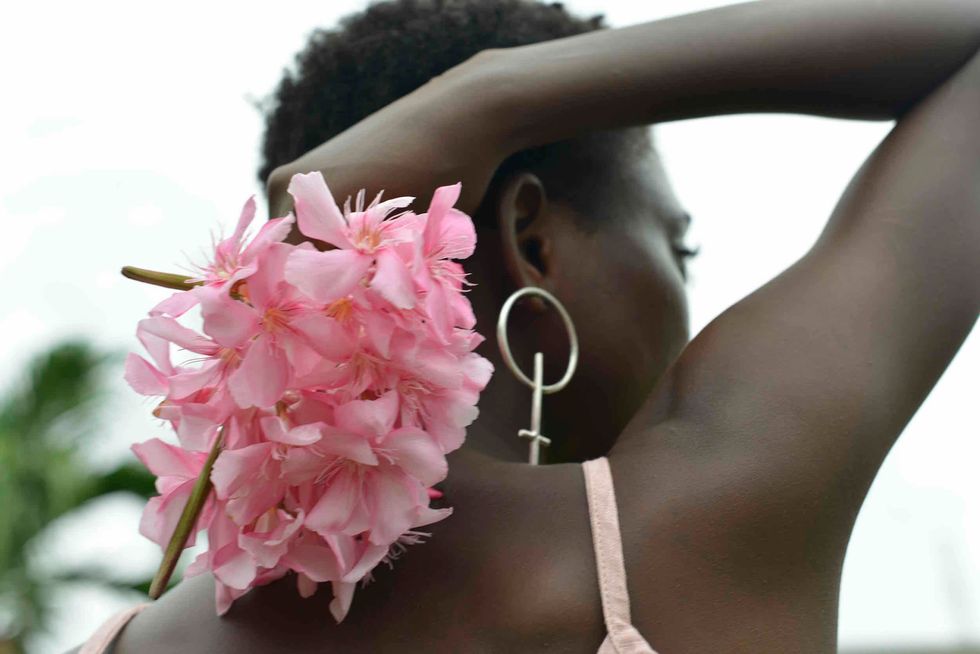 Photo courtesy of Shekudo.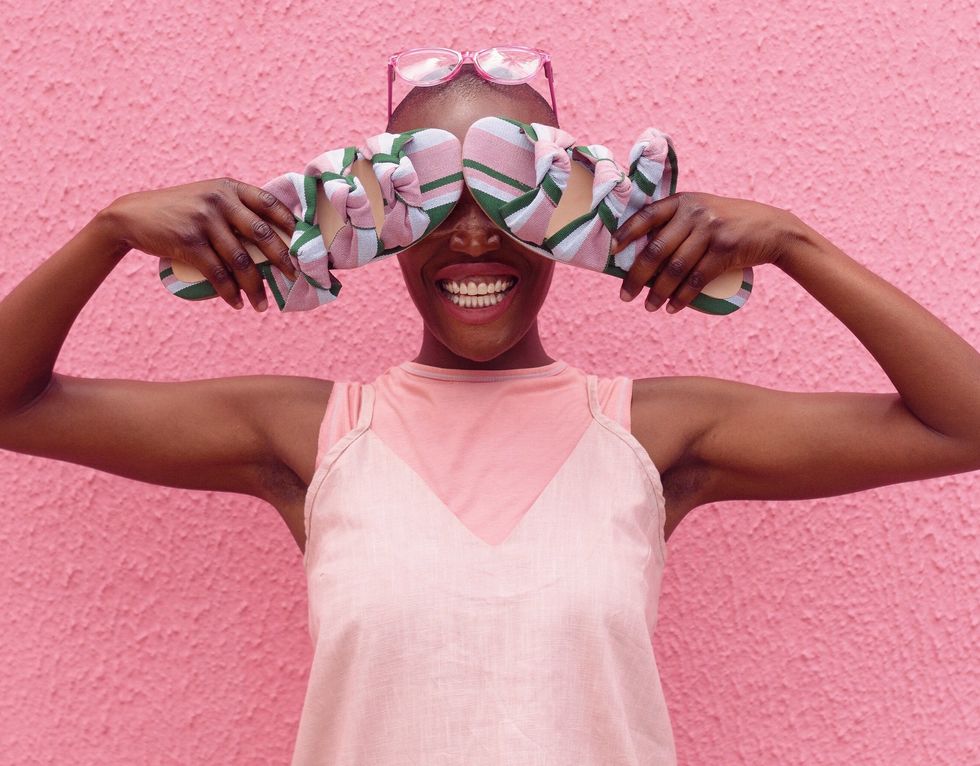 Photo courtesy of Shekudo.
I know that you decided to leave Australia behind to take the leap into full blown entrepreneurship. What brought on the desire to take that leap?

I really think I was having a quarter life crisis. I was working two jobs and I structured my life so wonderfully that my Monday to Wednesday was working one job with local government, and I worked with youth developing programs for them like youth week, Halloween, sexual youth programs and so forth. Then on Thursdays and Fridays, I had another job working with disadvantaged youth that were homeless. It was a really cool program that I was doing. My buses were running on time. I lived very close to work. I could walk there and get my smoothie. I lived near the water. It was beautiful. I was waking up in the morning and I just wasn't feeling fulfilled. It was just too monotonous for me—I knew what was coming every day. I just felt sad.
You know I was trying to find that joy within myself but it was almost like this is not it for me. I don't want this to be my ceiling. I got into entrepreneurship in Australia but it was safe. I think it's just that feeling of being face to face. I needed something raw—I needed a change. Something in my soul was saying to me 'get up and do something.' The original plan was to come and do community work here in Nigeria but then I had a quick shift. I needed to be challenged, growing, and evolving and Australia wasn't doing that for me anymore. Nigeria has so much spunk and the energy is amazing. The vibe here is genuine.

Now that you are in Nigeria heading a business that involves using local artisans and having to find them. I would imagine no two days are the same. Can you walk me through a day?
I'll give you two extremes. Today is a more computer based day where I go through quarters and make sure everything is up to date. I do the financials, do a bit of website work, and I have to finish a newsletter and send it out. I also have meetings with two people about commissioned work. I've done about three commissions so far, which is fantastic, with people wanting me to provide a service for them in terms of working with artisans because they don't want to go there directly themselves. I'm kind of a middleman. That is a quieter day.
My busy days, which aren't so crazy anymore because the guys I work with have taken more ownership of what I need from them, used to be madness. I would go from one silversmith to the other silversmith, then I would go and check on the women who does all my dust bags and to my tailor. I would go from there to see our guy, who carves our heels from wood. Then, I would go to the shoemaker, with stuff I had collected from my heel maker. I would have to stay there and supervise for hours because sometimes when I would leave, things would come back with a lot of mistakes. Presently, we do workshops for 6 to 7 hours. I've had things that have come back to me that were burnt or they've used the wrong heel. The hardest thing about working with artisans is that they've all got their own shops. They are spread around Lagos. I have to go and see each of them, pop in or try to schedule appointments for different days of the week. It's very tiresome. I would love to have them all under one roof but they don't just do stuff for me. They are making money in other ways, as well.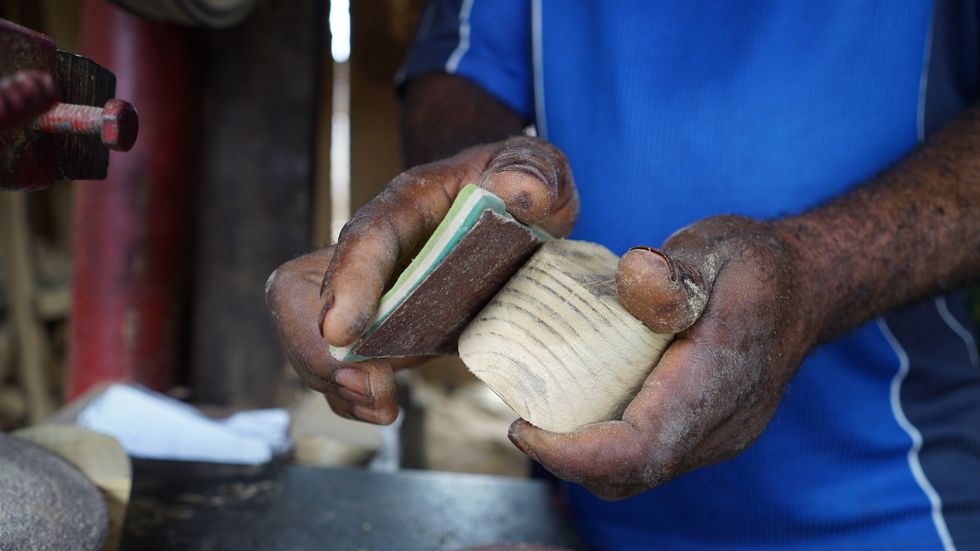 Photo courtesy of Shekudo.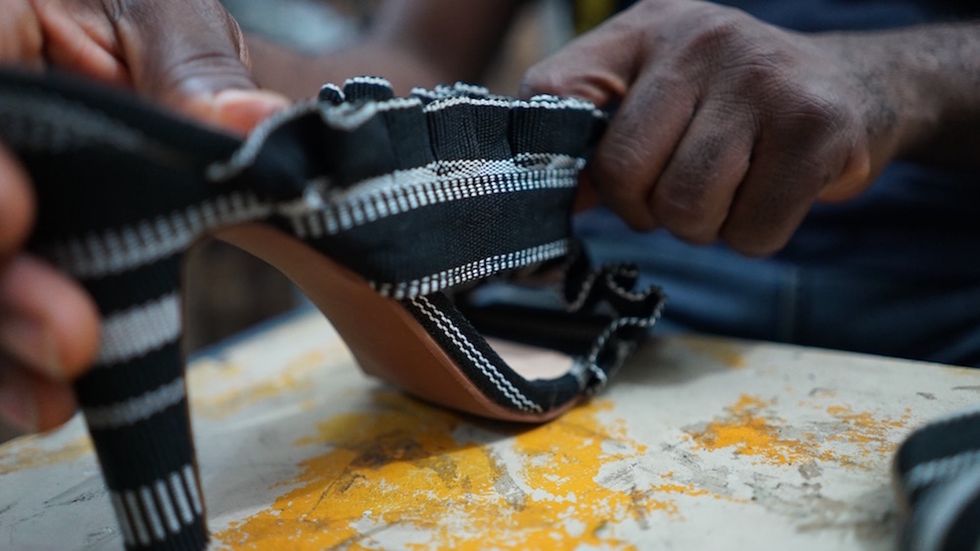 Photo courtesy of Shekudo.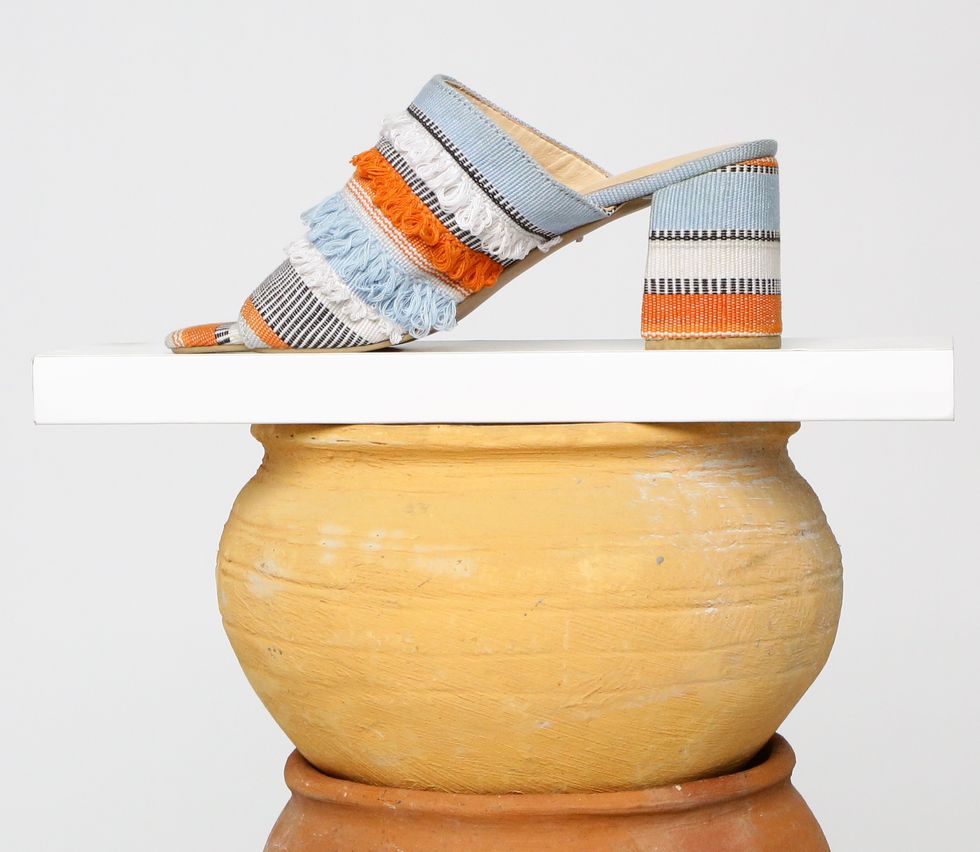 Photo courtesy of Shekudo.
How long does it take to make a shoe? Is it a similar process for bags and earrings?

We use really minimal machinery. We only use a sewing machine to sew part of the shoe and then we use the filing machine which is what shapes it. We smooth the edges of the base of the shoe. Everything else is cut by hand so it takes time. So one pair of shoes takes 2 to 3 days and that's not including the time to get the weave. If we add tassels to the weave, we have an embroiderer to do that—that takes about 3 days. I usually try and keep a stock of our different aso oke weave and if we don't have it on hand, making a bundle takes about 3 days, as well. I just give a maximum time of 2 weeks. Everything in total, if you join all the components together, is probably about 7 to 10 days.
Bags are a little bit less, depending on the style. Those can be put together in a day. We add on the time it takes to get all the components from the market. I would say 5 days in total for a bag. If you had all the materials in front of you, I would say 1 day for a bag and 3 days for a shoe.
The earrings are really long. A lot of the goldsmiths don't like to do it. They actually call them goldsmiths, but I call them silversmiths because I use silver. They don't like working with silver because they don't get paid as much and the process is the same amount of time as making gold. It is probably about 4 days time working on it and not taking time off. It's a really intricate, long process of filing and melting and shaping and buffing. Their machinery is minimal, as well.
Do you find your raw materials through your artisans or do you physically go look for them yourself?
With the weaves I went to Oyo State in the north—that's the main weaving center—so I thought it would be beautiful to work with the guys there. The issue for me was the transport. My family friend, Uncle Max, would come along with me to find things I discovered through online hunting and word of mouth. We slept in a lot of places we shouldn't have. We did a lot of traveling around. It was too far for me to keep working with those weavers. I moved to weavers in Lagos. I rely on the artisans to get the silver for me. I would prefer if I could travel north and start buying it directly from there. I want to go there in the next two months and check on the silver production. With the leather, I get it from the market. I use local Nigerian goat skin leather—it is not the greatest quality, but I am working to improve it. For the wood, I found a lovely group of carpenters. So it's been a combination of finding my own materials and relying on artisans.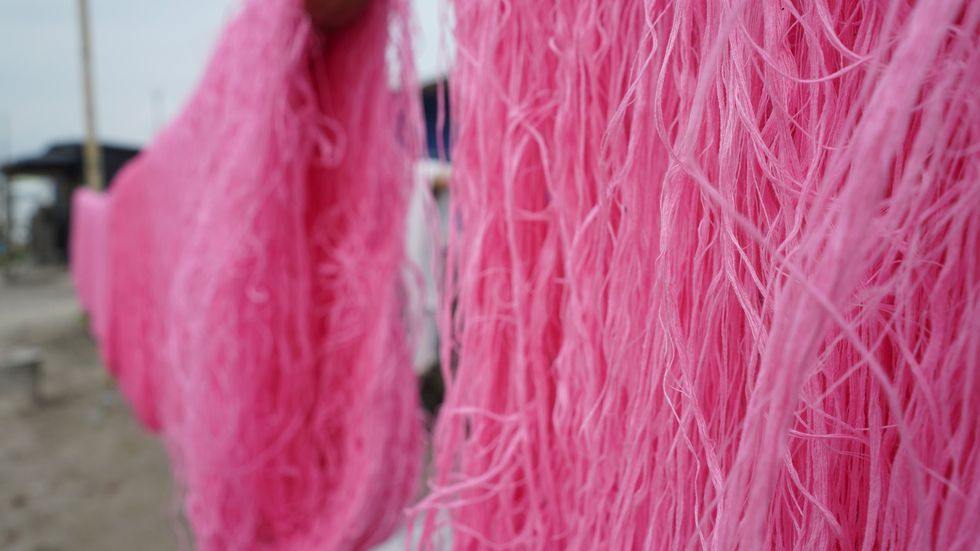 Photo courtesy of Shekudo.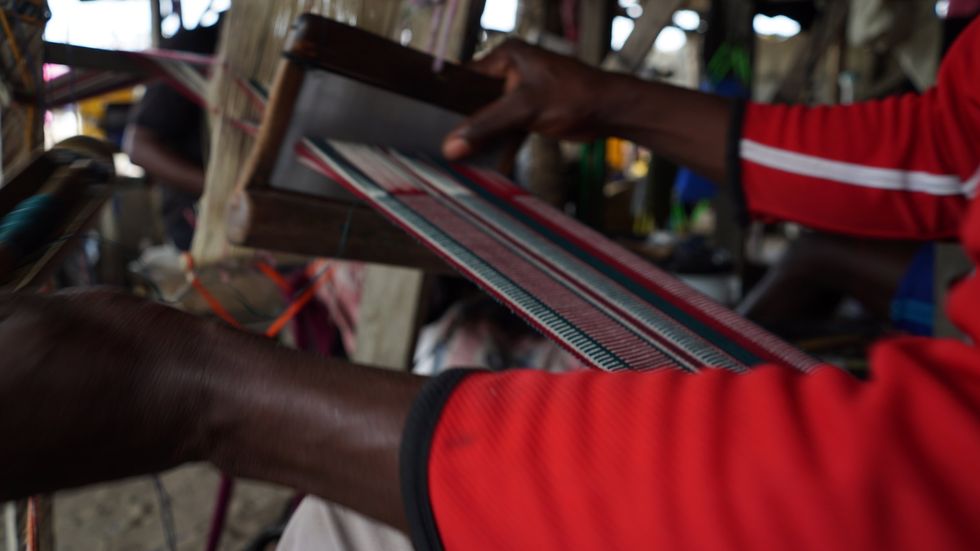 Photo courtesy of Shekudo.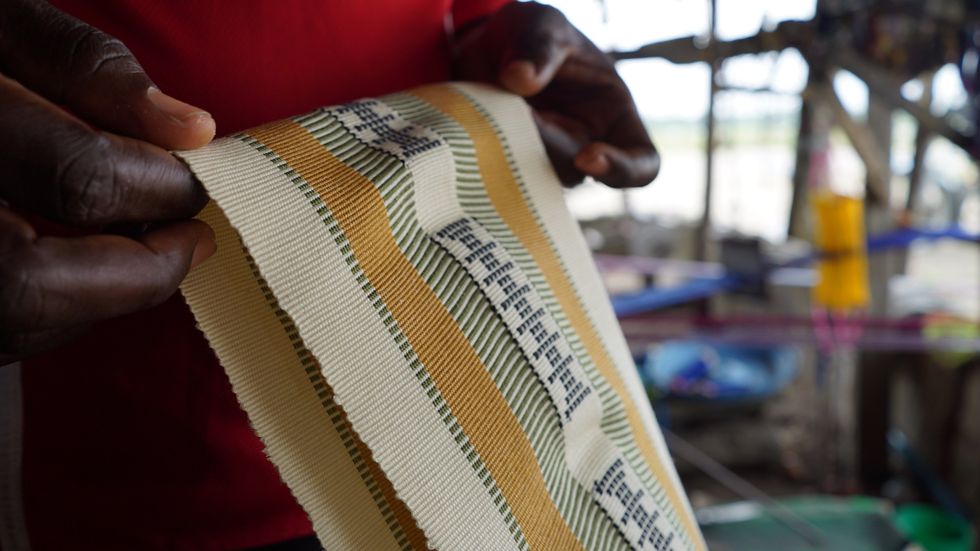 Photo courtesy of Shekudo.
What is the story behind Woven Ties?

I chose to work with aso oke because coming back to Nigeria was almost like me metaphorically weaving things together. Things were falling into place—like the fabric of your life. It's under the Coming Home collection; this is part one. Part two is next year, where I am going to be working with more wood, leather and ceramics. It's almost like weaving the different materials together and coming home, in a sense, where my story is weaving together as it should.
So next year is the plan for the next collection?
Yes, I don't like the seasonal stuff so I try to do stuff annually. I want to keep things up and I want things to marinate. I don't want to put it on site and take it off, when not everyone has had the chance to see it. We're still growing and people are still finding out about us every day. I will keep the collections up so people can always order and I can notice what is popular and what's not doing well. I can take things down with time. I'm thinking February for the next collection. I've still got a few little pieces to add to this collection, though. We're sampling kitten heels at the moment, and some smaller earrings. I'm thinking some cute Sex and the City-esque pointed flats. Then, some slides or Gucci kind of slippers.
Any plans to go beyond accessories?
I definitely want to get back into clothing. I'm very minimalistic; I like a lot of layering. I love details within seams and asymmetric hem lines. Most of the stuff I wear in Nigeria is what I've made. The stuff you see in the shoots is stuff I have made. That will definitely be next year.
Audrey Lang is an alumna of Northeastern University and a Boston-based merchandiser who's enamored with all things fashion, art and Africa. Keep up with her on Instagram and Twitter.