Film
The Mahoyo Project: A Feminist Network Of DJs & Creatives In Johannesburg & Stockholm
'The Mahoyo Project' is a new documentary film about a feminist network of DJs and creatives in Johannesburg and Stockholm.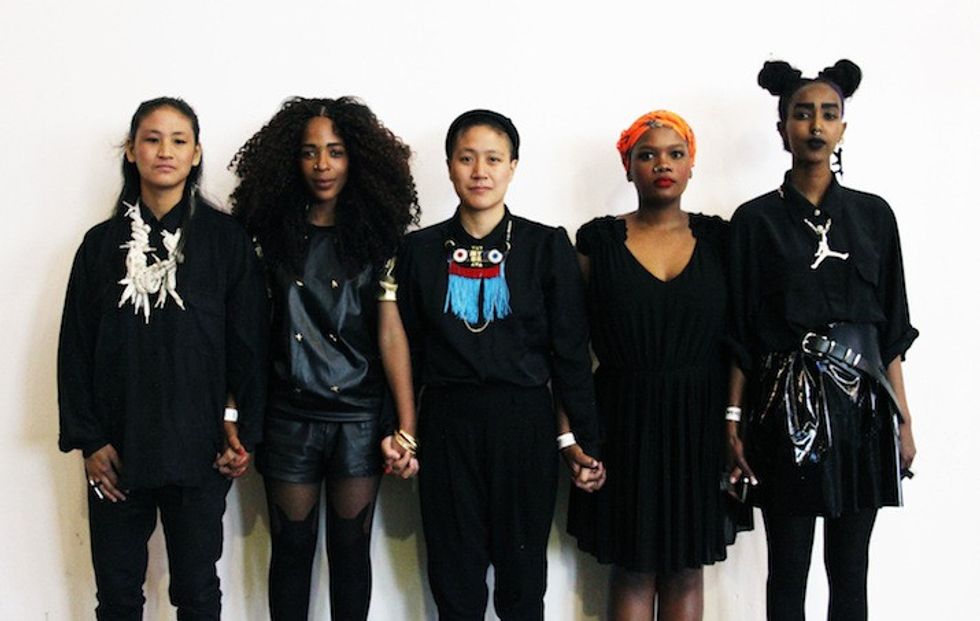 ---
Photo courtesy of Mahoyo
Childhood friends Farah Yusuf, and Pia and MyNa Do run an online showroom, practice photography and DJ under the collective name Mahoyo. Last May, they set out from their native Stockholm on what they call "a search for the unexpected" that took them to Johannesburg. Their quest, and all the discoveries and collaborations it enabled, are captured in their documentary The Mahoyo Project, which will premiere at the Tempo Documentary Film Festival in Sweden on March 5th.
The project, like the name Mahoyo, is their homage to lives lived breaking stereotypes. "Ma" is the word for mother in Mandarin and "Hoyo" means the same in Somali. Though the Do sisters are of Chinese descent, and Farah's family is from Somalia, all three of them have known no other home than Sweden. "We grew up constantly being asked where we're from, or told how great our Swedish is by people who have narrow ideas of what a Swede should look like," says Pia. They learnt to celebrate what makes them different. "It's no fun looking like everyone else," adds Farah.
The trio's personal experiences made them sensitive to the danger of a single, oversimplified narrative. "Western media has tended to show Africa as a country and usually in terms of crime or poverty," explains MyNa. Even well intentioned portrayals showed themselves to be problematic. When online video magazine Stocktown premiered their Stocktown X South Africa documentary at Stockholm's CinemAfrica Festival 2013 "We thought the images and the characters they captured were incredible," remembers Farah. Stocktown profiled Soweto-based fashion stars The Smarteez, music acts Reeburth and Gazelle as well as other influencers in SA music and street style. "But we didn't see many women profiled. When we asked the directors (Teddy Goitom and Benjamin Taft) where all the women were they just kind of shrugged. We realized that no one can represent the way we see the world but ourselves."
Their plan to mitigate the damage of exclusionary narratives was to step out from behind the camera and create as many opportunities as possible for cultural exchange with the people they encountered in Johannesburg. A mutual friend connected them to DJ Phola "Loveslave" Gumede, who says, "We immediately felt a connection and started planning all the fun things we'd do." This included a workshop to teach women the basics of DJing and hosting a party called Shandeez With Gäris ("Party with girls" in a mash-up of South African and Swedish slang). An all-female lineup that included poet Lebohang "Nova" Masango, rapper Nadia Nakai and South African DJs made Shandeez With Gäris "….so different from any other party I've played at," says DJ Loveslave. "Not only because women shone so brightly, we also fused so many genres of music and the crowd responded so well to all of them." Joburgers also got down to DJ Loveslave and Mahoyo sets at The Feminine Touch Series in Soweto and THEWKNDSOCIAL brunch party thrown by promoters, The Other Girls.
It was Stockholm's turn to Shandeez With Gäris in October when Phola visited with South African stylist and radio host Lethabo "Boogy" Maboi. Represented on the lineup were DJ crews Klubb Mamarazzi, Sugarcane and Malcriada (who proclaim on their website to be lesbians and feminists who "want to start a revolution with you" and throw "big, sweaty and intense love parties where everyone is welcome").
The Mahoyo Project is a testament to the power of collaboration between a worldwide network of women who have decided to create – rather than just consume - party and cultural experiences that reflect themselves. "Feminism means everything to us," says Mahoyo. "We're always working to break through the limitations placed on us by race, place and gender."
"I couldn't have chosen a better group of sisters to share stories and experiences with," adds Phola.
Check in with mahoyo.com to see when the documentary will be screened near you, and what everybody involved will be doing next. "We're going to be doing the most like we always are!" they have promised.
[vimeo_embed //player.vimeo.com/video/98342723?color=fc4512&title=0&byline=0&portrait=0 expand=1]
Zanele Mji is a freelance writer from Durban, South Africa. When she's not writing about women's issues, she's designing shoes and accessories for her brand called heart leads the way.