"I have other names but I prefer to be called by my birth name," Nelisiwe Msomi, a health journalist and activist, tells me. We're at her masjid in kwaThema, a township to the east of Johannesburg. "This mosque feels like home, it's in the community which raised me and has seen me grow," she says. In the distance a group of people, some in hijabs or abayas and some in kaftans, start making their way into the place of worship, and their garments—blowing in the early afternoon breeze—glisten like coral in flowing water.

"For the longest time I did not use my birth name, which in isiZulu translates to 'satisfied,'" says Msomi. "When I got to school, I got given the Arabic name Shahida. I'm not ashamed of it but when I say my name is 'Nelisiwe', I'm affirming that Black Muslims in South Africa do exist and fighting against our erasure."
Msomi—who has and continues to be outspoken on the rights of women in her community—is part of a growing movement of young Black African Muslim women in South Africa carving a more inclusive religion that celebrates the intersection of Islam and African traditions. Instead of a religious practice in which African tradition is sidelined or shamed, which Msomi says has been the case in the local Muslim community, where the dominant culture has historically been Indian or Arab, and Malay in the southern parts of the country.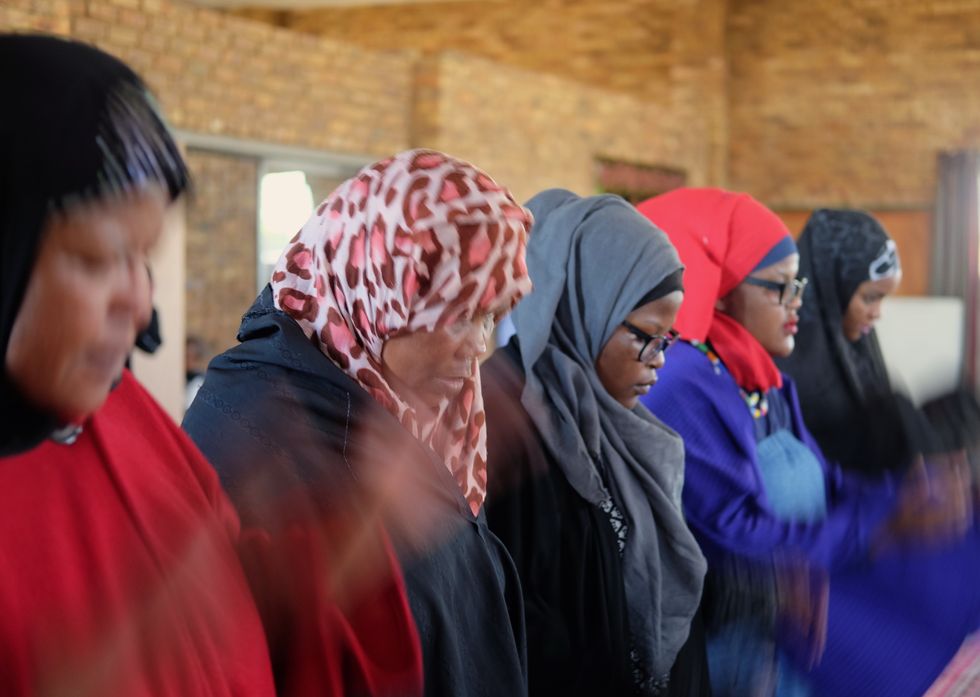 Msomi at her MosquePhoto: Stefanie Jason
"Being Black, Muslim and woman means I have three battles to fight: racism, Islamophobia and patriarchy. And I'm always navigating between my religion and culture; trying to find a balance between these identities, and attempting to synchronise them". Over the years, Msomi says she has been growing spiritually however as she embraces being both Muslim and Zulu, says she and her younger sister Zahara, who attends an Islamic oriented school, have been criticised for openly participating their culture. And makes an example of the time Zahara wore traditional beadwork on top of her hijab at an event, for which she was severely denounced by her schoolhead. "As a Zulu Muslim, I feel religion isn't in conflict with my culture but rather certain people who want to impose their culture onto us Black Muslims. We should be encouraged to practice our culture."

The Black African Muslim community is a minority group within South Africa who, despite living in a country where they can practice Islam openly, still face marginalisation (and xenophobia, namely towards African nationals, some of whom make up part of the Black African Muslim population in in the country). Approximately 80 percent of South Africa's population practices Christianity, while Islam—which dates back to the 17th Century in the Cape Colony and the 18th Century in the eastern part of the country—represents only 2 percent of South Africans' religious belief, and the Black African Muslim community is a fraction therein."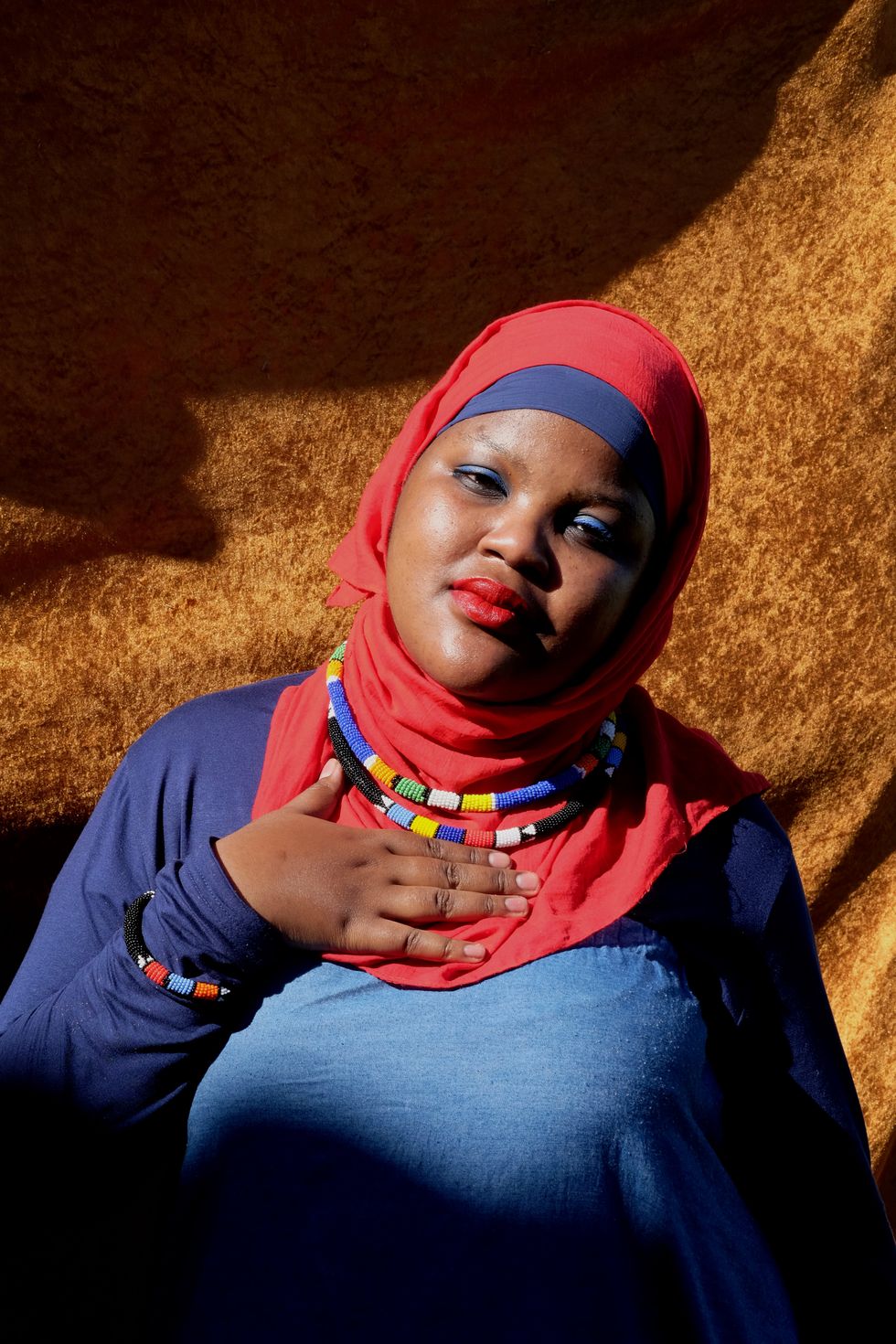 Nelisiwe MsomiPhoto: Stefanie Jason
"Among the black majority of the South African population the number of Muslims is relatively modest. During the late 1970s and early 1980s a number of the black youth embraced Islam convinced that Islam as a non-white, non-Christian and non-oppressive religion with a clear statement on the equality of all human beings could be adopted as an ideology with the potential to resist apartheid. This might encourage the idea of an increasing number of black Muslims in South Africa. However, the proportion of them compared to the rest is insignificant," writes academic and researcher Ursula Günther as she traces the growth of Islam within the Black African community.

"I am definitely part of this movement. It's a consciousness shift in which there is a deep sense of Black Muslim pride and where we're all supportive of one another," says Tshepang Mamogale, a graphic designer and aspiring modest fashion designer. Like Msomi, Mamogale—who is a single mother of two—is considering the meeting point of tradition and religion, and looks to marriage as an example. "In Islam there's no such thing as the man initiating the marriage. As a woman you can make the proposal. But it can be quite tricky when marrying a Muslim person who isn't Black African and who doesn't understand lobola," she says about the customary marriage practice of lobola or a bride price. "I believe it is a tradition I'd like to engage in. Islam preaches family bonds, so I think it's important for different cultures to be respected. As much as Islam is a way of life and our religion, everyone has a culture. Egyptians have their own culture, Indians do too. I'm an African Muslim, wear clothes that represent my faith and Africanness, and therefore believe in practicing my culture, and lobola is a part of that."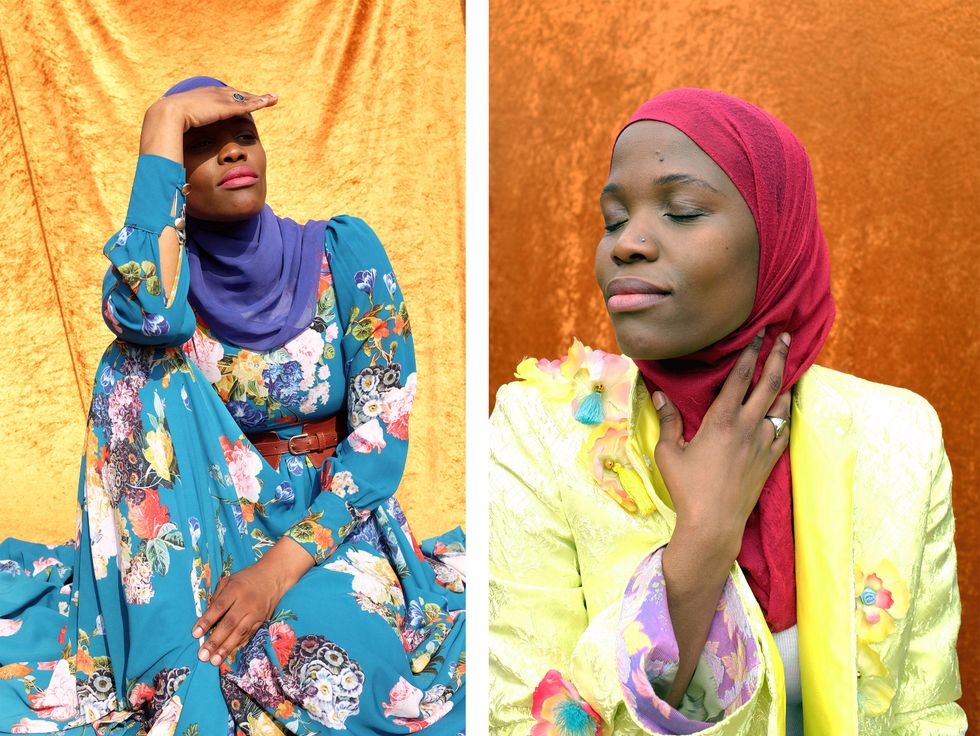 Tshepang MamogalePhotos: Stefanie Jason
In Mamogale's home, in the Johannesburg suburb of Fourways, she says, "When I became Muslim, I didn't anticipate the intricacies of my everyday experience." After her best friend introduced her to the religion in high school and exposed her to its practices, she converted to Islam. "One Friday morning, I just woke up and went to the mosque in Atteridgeville. There I did the shahada, a declaration of faith, and one of the things that makes you a Muslim." But as she ushered in a new way of life, Mamogale was also exposed to new encounters.

"I didn't know many Black Muslims outside of my circle at first. And naturally assumed that I'd be welcomed with open arms, mainly by the Indian Muslim community because that makes up a chunk of the Muslim community in Gauteng." Despite her assumptions, this was not the case for Mamogale, who says she has faced prejudice from members of the Indian Muslim community. "There's a lot of racism that we experience as Black Muslims, to the point where some Indian people don't greet us. And in Islam, it doesn't matter what race you are, you have to pass the salaam, 'as-salāmu ʿalaykum.'"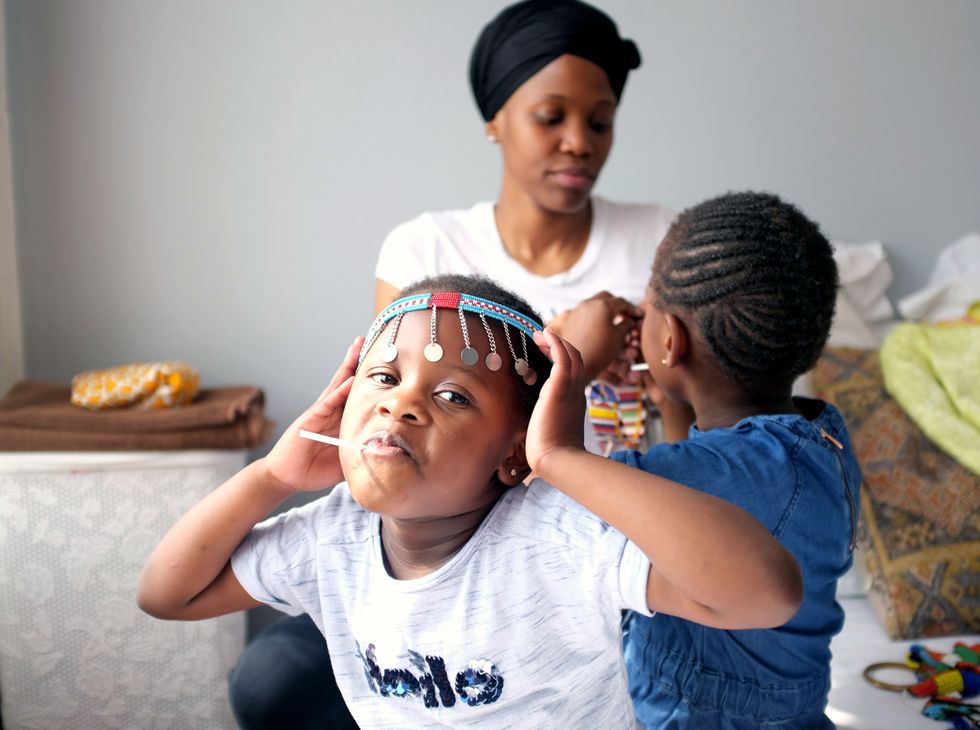 Mamogale and her daughtersPhoto: Stefanie Jason
"We are told that it is not good to generalise but I think it's pretty fair to say the community is racist AF," says Johannesburg journalist Fatima Moosa in a piece titled "South African Indian Muslims Need to Look in the Mirror." "The roots of the racism that pervades the Indian community (Muslim or not) in South Africa might find its source in the caste system originating from India. Maybe it has its roots in apartheid and its method of separation and self-hate." Despite this, Moosa challenges South Africa's Indian Muslims to confront prejudices towards Black African people, saying, "As the myth of the rainbow nation crumbles, we appear ever so blind to our deep, deep racism. The community may have suffered under apartheid but we did manage to escape some of the harshest punishments of the racist regime reserved for Black Africans. And today, some of us seem to be failing to interrogate the inequalities and injustices and the structural legacy of that oppressive system. It is this lack of reflexivity, and refusal to recognise this privilege that is most concerning."

Discrimination in the country's wider Muslim community goes beyond being Black African. Queer Muslim women and gender-non-conforming Muslims face marginalisation. In a recent article titled, "Queer Muslim women are making salaam with who they are", author Carl Collison speaks to South Africa's first openly gay imam and founder of The Inner Circle, a Cape Town-based organisation focused on creating a safe space for queer Muslims, Muhsin Hendricks. "The main problem Muslim women face is patriarchy, which is inexpungible from Islam," says Hendricks. "Orthodox Islam has always taught that women should be in the back row when they pray and their roles confined to the home. With queer women, they already feel marginalised because of that, and then still opening themselves up to more abuse by openly stating that they are lesbian. It's a double discrimination for them. Whereas with gay men, they still have the privilege of being men. So it's easier for them. Many lesbians feel uncomfortable even in gay men's spaces because, even then, it is still very patriarchal."
Responding to questions around steps towards fighting racial prejudice, Mamogale says, "There's a movement brewing among young Black Muslims in the country today. It's still at its inception but it's here. In the past, we as Black African Muslims would follow the practices of the Indian community, from the food we eat to the other cultural intricacies. But that's changing. Since converting to Islam in 2002, Black Muslims have done a lot to empower themselves. We have our own gatherings. Some might think it perpetuates segregation but I think that it's a form of empowerment."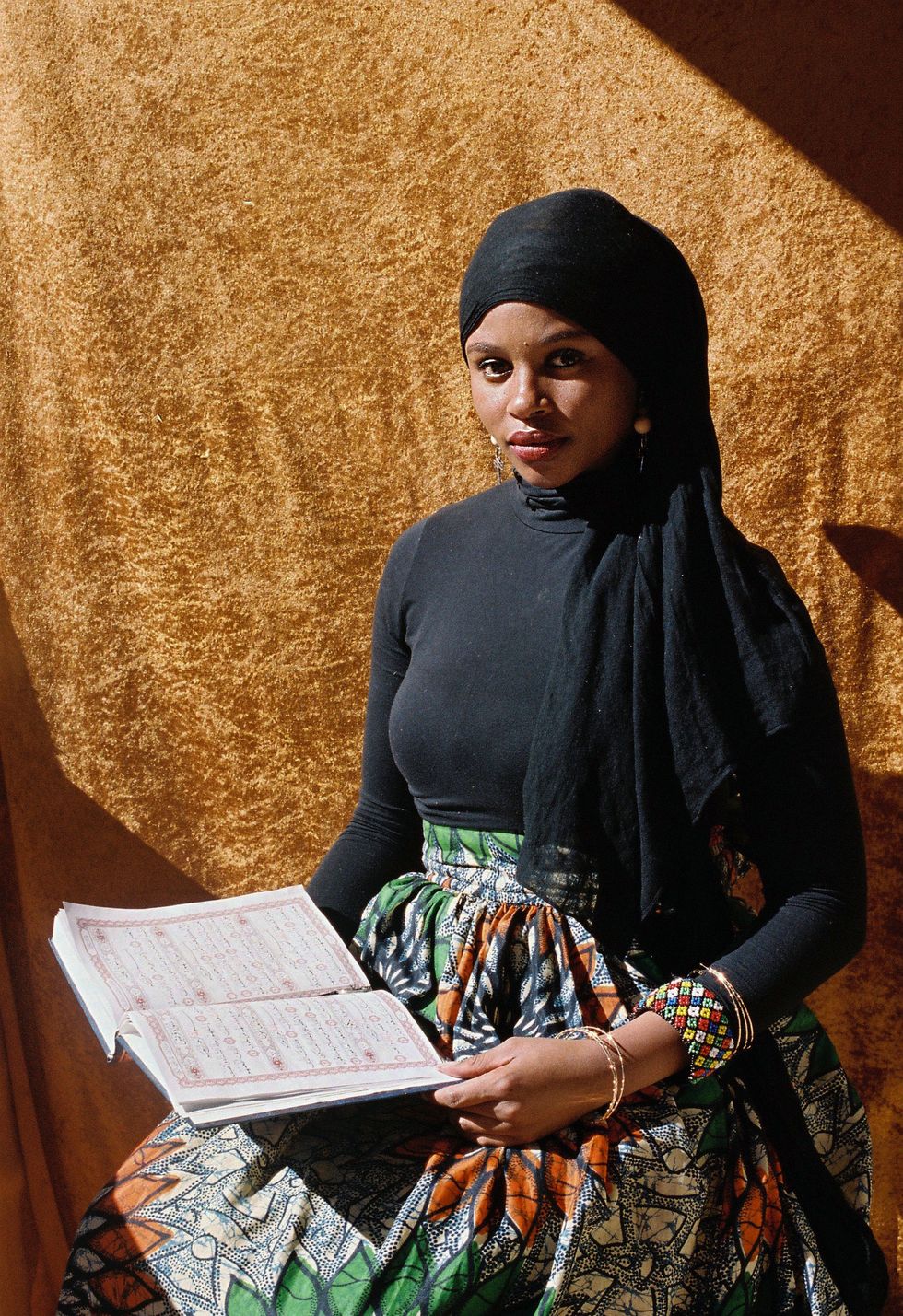 Dineo Maqhawe and her QuranPhoto: Stefanie Jason
Johannesburg school teacher and poet Dineo Maqhawe, points to one the spaces of empowerment for Black African Muslims. "For me, stuff like #blackouteid is such an important movement, and champions our visibility and presence in South Africa and across the globe," she says about the popular hashtag launched in 2014 by Aamina Mohamed to highlight diversity and tackle the lack of visibility of Black Muslims, especially during Eid celebrations.

Born and raised in Springs, the east of Johannesburg, 25-year-old Maqhawe, converted to Islam while in high school in the US, where she lived with her older Muslim sister, and was exposed to the Black Muslim community in the States.
After returning to South Africa, the mother of one found practicing her faith at home and in a majority Black Christian community challenging and isolating. "It's tough being Muslim especially around family members. When I converted my family couldn't relate to me. I became this foreign person to them and it seemed as though they were afraid because they've had so bad experiences with Muslims or would draw on portrayals of the faith from mainstream media that they decided to write off the religion," she says about some of her extended and immediate family, with the exception of her mother and sister. "My dad didn't understand why I became Muslim because of his personal experiences. Later, before he passed away in 2011, he learnt about the religion with my help, and he opened up to it and accepted it."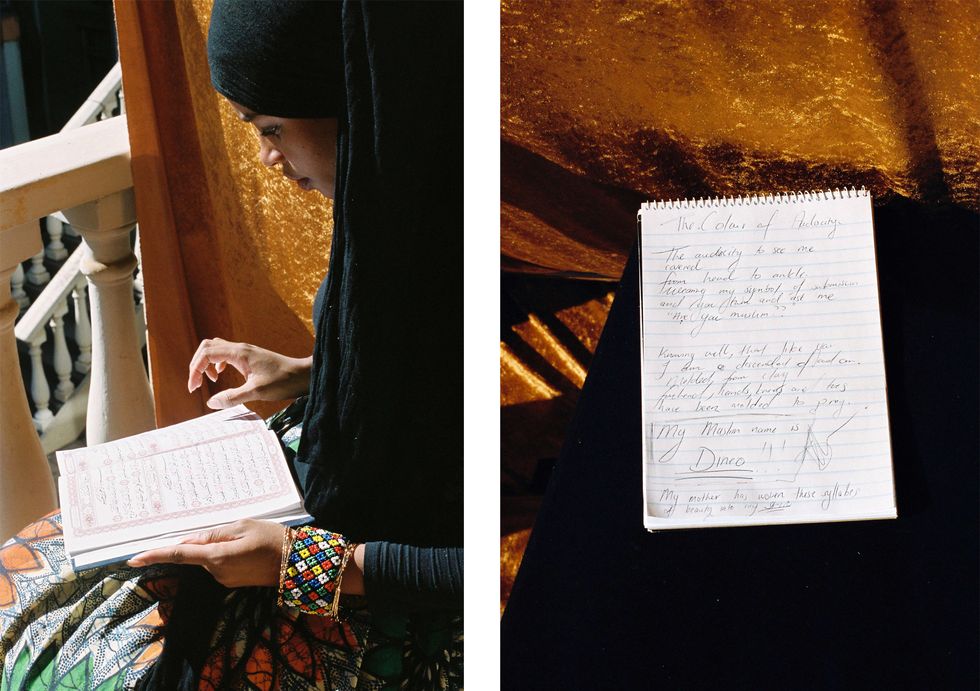 Dineo Maqhawe (left) and her poetry (right)Photos Stefanie
Maqhawe, who also has a pan-African clothing range for children, raises everyday issues faced by some Muslim women, such as getting policed by men over wearing hijab and the experiences of going to mosque. "One time I went to a mosque where the speakers in the room for women weren't audible enough for me to hear the sermon," she says. "The purpose of going to the Friday prayers is to get spiritual revival. So why not just stay at home to get your soul revived?"

At her Johannesburg apartment, Maqhawe son and husband join us as she shares the importance of community as a Black African Muslim. Wrapped in a loosely tied black turban, a silver earring with an ankh—an ancient Egyptian symbol of life—pushes its way before the folds of her headscarf. Maqhawe writes out her poemThe Colour Audacity, in which she defiantly calls out microaggressions and other behaviour that acts to erase her place in Islam as a Black African Muslim woman. "My Muslim name is Dineo. My mother has breathed these syllables of beauty into my skin… this is the colour I call audacity."