Welcome to the fourth instalment of Cape Town-based music journalist and radio host Sabelo Mkhabela's South African hip-hop column for Okayafrica.
---
When Nasty C released his debut album, Bad Hair, for free on Audiomack last Friday, the world stopped spinning for South African hip-hop fans. The album was number one worldwide on the NYC-based stream and download website website, surpassing the likes of Young Thug, Future and Fabolous. Even the Audiomack team showed some respek.
One of the most anticipated albums of 2016 from one of the most exciting rappers out right now was all ours for not even a cent – just our data bundles. "Decided to release Bad Hair for free. This is for my fanily," he captioned the link. Nasty had previously tweeted that the album would be delayed because of sample clearance issues. The album was already a day late.
For some South African hip-hop heads, it was hard to fathom how Nasty C could choose not to capitalize on having one of the most highly-anticipated albums of the year.
The closest the Durban emcee got to explaining his move was in a response to a fan who tweeted the album is "too dope to be given away just like that": "Wanted you to buy it knowing why you are buying it, and not @ing me later saying I wasted your money. That's how real support works." In short, Nasty C really cares about his fans. He puts them first. It's still not clear if the sample that was holding the album back was cleared at the time of release. Or if it has now.
@ts_zakwe wanted you to buy it KNOWING WHY you're buying it. & not @'ing me later saying I wasted your money. that's how real support works

— Bad Hair ?? (@Nasty_CSA) September 25, 2016
What the rapper probably understands is that in 2016, album sales don't matter that much, if at all, even. He later released the album on iTunes, because a great number of fans were really insisting on buying it. I know I'm not the only one who downloaded the album on Audiomack, and still got it off iTunes when it dropped there (it shot straight to the number one spot in the iTunes SA shop within 15 minutes of going live.
Music in 2016 is pretty much for free. Buying an album or a song is a choice. You buy it because you want to, not because it's not available for free. You buy it because you see the value in supporting an artist with your money. While in the Western world, streaming is turning the concept of buying music into an archaic practice, things are a bit different in South Africa. Even though a handful of music fans use Deezer and Apple Music, a majority of South Africans don't, due to the high bandwidth prices.
#DataMustFall, y'all.
Our savior is the free file-hosting website Datafilehost, used by established and up-and-coming artists alike. Pretty much every album or single released in the last few years has been uploaded by fans and can easily be downloaded. There are Facebook pages that pride themselves in providing such links.
The rapper Tumi Molekane, in a conversation I had with him last year, told me he was an avid streamer. He told me he wasn't that much baffled by piracy. "When I released the album [Return of the King], we went straight to number one on iTunes for three weeks. But then the bootleggers started coming up with these links," he said. "I wanted to be like, 'Guys, you're not empowering me by downloading my stuff illegally.' But people don't attach any morality to that. I don't care, as long as people get music. There are many avenues to make money off music.'" He went on to say, "For instance, if I want the new Eminem, and I can't buy it anywhere, I will get it."
Seriously, we can't start acting like we don't download music for free. Some of those who were criticizing Nasty C releasing Bad Hair for free were going to download it on Datafilehost anyway.
Which is no big deal, really. Album sales aren't artists' main sources of income in 2016.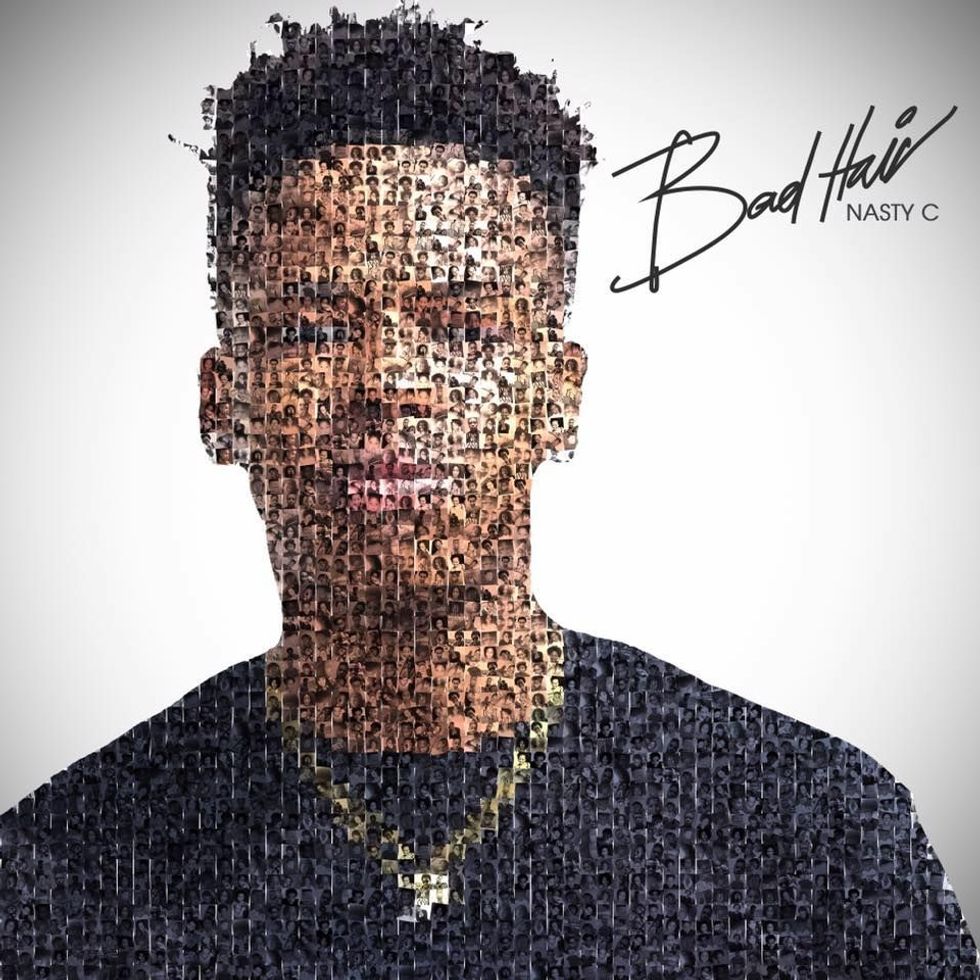 Nasty C's Bad Hair artwork
Nasty C is 19–he doesn't know about making music in a world where the internet doesn't exist. He blew up because of Price City, a mixtape he released online on Audiomack for free early last year. Surely an industry that's run by primitive individuals doesn't make that much sense to him.
He is for the new model; his career took off without selling an album. In the past year, he's performed all over South Africa, Swaziland and Lesotho.
I may not know what his deal entails with the company Mabala Noise–the controversial label that, in July, signed the likes of Riky Rick, Zola, Gigi Lamayne, Pro, Major League DJz and more. But surely the label wasn't expecting to make millions off of the rapper's debut album. According to the South African tech website MyBroadband, local artists are saying sales money isn't enough to survive. Artists rely heavily on concerts and endorsement deals.
While sales and mechanical royalties may still contribute to artists' bank, in South Africa, live shows and endorsement deals have proven to be where most artists get their six figures from. The likes of Cassper Nyovest, Riky Rick, Aewon Wolf, Khuli Chana have all had endorsement deals with big-name brands and perform almost every weekend. Selling 30 000 won't sustain an artist for that many years.
Nasty C probably understands this better than anyone.
PS: Bad Hair knocks hard! Get it from iTunes here.
Sabelo Mkhabela is a writer from Swaziland, currently based in Cape Town. He also drops award-winning tweets as @SabzaMK.