Capitalizing on the commercial success of Ta-Nehisi Coates' first comic book issue "Black Panther," which sold more than 300,000 copies, Marvel announced Friday its plans to produce a spin-off series focused on the women of fictional African country, Wakanda.
---
The Atlantic national correspondent has tapped comic newcomers Roxane Gay, a feminist writer, and Yona Harvey, a poet, to pen the new comic titled, "World of Wakanda," set for a November debut, according to The New York Times.
The first issue will bring to life the story of lesbian lovers Ayo and Aneka, who are former members of Dora Milaje, the Black Panther's elite, all-women security force.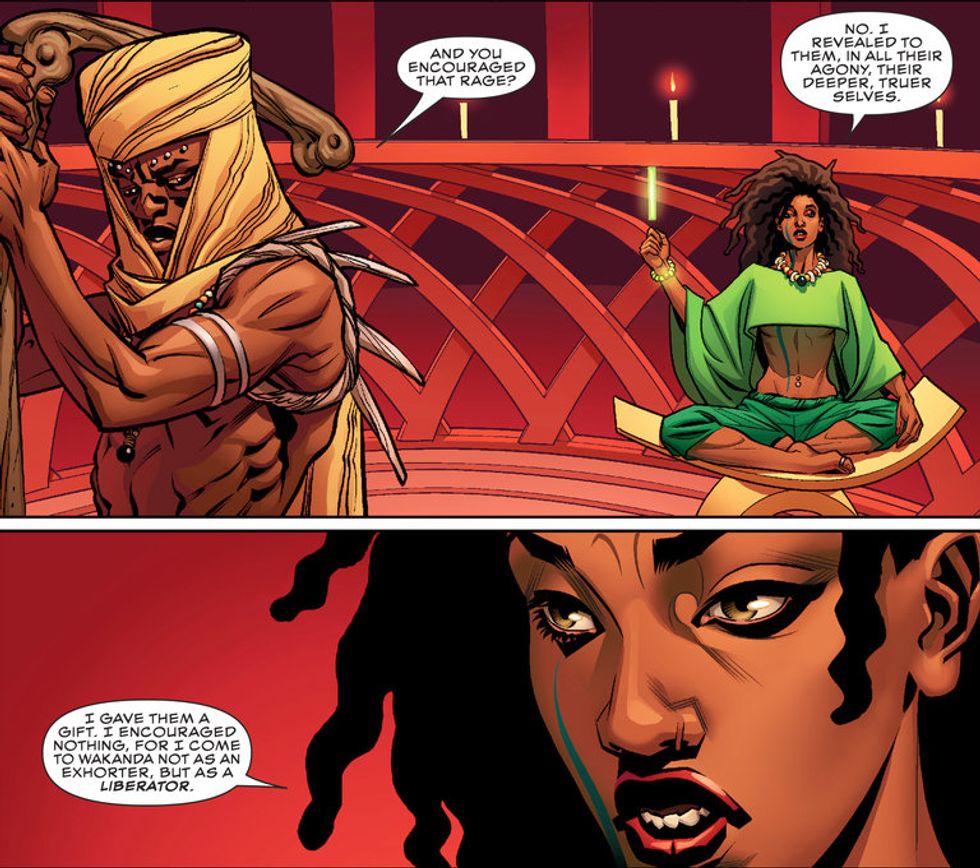 Zenzi, Marvel Entertainment
We caught a glimpse of what could be in store for the comic in film Captain America: Civil War when actress Florence Kasumba, who played Black Panther's Security Chief, delivered fierce, one-liner "Move or you will be moved." Might it provide some inspiration?

GIF via blog Mary Sue
"The women in Black Panther's life are very, very important," Coates says.
Gay adds, "The opportunity to write black women and queer black women into the Marvel Universe, there's no saying no to that."
"World of Wakanda" also has an extension that Harvey will write, presenting the backstory of Zenzi, the revolutionary who started a riot in the first issue of "Black Panther."
The announcement continues Marvel's string of efforts to diversify its 9,000 plus character universe. The comic book publisher named 9-year-old Lunella Lafayette aka Moon Girl as hands-down, the smartest person in the Marvel Universe at a "Women of Marvel" panel during San Diego's Comic Con—which is absolute fact since it's well established that black girls are magic, especially in the intellect department. Also adding color to their roster of writers is certainly a move in the right direction.
Hopefully, this can hold over eager fans until the cinematic release of Black Panther, which has the most epic cast ever to grace the silver screen, expected in theaters July 6, 2018.