Bolanle Austen-Peter's unique retelling of the story of Fela Kuti and the 27 women he married in a single ceremony in 1978, known as the Kalakuta Queens, is set to make its debut in South Africa next month.
The acclaimed musical, which first opened at Lago's Terra Kulture Arts and Culture Center in December 2017, will be showing at the South African State Theatre—known as the largest theatre complex in Africa. The play's 36 member cast will be led by Laitan "Heavywind" Adeniji and Patrick Diabuah who both portray Fela in the play. They'll be backed by a fifteen-piece band.
Aside from being an exploration of the life of the storied Nigerian musician,Fela Kuti and the Kalakuta Queens also focuses on the life and contributions of the women who played a major role in his musical rise and "gives a unique insight into the negotiation of gender and power relations at the Kalakuta Republic, while also showcasing their unique fashion, dance and African identity, and unmasking common misconceptions about them," according to a statement shared in Broadway World. The showing of the play in South Africa is in line with the State Theatre's Pan-African mission.
---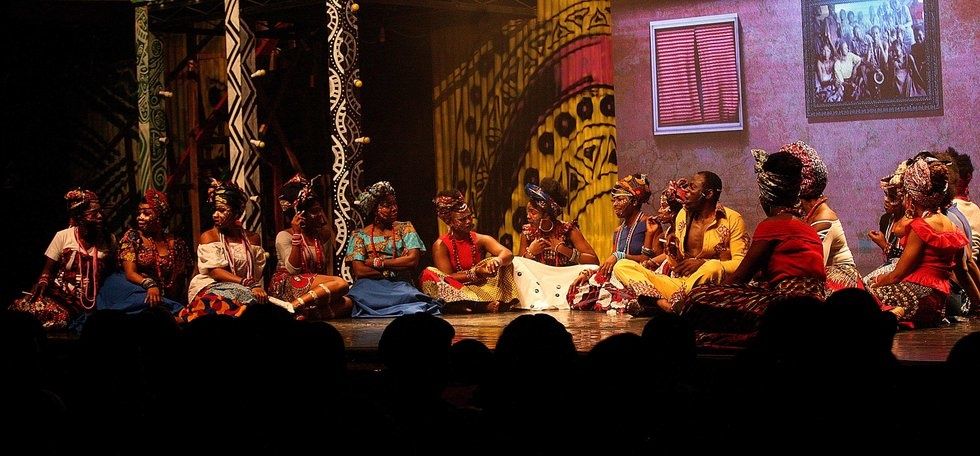 Fela Kuti and the Kalakuta Queens during its Lagos run. Image courtesy of BAP Productions.
"Nigerians form a strong community in promoting Nigerian and African culture in notable cities around the globe," says Austen-Peters—who is also the woman responsible for bringing the first Nigerian play to London's West End. "We believe that a historic and cultural production like Fela and the Kalakuta Queens will be received well in South Africa—considering Fela's iconic status and the increasing interest in afrobeat internationally."

The accomplished playwright, producer and director spoke toBBC Africa last year, about the musical, and her decision to highlight the women in Fela Kuti's life. "It just occurred to me that nobody ever talked about the 27 wives that he had," said Peters. "And I wondered who they were? I wanted to understand what informed their decision to marry one man, and what drove them. You know, what was their passion?" We highlighted Austen-Peters as part of our #Goals series back in 2017.
Fela Kuti and the Kalakuta Queens will show at the South African State Theatre from March 27 to April 7. For more, revisit our exclusive look inside the musical during its 2017 Lagos run.