News
Audio: Mutamassik 'Rekkez' [Full LP Stream]
Listen to a full album stream of Mutamassik's latest project, "Rekkez' - a full length exploration of Egyptian rhythms through electronic production.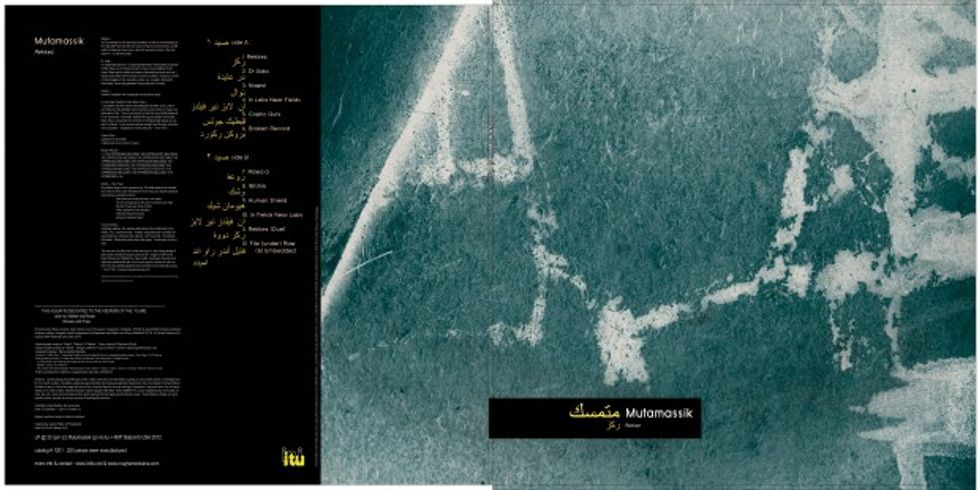 ---
A few months ago, Okayafrica hipped you to the title track from Mutamassik's latest release, Rekkez, and now we are very pleased to present you the project in its entirety with a full album stream. With influences spanning her mixed Egyptian and Tuscan roots and a wide range of emotions, Rekkez is not easily defined in either sound or scope. Transformed vocal samples and jagged electronic sounds overlap and interact to create a work that is aggressive in its rhythms, but never abrasive.
From the first 808 bass drum hit of the opening track, Mutamassik — Arabic for tenacity — establishes herself as a pioneering force in the global electro scene, deftly maneuvering the space between tradition and innovation, acoustic and digital, familiar and unexpected. The Egyptian percussion mixes with electronic production to create what Mutamassik herself (known to the world outside her music as Giulia Loli) refers to as "Pan-Afrabic immigrant sound sources mixed with the head-nod of hip-hop and the bass & syncopation of hardstep." Rekkez marks a departure from her Rough Americana project with frequent collaborator Morgan Craft, but the political bend found in previous recordings is all but lost on this album. Listen to Rekkez below.
[audio:http://www.okayafrica.com/wp-content/uploads/01-Rekkez-U0631U0643U0632.mp3|titles=Mutamassik 'Rekkez']
>>> Stream: Mutamassik 'Rekkez'
[audio:http://www.okayafrica.com/wp-content/uploads/02-Dr.-Aida-U062fU0631-U0639U0627U064aU062fU0629.mp3|titles=Mutamassik 'Dr. Aida']
>>> Stream: Mutamassik 'Dr. Aida'
[audio:http://www.okayafrica.com/wp-content/uploads/03-Nawal-U0646U0648U0627U0644.mp3|titles=Mutamassik 'Nawal']
>>> Stream: Mutamassik 'Nawal'
[audio:http://www.okayafrica.com/wp-content/uploads/04-In-Labs-Near-Fields-U0627U0646-U0644U0627U0628U0632.mp3|titles=Mutamassik 'In Labs Near Fields']
>>> Stream: Mutamassik 'In Labs Near Fields'
[audio:http://www.okayafrica.com/wp-content/uploads/05-Coptic-Guts-U0642U0628U0637U0649U0643-U062cU0648U062aU0633.mp3|titles=Mutamassik 'Coptic Guts']
>>> Stream: Mutamassik 'Coptic Guts'
[audio:http://www.okayafrica.com/wp-content/uploads/06-Broken-Record-U0628U0631U0648U0643U0646-U0631U0643U0648U0631U062f.mp3|titles=Mutamassik - 'Broken Record']
>>> Stream: Mutamassik 'Broken Record'
[audio:http://www.okayafrica.com/wp-content/uploads/07-Rawaa-U0631U0648U0639U0629.mp3|titles=Mutamassik 'Rawa'a']
>>> Stream: Mutamassik 'Rawa'a'
[audio:http://www.okayafrica.com/wp-content/uploads/08-Wishik-U0648U0634U0643.mp3|titles=Mutamassik 'Wishik']
>>> Stream: Mutamassik 'Wishik'
[audio:http://www.okayafrica.com/wp-content/uploads/09-Human-Shield-U062dU0648U0645U0627U0646-U0634U064aU0644U062f.mp3|titles=Mutamasik 'Human Shield']
>>> Stream: Mutamasik 'Human Shield'
[audio:http://www.okayafrica.com/wp-content/uploads/10-In-Fields-Near-Labs-U0627U0646-U0641U064aU0644U0632.mp3|titles=Mutamassik 'In Fields Near Labs']
>>> Stream: Mutamassik 'In Fields Near Labs
[audio:http://www.okayafrica.com/wp-content/uploads/11-Rekkez-Due-Build-Mix-U0631U0643U0632-U062fU0648U0648U0629.mp3|titles=Mutamassik 'Rekkez (Build Mix)']