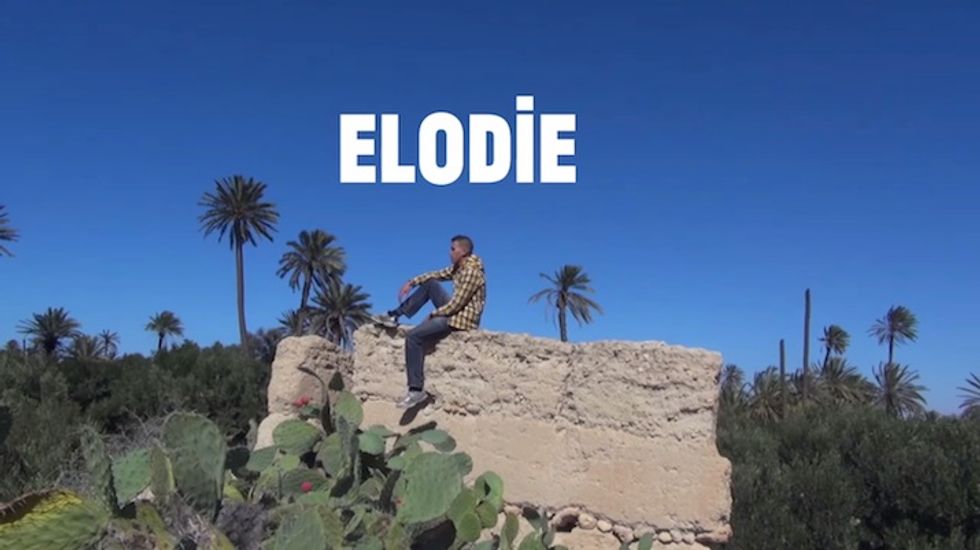 ---
Of Golden Visions is a new project from LV producer Will Horrocks and Intergalactic Republic of Kongo's Moroccan frontman Mike Title. Their sound mixes a barrage of North African rhythms, SA house patterns and glitch samples into haywire electronic music. Though there's only two tracks available on their fairly new soundcloud page, the group's already received attention from The Guardian's playlist among others.
The DIY video for Of Golden Visions' first single "Elodie" came about from a chance encounter Title had with Mourad Aamri while in Tiznit, a town in Southern Morocco. Mourad spotted Title's camera and told him that he wanted to be a movie star. From that moment, his character quickly became the star and rapper of "Elodie," a song Title explains is "not just [about] a French girl who has visited Morocco and made promises to a guy that she never kept. It is also a metaphor for the French in North Africa from a colonial point of view. There is a hollowness in the relationship that still lingers." Read Mike Title's explanation of how the shoot came about and short interviews with both Mourad and Younis Jackson, the Michael Jackson-impersonating dancer in the video, below.
Mike Title: I went to Morocco with a camera and no plan, totally gonzo. Mourad approached me on the street on the second day. He had a big threatening dog on a chain. "What you doing, making a film?" he asked. "Yeah we can do that, yeah," I said. We started filming the next day. I tried to get into the head of someone who wanted to be an action hero. The desire to escape. For me Elodie is not just a song about a girl who breaks promises, it is also a word on colonization in Africa. For all its benefits, you can also see the hollowness that remains from it.
Younis contacted me on Facebook telling me how much he liked my performances I had made on previous trips. We met in a cafe where he kept telling me how one day we would all be united under one God. That stuff makes me edgy but I warmed to him and his routine is top notch. He's a leader and he's a doer. He makes money doing his thing in hotels.
Questions with Mourad Aamri
How old are you Mourad and where are you from?
M.A: I will soon be 23 and I am from Tiznit.
What is the difference between a Berber and an Arab?
M.A: We are Berbers from Tiznit. A Berber city. The Arabs arrived after us. The language and the culture are not the same. There are less Arabs here than Berbers.
What do you want to do with your life Mourad?
M.A: Good things, I want to work. I want to help people, maybe work in social services.
I thought you wanted to be an actor?
M.A: Yes if I was an actor I would like to be in films that were about society.
Do you like the video?
M.A: Yes a lot. There have been many views very quickly.
It's not just about views though is it?
M.A: What then?
For someone watching this from another community, country or another world what will they see when they watch this video?
M.A: The personal life of a stranger. It should get them thinking.
Thinking what?
M.A: That his girlfriend cheated on him. I need a girlfriend. You didn't know that when we made this.
You did mention it. Have your parents seen the video?
M.A: No, but my friends like it a lot
You didn't show it to your family?
M.A: I do what I want with my life, No one decides for me.
Why not show it to your parents? I showed it to my mum she said: What are you going to do with that?
M.A: I manage my own life. I respect my father, I respect my neighbors. My neighbors loved the performance.
What do you think of America?
M.A: I want to find a French girlfriend
What are your images of America?
M.A: The same as in the magazine. My life is in reality not that. What are your images of America?
Girls on the beach, big flying birds, steak, onions, New York, James Brown, war.
M.A: I'm broke, I look rich in the video but i'm broke. That is real. I want to do more of this but magazines make money, Youtube makes money. What about everyone else?
You're not wrong. Endless loops of promises of opportunity Mourad.
M.A: People watch it for free.
You download music and films for free though don't you?
M.A: The world is turning upside down. It's not important if everyone has a telephone. It means nothing. I just want a girl, a job, a house, some stability. I am not looking for anything else. Just a normal life.
I get that. If people come to your region what will they see?
M.A. What do you think?
Mountains, amazing food, very open people, the sea, the sun. Always the sun.
M.A. You love that don't you? There is less misery when its sunny, that's for sure.
Questions with Younis Jackson
Where were you born and how old are you today?
YJ: I was born in Tiznit, Morocco. I am 20 years old.
And how did you find out about me, to contact me on Facebook that time?
YJ: I just saw you were back walking around in Tiznit. I watched you before at Dar Takafa.
Where?
YJ: The place where you performed.
Oh, in the theatre.
YJ: Yes, with I.R.O.K.
Yeah that was great. Do you remember the first time you saw Michael Jackson, where was that?
YJ: Yes in 1997 on Moroccan TV, one video clip, "Thriller."
How long did it take before you were impersonating him?
YJ: In 2004 I start training his dance. I start just with CD, then when we had internet at home I start to watch on Youtube.
How many MJ impersonators are there in your region?
YJ: No one, only me.
And in Morocco?
YJ: Not much, like 10 and they are more dancers not impersonators. There is no one like me. The look of the face is me.
Being called Michael people in Morocco would always call me Michael Jackson when i met them. I remember thinking once that Moroccans would be crying in the street when he died one day. Why do people love him so much?
YJ: 'Cause he's a legend and will always be.
He never performed in Morocco did he?
YJ: There was problem with political men. They don't give him licence to play. He go to perform in Tunisia.
How important is religion in your life?
YJ: It is very important. I'm a Moslem but not hard.
Have you ever left Morocco? Where would you like to go?
YJ: America, USA. Hollywood or New York. That would be good.
What do you think people in the USA or anywhere else will think when they see the video?
YJ: They will say this is a Berber, Arabic, European art. That it's different from other things.