Imagine a dhal curry, but cooked in coconut and creamy sweet potato. Or a mild lamb vindaloo served with beetroot and pomegranate biriyani. It's authentic Indian cuisine but with an added flourish. The Off The Wall Pop-Up Restaurant, co-owned by South African chef and food stylist Khanya Mzongwana and her boyfriend, DJ Bubbles, is a standout addition to South Africa's food scene.
---
In a short space of time, Off The Wall's growingly-popular monthly dinners have begun to turn the tables on South Africa's exclusive dining-out culture. In the process, they've made it more accessible to the young, black and urban of Joburg and Pretoria.
Despite a shaky start, it wasn't long before Off the Wall hit a stride. It now caters to a group of 50 dinner guests on a monthly basis at +27 Cafe in Pretoria. Every month sees a new food theme, from Italian and Indian to Egyptian, with décor to match.
Diners at the Off the Wall Pop-Up Restaurant. Photo by Stuart Hendricks.
For Mzongwana, food is an intersection where we all meet. "Whether it's about texture, flavour, there are a lot of things that we have in common," she tells me as we sit down at Life Grand Cafe in Hazelwood, Pretoria. Mzongwana was born in Port Elizabeth, and spent much of her life there until her mid-20s. Off the Wall was the product of a childhood spent around Xhosa women that loved a grand food affair.
"For every occasion, we would celebrate it with lots of food," she shares. "The usual stuff you would eat in the hood, but it just had so much flavour and love. It was just humble food. Good food."
Mzongwana's food entrepreneur journey began at The Aztec Kitchen, a takeaway shop she started with her mother when she was 21. Nuzzled between a shebeen and a church hall in central Port Elizabeth, it started off as a takeaway for sandwiches, burgers and lasagnes for its predominantly student clientele. Slowly, it turned into a restaurant. Fresh fish became one of their staple offerings thanks to their close proximity to the harbour.
Khanya Mzongwana. Photo by Stuart Hendricks.
Sadly, the kitchen came to an end after three years due to bankruptcy. But Mzongwana's connection with food and cooking continued. She moved to Johannesburg and began a college course in professional cookery and culinary arts before dropping out due to fees. Mzongwana also just felt like she didn't want to be there anymore.
"We weren't really learning how to be artists. We weren't being encouraged to be artists," she says. Instead, they were encouraged to find any old hotel that would have them. "There wasn't really any entrepreneurial spirit in school."
It was in between working at different restaurants that Mzongwana suggested the idea of a pop-up restaurant to her boyfriend, Sakhile Ndlazi, otherwise known as vinyl enthusiast DJ Bubbles. Off the Wall was officially born in June 2014.
But Mzongwana's first official pop-up wasn't entirely a success.
Hosted in Sunnyside, Pretoria, it was rough and makeshift. "We got crates, put these slabs of wood and then threw it over a sari. It was a lot of our friends and family, and just people close to us," laughs Mzongwana.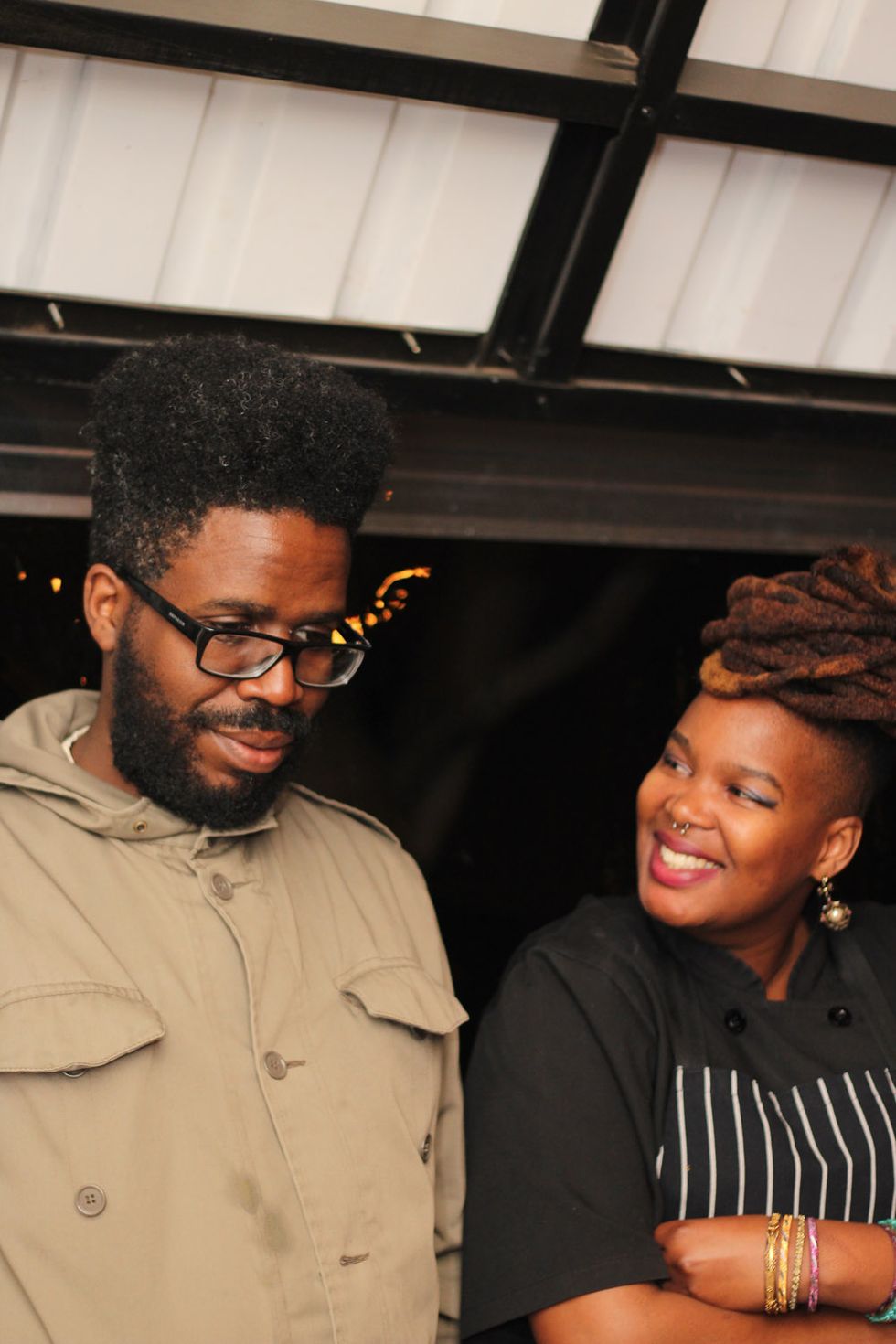 DJ Bubbles and Khanya Mzongwana. Photo by Stuart Hendricks.
Food and music have always been a formidable collaboration, and Off the Wall is no exception. DJ Bubbles plays a mix of Motown, dinnertime jazz, funk and soul as diners dig into each course. "[The music] kind of sets the tone for everything, and if I can't communicate what we're trying to do through the food, I think the music kind of says it for me," Mzongwana says.
It's been two years since the whole operation started, and when Mzongwana isn't prepping for her next pop-up event, she's busy experimenting with food menu development and food styling. She's already contributed recipes to Pretoria's African Beer Emporium and Poolside in Maboneng, and she also contributes to Woolworths' TASTE Magazine and the South African online food guide, Eat Out.
Off the Wall will continue with its intimate setting for now, but it's growing, and will soon have more mouths to feed.
"[I've] been thinking a lot about popping up in different countries, [overseas], but right now I think continentally is key. It's important, because you've got to see your world first and travel the continent," she says.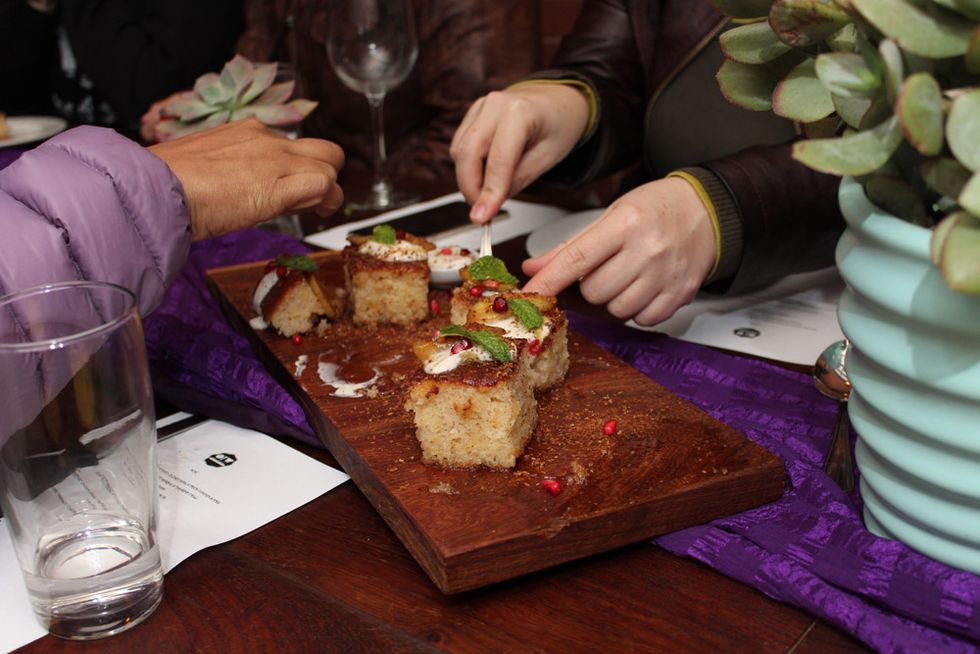 Photo by Stuart Hendricks.
Franchising tends to be the usual trajectory for a budding restaurant, but for Mzongwana, passing down knowledge is key. "To young black girls, especially," she says. "I'm a young black girl. I know what it's like. So much is expected of us, and at the same time so little when you start doing well."
The notion of pop-up dining and revolving menus isn't new to South Africa. Mzongwana isn't exactly the first to bring the idea to the fore. Rather, Off the Wall is making the trendy aspect of dining out more approachable and accessible, particularly to young black South Africans living and working in Johannesburg and Pretoria.
"One of the things we really want to do is just make eating out accessible to young people," she says. "We don't want people to be awkward or overwhelmingly polite at the table - eat with your hands and engage with the food. We try and create that access in terms of 'this is not too classy a space for you.' Just come."
Wilhelmina is a Kenyan-born writer based in Johannesburg, and loves writing about the continent. Follow her on Twitter @Wmaboja.