Like many travelers before me, I got stuck in Salvador, Brazil. I had only planned to stay two weeks when I arrived for the first time 15 years ago. But I couldn't bear the thought of leaving a Brazilian city where my blackness was normal and celebrated. I also had never felt closer to the continent of Africa, without physically being there. So I ended up staying for four months. During those four months and seven subsequent visits, I have gotten to know Salvador in a way that is limited to locals and people who get "stuck" in the city.
---
Salvador is Brazil's blackest city. Of its 3 million residents, more than 80 percent self-identify as black. But it's blackness isn't just in the numbers. Salvador maintains a spiritual connection to Africa that was long broken in the United States and severely weakened in the Caribbean. The first Africans arrived in Salvador in the 16th century to work the sugarcane plantations and over the course of three centuries, the city received hundreds of thousands of enslaved Africans. They brought with them their religion and now more than 1,165 Candomblé places of worship dot the city. This influence flows into the music, dance, and food. The mini-guide below goes beyond Salvador's traditional tourist places and provides you with a insider-look at the city's culture.
Travel Company and Guides
It's unbelievable that in a city as black as Salvador there is only one black-owned full-service travel agency—AfroTours. Nilzete Santos started her agency in 2007 to help tourists better connect with the Afro-Brazilian religion of Candomblé. Now her company has expanded. Afro-Tours will plan your entire trip—the flight, hotel and excursions. Fernando Bingre brings expertise, multilingualism and warmth to his guided tours throughout Salvador. He's Salvador's highest rate guide on TripAdvisor, and his most popular tour explains the African history and culture of Salvador. He knows his city so well that he can tailor a tour to any requested theme. In the evening he often ends his tours with a stop at a local samba club.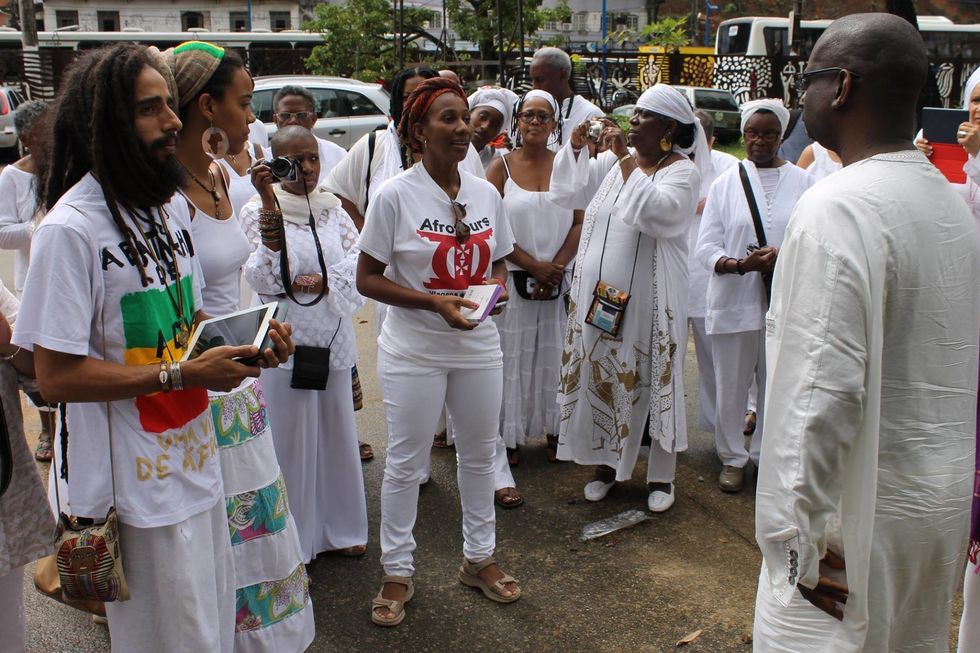 Nilzete Santos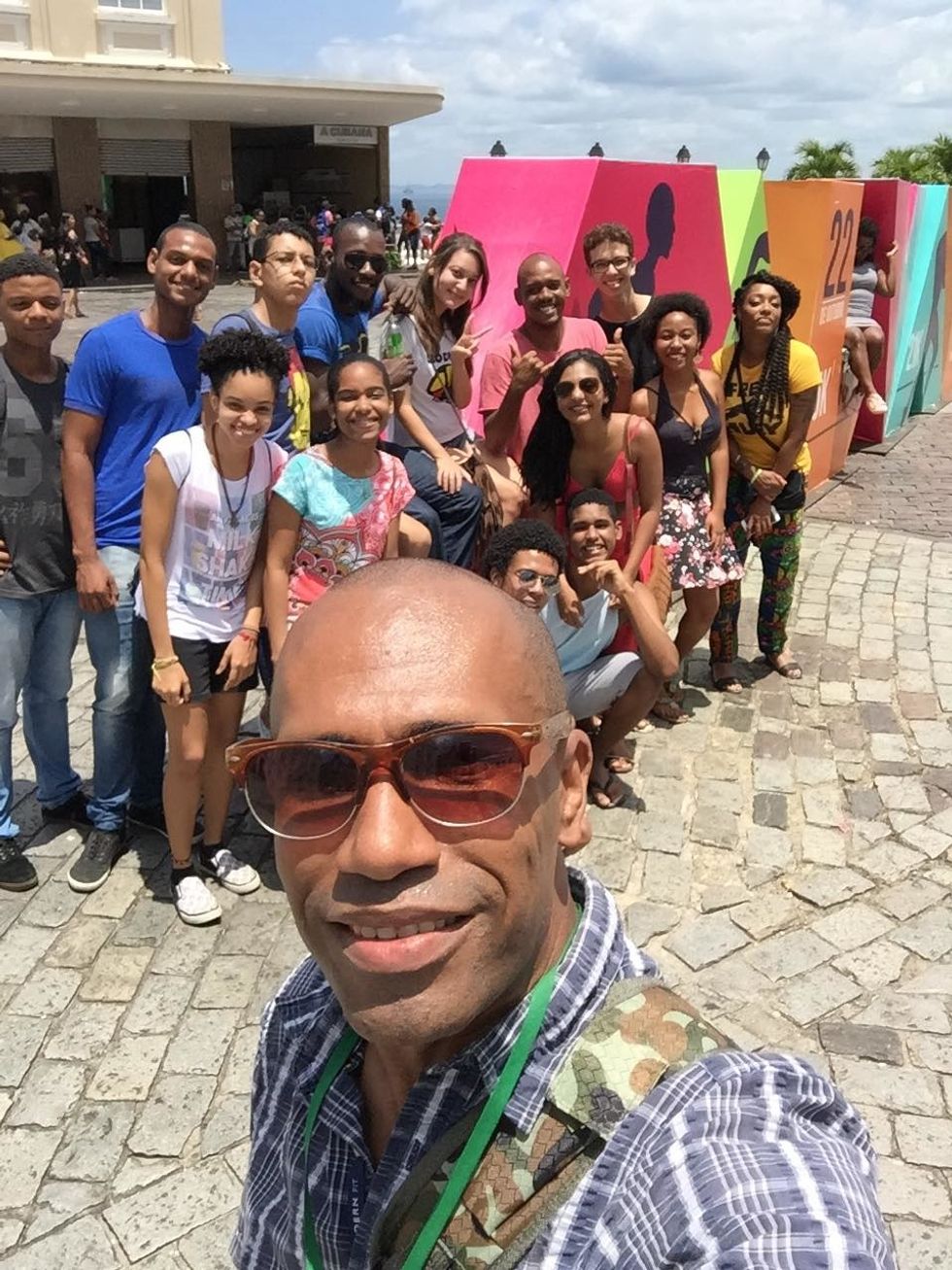 Fernando Bingre
Food: Acarajé and more
Salvador's preferred street food is an Acarajé, a black-eyed pea fritter filled with dried shrimp, okra stew, tomatoes and a cashew paste. This, and its sister food abará, can be bought and eaten throughout the city at stands managed by women called Baianas. Traditionally, these women practiced Candomblé and sold the food served in Candomblé houses on the streets of Salvador to earn a living. Most tourists encounter them in Pelourinho but the best acarajé belongs to Dinha in Rio Vermelho. Zanzibar restaurant has served African-inspired dishes for the last 40 years in Salvador's historic center. Fortunately, local dishes like moqueca dot the menu. Salvador's signature dish is moqueca de camarão, a stew made with palm oil, coconut milk, green peppers, onions, tomatoes and shrimp and then served over rice. The restaurant's terrace overlooks the bay. Get there in time to watch the sunset over the bay.
Image by Rodrigues Pozzebom.
Neighborhoods: Liberdade
Liberdade is the blackest neighborhood in Salvador—physically and spiritually. More than 500,000 Afro-Brazilians live in the neighborhood, which is known for producing people with a strong black consciousness. This shouldn't be a surprise. Liberdade the birthplace of theIlê Aiyê Afro-Bloco, a carnival percussion group that Afro-Brazilians created in 1974 after they had been marginalized for decades in Salvador's mainstream carnival. Today there are more than 20 Afro-Blocos in Salvador and Ilê Aiyê regularly hosts concerts in its headquarters in Liberdade. Don't miss it.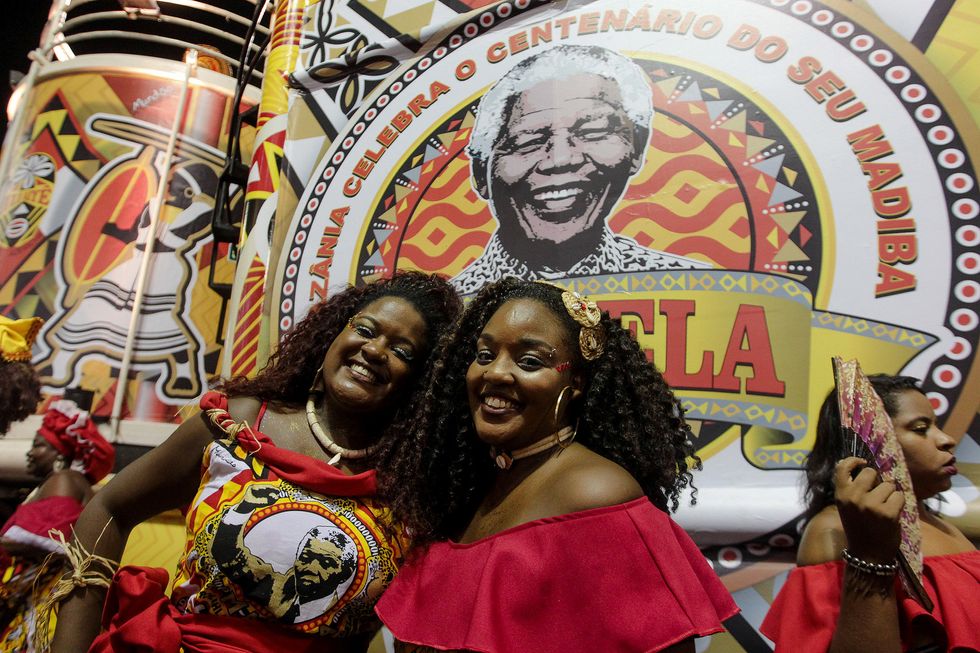 Image by Govba.
Religion
Black people in Salvador survived slavery and racism by seeking spiritual refuge in Candomblé, an Afro-Brazilian religion with strong ties to the Yoruba religion in Africa. Salvador has the highest concentration of worshippers and candomblé houses of any major city in Brazil. Casa Branca ( Ilê Axé Iyá Nassô Oká), the longest functioning Candomblé house in Salvador, was founded in 1855. Some Candomblé centers are as small as a one-story house and others, like the Casa Branca, are campuses with multiple buildings. These candomblé houses regularly welcome visitors to attend their festivals, which often include trancelike dancing, drumming and food. For more intimate contact with candomblé, schedule a meeting with a mãe or pãe de Santo (religious leader) for a "Jogo dos Buzios" in which he or she reads cowrie shells and assigns an orisha to you. Contact AfroTours to set up a visit to a Candomblé Terreiro.
Image by Ascom Setur.
Museums
The Solar de Unhão is an ocean-front complex that back in the day functioned as a plantation for a local rich man. Now the complex attracts locals and tourists to the city's Museum of Modern Art, which is housed in the casa grande (the big house). The museum has works of art from Tarsila do Amaral, Portinari, Flávio de Carvalho, Di Cavalcanti, Rubem Valentim, Pancetti, Carybé, Mário Cravo e Sante Scaldaferri.The complex also includes a private port and senzala, the slave's quarters,' and a church. Every Saturday the museum hosts a jazz jam session at the edge of the ocean where there is also a small favela community.
Image via Creative Commons.
Party
The Tuesday night Benção party in Pelourinho still draws in the crowds for a weekday party. Before the festivities, they gather at the Igreja Nossa Senhora do Rosário dos Pretos for a mass accompanied by African rhythms. Then they disperse in the streets for a night of Afro-Bloco music, samba and caipirinhas. More recently Salvador has become known for spawning the popular LGBTQ party Batekoo, which now has offshoots in São Paulo and Rio de Janeiro. Frequented mainly by young black youth, the party promotes a freedom of visual expression not found in mainstream Brazil.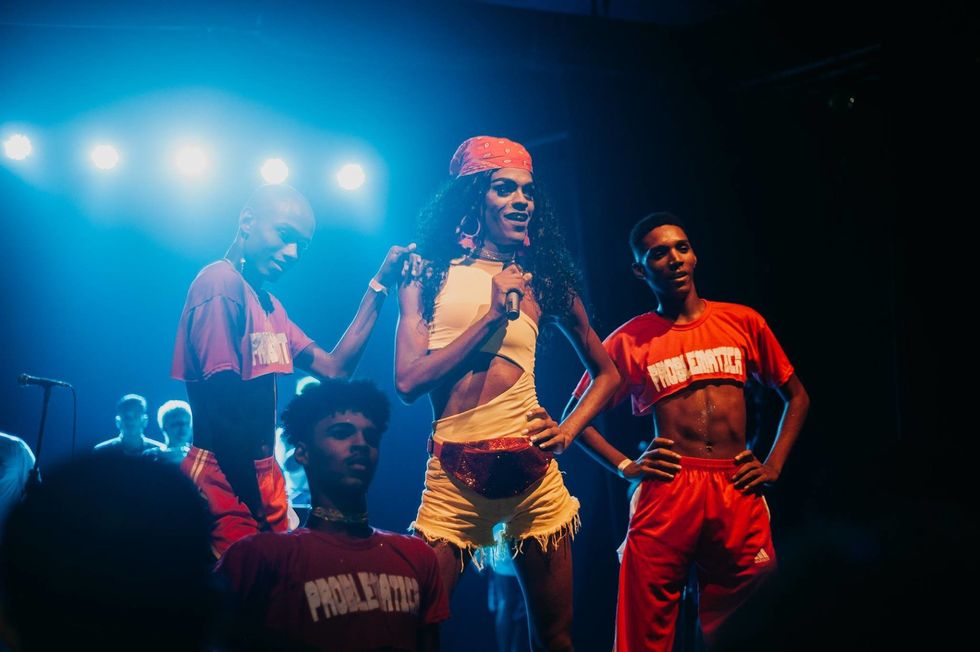 Image courtesy of Batekoo.
Beaches and Islands
Salvador has more than 50 kilometers of beach and there are 15 islands near the state of Bahia. While tourists flock to Barra, there's the opportunity to explore the beaches frequented by black locals and islands. São Tomé beach is a local beach in the far west suburbs of Salvador that has clear water. Ilha de Maré is a getaway island inhabited by descendants of Africans who were slaves. These communities are known as quilombos in Brazil.
Image via David Kirsch's Flickr.
After visiting these places be prepared to fight the desire to stay in Salvador. It will be difficult to leave the city's energy, history and people. So if you have no obligation to return home, submit to it this desire.