For Chifa Jouini, a student at L'école du Louvre, a French higher education establishment where art history and archaeology are taught, racism is an everyday occurrence. "I have been told many times I didn't look 'cultured,' and that I don't belong here," she says.

Like many students of color from a low-income background, Jouini has had to rely solely on her schoolwork to get into one of her dream schools, a prerequisite for getting a good job in France's rigid system. But the competition is fierce and more than anything, the game rigged against people like her: the stats show that the entry requirements for French art schools are still rigid, unfair and elitist. And even after getting in, French institutions of higher education can still drive away many hopeful and talented students who do not fit the mold. "Because I am pretty involved in anti-racism organizations, some students avoid talking to me," says Jouini.
In France, to get a job in the creative industries, you need to graduate from an art school or college. The more prestigious the school is, the more chances one has to succeed. However, most art schools don't even address the fact that the majority of students admitted are white and middle to upper class. While there may be between 3 to 5 million black people living in the Paris region alone its prestigious schools don't reflect this at all. Most students of color cannot break through the glass ceiling and struggle even more than their white counterpart to study in the creative industries.
A study by l'Insee (The French National Institute of Statistics and Economic Studies) shows that in the country's most prestigious schools, educational inequality is getting worse for students from a low income background. It is even worse in the arts: in 2017, only 3.8 percent of the students applying for for La Fémis, France's leading film school, got a place at the school.

The reality is that the "best" students tend to be the ones who can afford to take time off to dutily prepare for the exams. They tend to be white, from a higher income background and with an unprecedented access to culture starting from birth.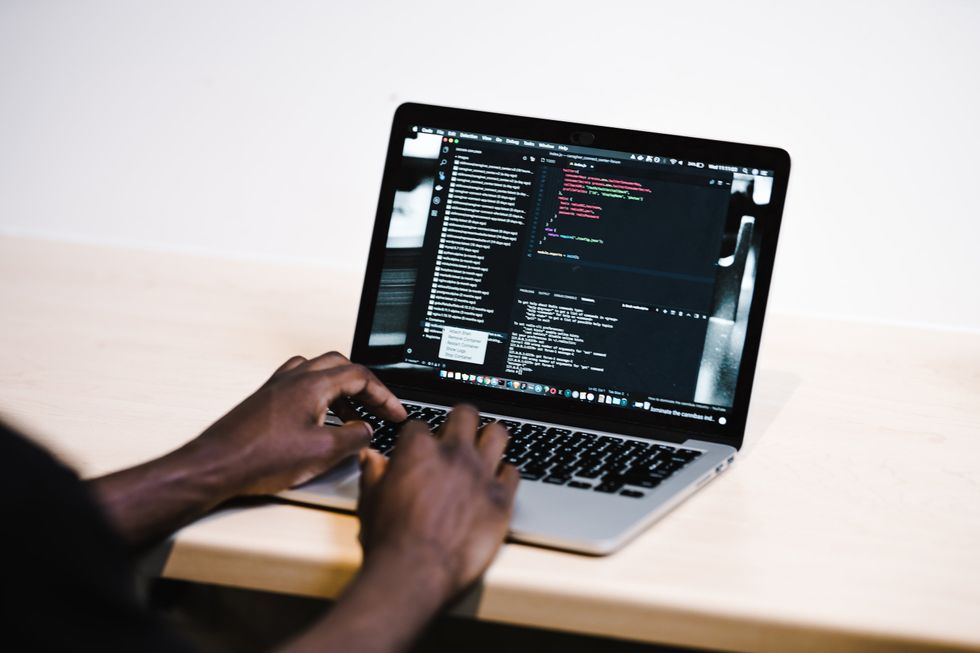 Photo via TONL
In September 2001, French's prestigious school Sciences-Po launched their first diversity schemes to help young people from low income backgrounds enter the school. Since, in the French school system, some high schools located in impoverished zones are part of a ZEP, (Zones d'Education Prioritaire), a program that channels additional resources to schools in disadvantaged areas and encourages the development of new teaching projects, some of them offer the opportunity to their student to take a few special AP classes and at the end of it, they pass an exam to integrate Sciences po, like all the other students in the country. The only difference is their test is slightly easier to pass.
Following the initiative, many schemes have been created: l'Institut Telemaque, a charity that pairs young students with mentors who help them to have access to a certain academic culture, as well as increasing their confidence; the Via Ferrata, a scheme helping students from a low income background to help them prepare for the entry exams of France's most prestigious art schools; and the Fondation Culture et Diversité lead by Eléanore de la Charrière.

"Art schools are still trying to make their entrance exams more inclusive. They're not quite there yet," De la Charrière says. That's why the foundation's workshops try to improve social cohesion by selecting and preparing students to get in the most prestigious art schools.
The foundation selects students based on their potential and motivation to succeed. However, having both of these qualities is not an accurate way of improving diversity in these schools. Most young people applying, regardless of their background, are highly motivated to get in. So how exactly picking up the motivated ones are going to make the entry requirements more fair?
Since the foundation has been created, around 500 have been accepted to various art schools. As for the ones who failed the entry exams, they used the backdoor, i.e. attend other schools or give up on their dreams.
Art diversity schemes choose who can or cannot be helped to pass the entry exams, based on the idea of meritocracy, despite the fact it is a system that has been proven again and again to be full of flaws. There's no such a thing as merit in a country where your gender, class and ethnic origin is is going to impact one's life, education and jobs. The family you're born into will impact how successful one will be, no matter how smart or hardworking you are.
For the Observatoire des inégalités, a private think tank that aims to accurately study inequality in France and the world, "a few places kept for a handful of students coming from the poorest part of the country will absolutely not resolve the issues around the lack social access of these schools. In addition, most of the students from a low income background are actually not attending schools in a low income area or ZEP"
Photo via TONL
On top of that, they have reported that the schemes allowing low income students to attend these prestigious schools have—outside of a good PR story— had little impact on making these schools more inclusive. Having a few spaces allocated for low income students in these schools do not make them more open to anyone who is not middle class and white. Therefore, although these schemes do have the best intentions, they are nothing more than a pat on the back.
A student, Maissa Koudri, who successfully got into Sciences Po but then chose to give up her place, recalls that despite the fact that most students in the schemes were POCs and that the school proceeds an anonymous marking scheme for the entry exam, the ones who got in tend to be white and from a higher income background.
The reason? Despite the scheme, the entry exam still relies on a huge workload that students from a lower income background, who have to support themselves and their families by working, can't afford to do. And even if they can, they often lack the support of their families. No matter how good one is, privileged students will always be better because they are prepared and expected at these schools.
To be fair, prestigious art schools are, by definition, highly selective. But then, why pretend otherwise? How can art diversity schemes truly aim to make art schools more inclusive if they refuse to even acknowledge such a barrier? And why spending so much time and effort setting up schemes that work for a selected few, thus reproducing the same inequalities they are supposed to fight?
The art diversity schemes in France are aware that there is an issue, but instead of targeting the art schools responsible for that, they, instead, mold the students to make them more "white washed" to blend in with what they expect of them. And, unless the schools change, they won't become more diverse.