When we catch up with London-based multimedia artist Phoebe Boswell at the 1:54 NY Contemporary African Art Fair in Red Hook, Brooklyn, she's standing in front of her Tinder-based exposé on segregation in the city of Gothenburg, Sweden. The project's inspiration is an essay from James Baldwin.
---
Born in Kenya to a Kikuyu mother and fourth generation British-Kenyan father, Boswell grew up in the Middle East before moving to England at 16. She's been there ever since.
Photo by Ginny Suss.
Her multimedia work centers around drawing, often creating immersive worlds and layered stories for her viewers. "In order to tell diasporic stories that can't be contained in a single space, you need to offer the audience multiple inroads into work," the artist tells Okayafrica. "So that our language is nuanced enough to encompass us."
Last year, Boswell found herself in Gothenburg on an artist residency. Upon arrival she was warned of the city's segregation. She thought of Baldwin's Stranger In The Village essay, in which he goes to a small town in 1960s Switzerland and describes his "otherness" in detail.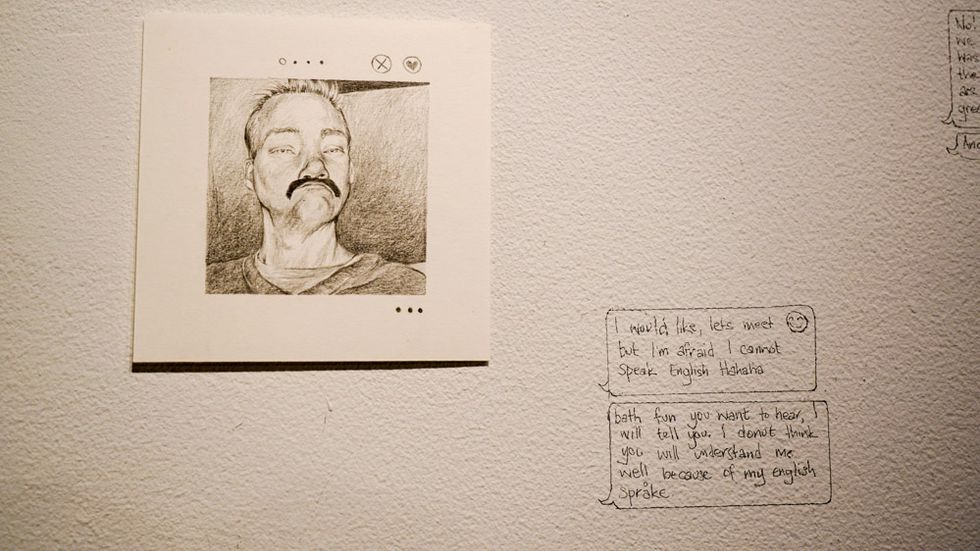 Photo by Ginny Suss.
Boswell wanted to do something similar with her art. Her studio just so happened to be right in the center of the affluent white city. "As you go further out of the city you go towards the immigrant suburbs," she says. But where she was in Gothenburg was very white.
Boswell thought the most efficient way of uncovering Gothenburg's racial issues was through Tinder. "I wanted to use the superficiality and the location radius of Tinder." And so she added her picture to the dating app and started swiping people. As she swiped, she would draw the men she came across, spending hours creating intimate portraits of strangers that can be seen on a since finished wall. "This is sort of the essence of Tinder," Boswell says. "You're making these intimate connections out of nothing."
Next, she started to document the conversations she was having. One of the first ones went like this:
Hey, I went to Botswana last year on safari [smiley face]

You remind me so much of it [smiley face]

Like a lion queen of the jungle [smiley face]

Rawr [smiley face] [smiley face] [wink]
Photo by Ginny Suss.
It was then that Boswell realized the project had weight. So the next man she spoke with she asked: "I heard this place is very segregated, is it true?" His response was further validation:
Yes, but you are quite fair-skinned, and sort of beautiful. So you will be okay. Swedes aren't racist. We just don't like ugly people.

I had a friend from Brooklyn who was really dark, like a Somalian. And everyone hated him. But then he tells them that he's from Brooklyn, and then everyone wants to play basketball with him.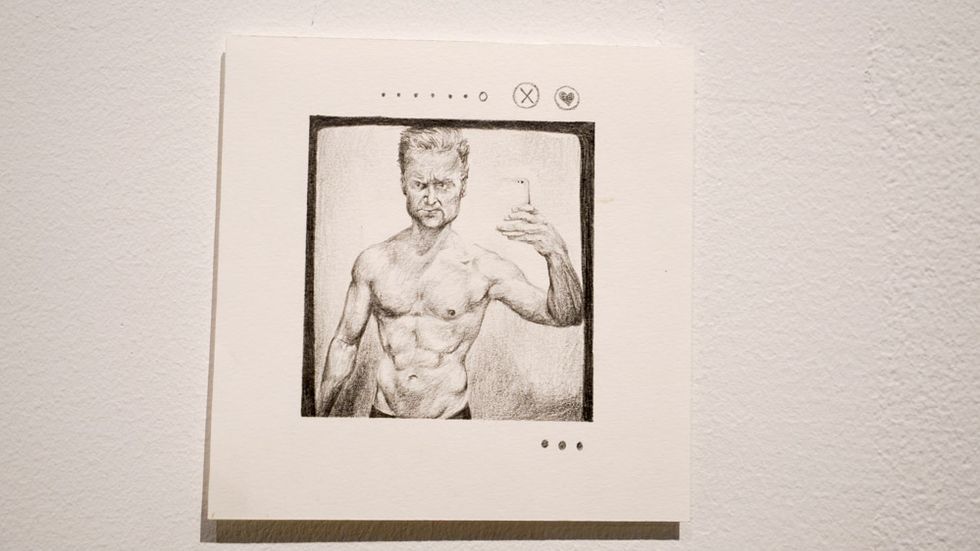 Photo by Ginny Suss.
It's this ignorant small talk that permeates Boswell's Stranger In The Village. The portraits on the wall don't necessarily correspond with the conversations. "It's not about outing people," Boswell says. "It's about a collective feeling of not belonging. The conversations are essentially everything Baldwin spoke about in his essay."