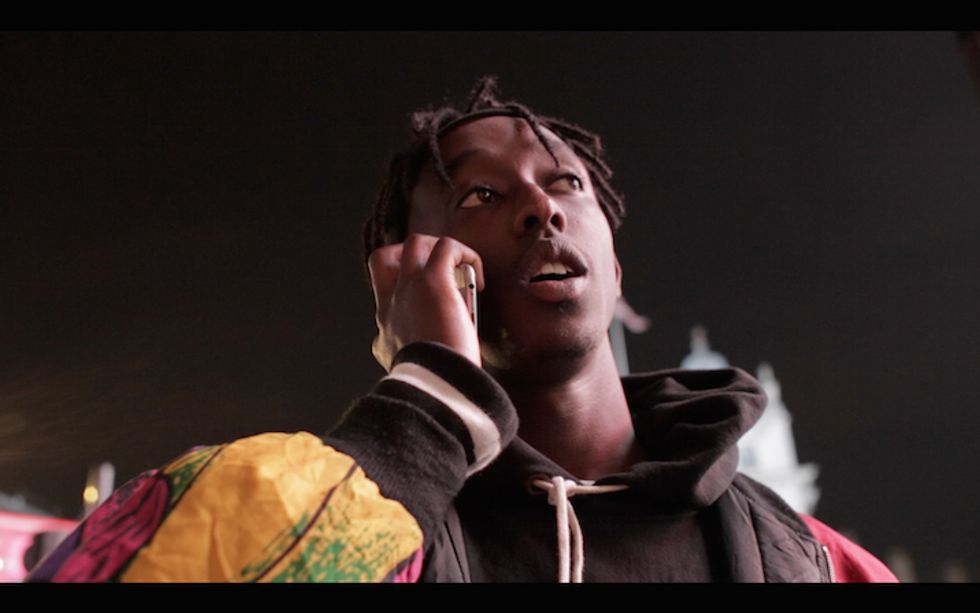 ---
Filmmaker and actor Roger Jean Nsengiyumva stars in the latest episode of Polyglot (Photo: Ferhat Yunus Topraklar)
In the third episode of Polyglot, viewers will journey from the scripted web series' original locale of Berlin to another European metropolis. "My Own" centers on Roger Jean Nsengiyumva, an artist struggling with the challenges of living in the expensive, harsh city of London.
According to series creator and director Amelia Umuhire, Roger has a "somewhat special relationship" to Amanda (played by Umuhire's sister, Amanda Mukasonga,) the Berlin-transplant rapper and poet highlighted in the series' first two episodes. UK rapper Afrikan Boy will also make a musical guest appearance.
"The episode follows Roger around town on his quest to kill the creeping feeling of loneliness and boredom after losing an important person in his life," Umuhire told Okayafrica via email. "I'm really excited because its a different city, a different character and a different visual and musical style. This was a very intuitive and incredibly tightly shot collaboration and the shooting experience translates in the feeling of the episodes. I want the viewers to experience a new side of Polyglot."
Polyglot, which was launched in April by the Rwandan-born, Berlin-based sisters, explores the multi-hyphenate identities of young creatives of color in Berlin.
"There is this one image of Germany, like you have white people speaking German, if you look at the TV landscape for example. Black people only appear as nurses, or cooks," Umuhire told NPR Berlin. "You don't get to know people, this big part of Germany and Berlin, because they are kind of marginalized in media."
"If I were in a TV show, normally as me a black woman, I wouldn't get to be this real, as this 3D, as deep as a character, you know," Mukasonga added.
Did you miss the first and second episode of Polyglot? Check out the videos below to catch up and look for the premiere of episode 3 later this month on Okayafrica. Keep up with the series on Facebook and Instagram.