It's been nearly four decades since the original Roots miniseries, based on Alex Haley's 1976 novel Roots: The Saga of an American Family, first aired on TV over eight nights to an audience of 130 million viewers, becoming a huge hit.
---
Not only did the series receive numerous accolades from Emmy, Golden Globe and Peabody awards, it was historic as it confronted Americans with the brutality and lasting legacy of slavery on black Americans, and encouraged interracial dialogue.
Fast forward to Monday night when the Roots remake premiered on the History Channel, A&E and Lifetime, and it stoked a range of emotions from sadness, rage and pride in similar fashion as its predecessor. But this time around there's social media for viewers to air their real-time reactions with hashtags #Roots, #KuntasKin, #BoycottRoots and #RootsSyllabus.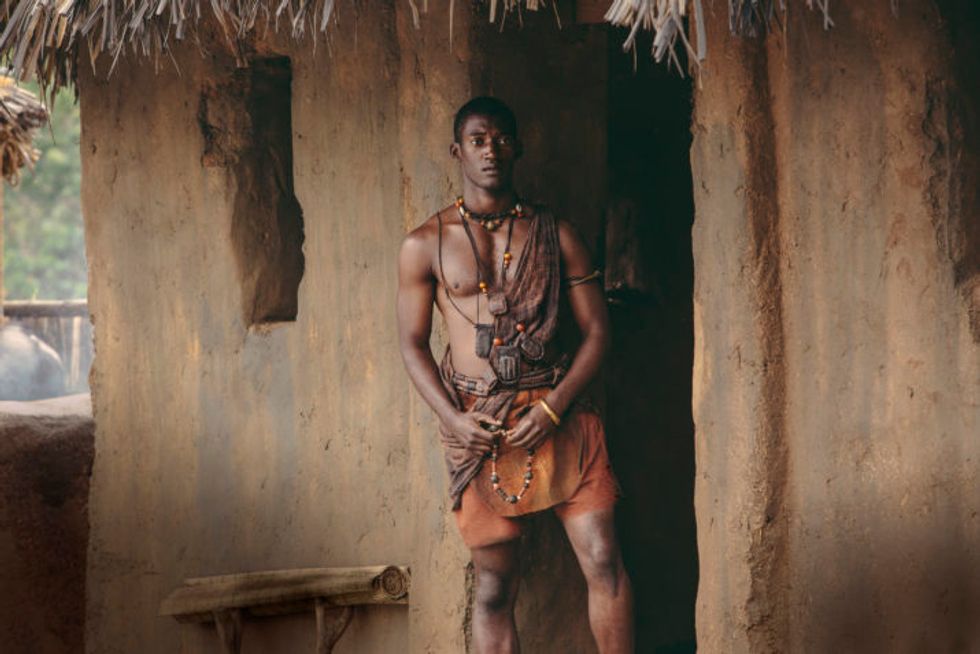 Malachi Kirby as Kunta Kinte; Photo by Steve Diet/ HISTORY
Although rapper Snoop Dogg was very vocal in an expletive-filled Instagram video posted Monday about his plans to boycott the four-night, eight hour scripted saga about Mandinka warrior Kunta Kinte's capture and enslavement in America, arguing "Let's create our own shit based on today, how we live and how we inspire people today. Black is what's real. F— that old shit"— others were led by their curiosity to tune into the drama. It garnered an impressive 5.3 million viewers across all three networks — the biggest debut since The Bible miniseries in 2013,  according to The Hollywood Reporter.
And as actress Anika Noni Rose, who stars as Kunta Kinte's daughter Kizzy in the Roots reimagining, explains to Okayafrica, "Roots should be told year-in and year-out...and it is painful. And we must get through the pain to get to the other side to find truth, knowledge, and healing. Hopefully, that is what this story will assist."
Anika Noni Rose as Kizzy; Photo by Steve Diet/ HISTORY
Those who tuned in to watch the first episode—which introduced Kunta Kinte (Malachi Kirby), depicted his kidnapping from his home, in what is now Gambia, as well as his horrific Middle Passage voyage and brutal enslavement on a Virginia plantation—didn't hold back from sharing their opinions of the more graphic reboot.
We rounded up some of the realest reactions:
I love the depictions of West Africa as joyous and rich in culture in #Roots #KuntasKin... loving it. Redefining the narrative. My people

— Iceberg Slim (@icequeentt) May 31, 2016
Young people need to see #Roots but when do they learn about Mansa Musa and the Empires of West Africa??

— Jon Snow Ebro (@oldmanebro) May 31, 2016
All the African American kids had seen #Roots so as jarring as the imagery was, we knew it. Just unexpected to see the Africans' eyes opened

— Akilah Hughes (@AkilahObviously) May 31, 2016
A Mandinka woman on the ship sings to the men to send them a message. Music has been our saving grace since forever. #ROOTS

— Awesomely Luvvie (@Luvvie) May 31, 2016
Now this scene had me in TEARS. He was fighting for his NAME. "Your name is your spirit. Your name is your shield" #Roots

— Candice Nicole (@CandiceNicolePR) May 31, 2016
We are the children of those who were strong enough to choose to survive! There is No-Thing we cannot do! #Roots

— Iyanla Vanzant (@IyanlaVanzant) May 31, 2016
As we watch #Roots , pay attention to the fact that removing Africans from Africa wasn't enough. The war was to remove Africa from Africans.

— Greg Carr (@AfricanaCarr) May 30, 2016
#Roots shows how complicit white women were in slavery. They might not have wielded the whip, but their hands were also dirty. #Kuntaskin

— Nerdy Wonka (@NerdyWonka) May 31, 2016
We get called "violent" and "savage" but look who we learned it from #ROOTS #KuntasKin pic.twitter.com/e4ukY3pWmy

— SandcastlesQueen (@OshunDeep7) May 31, 2016
I can't STRESS this enough!

Are you NOT INSULTED that THIS is what they want US to REMEMBER?#BoycottRoots pic.twitter.com/LTjrDqZWyk

— April Showers (@only1showers) May 31, 2016
If I were teaching #Roots,

1. The Book of Negroes
2. Jubilee
3. Dessa Rose
4. Wench
5. A Mercy#RootsSyllabus







— Rondrea Danielle,PhD (@Dr_FireAndIce) May 31, 2016