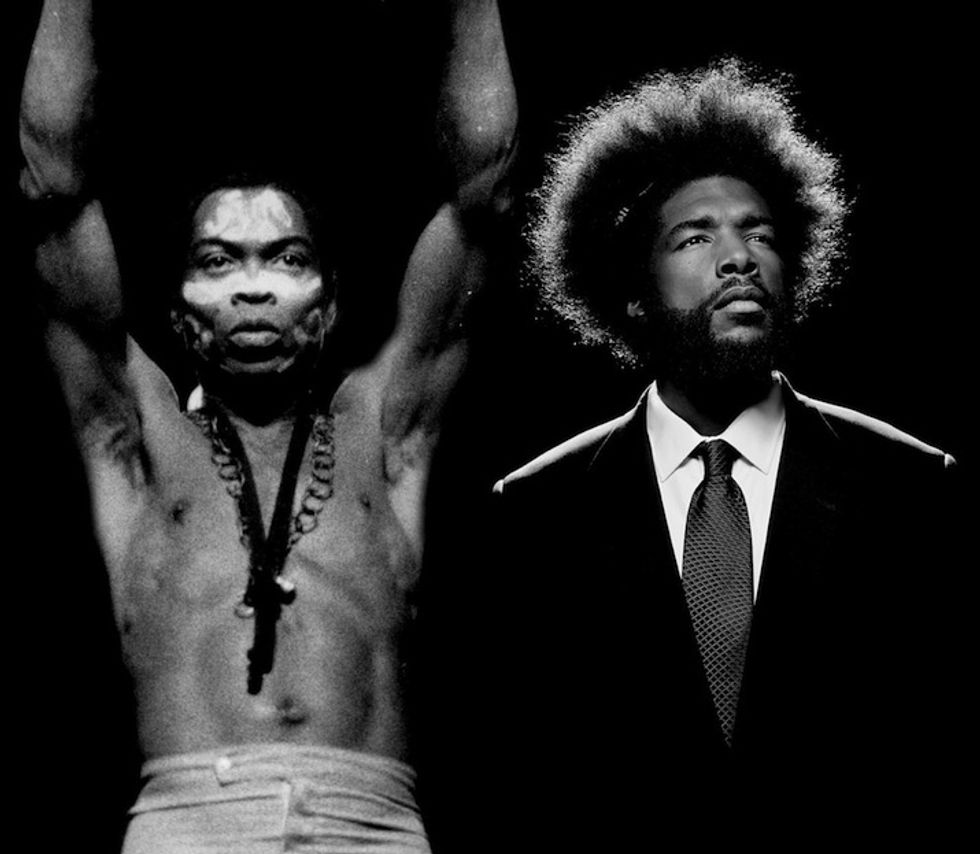 Watch Questlove's full insights about Fela Kuti that didn't make it into "Finding Fela."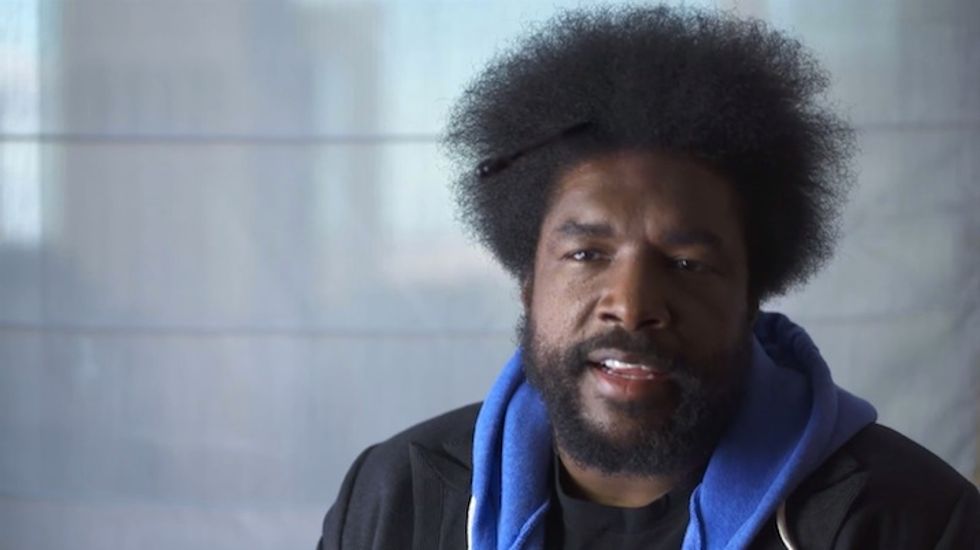 ---
If you caught Finding Fela on the big screen you'll remember seeing Questlove's insights on Fela Kuti's message and the uncompromising political stance behind his work. Though limited to a short clip in the feature film, we've unearthed full footage of the interview which has Quest telling the stories of how he came across Fela's music in Santigold's jeep, the boldness of the afrobeat legend's compositions, and how he got a morning phone call from Jay Z after an early showing of the Fela! musical. "He clearly had the ear and the adoration of the people," Quest states. "To use this time & time again, and to get thrown in jail every time a single comes out. I mean, I have 16 records and can't imagine that I might have to go to jail for every time my album comes out. Not many people are willing to suffer for their craft." Finding Fela is currently showing in 30-plus theaters across North America. Watch the Okayafrica TV exclusive of Questlove's extended interview from the film below.
Visit Fela.net and the Regular Trademark store. Use discount code OKAYFELA for 15% off all orders!
Finding Fela North American Theatrical Dates
New York, NY, IFC Center (August 1-14)
Rockland, ME, Strand Theatre (August 1-5)
Denver, CO, Landmark Chez Artiste (August 8-14)
Washington, DC, Landmark E Street Cinema (August 8-21)
New York, NY, Mist (August 8-19)
Vineyard Haven, MA, Martha's Vineyard Film Society (August 8-10 & August 15-17 ONLY)
Santa Fe, NM, The Screen (August 8-14)
New York, NY, Quad Cinema (August 15-21)
Berkeley, CA, Landmark Shattuck Cinemas (August 15-21)
Los Angeles, CA, Landmark Nuart Theatre (August 15-21)
San Diego, CA, Landmark Ken Cinema (August 15-21)
San Francisco, CA, Landmark Opera Plaza Cinema (August 15-21)
Atlanta, GA, Landmark Midtown Art Cinema (August 15-21)
Boston, MA, Landmark Kendall Square Cinema (August 15-21)
Philadelphia, PA, Landmark Ritz at the Bourse (August 15-21)
Nashville, TN, Belcourt Theatre (August 15-21)
Honolulu, HI, Honolulu Museum of Art (August 15-17, 19, & 21 ONLY)
Brunswick, ME, Frontier Cafe (August 19-24)
Houston, TX, 14 Pews (August 21 Tugg Screening)
Minneapolis, MN, Landmark Lagoon Cinema (August 22-28)
Albuquerque, NM, Guild Cinema (August 22-25)
Columbus, OH, Gateway Film Center (August 22-28)
Oklahoma City, OK, Oklahoma City Museum of Art (August 29-30)
Houston, TX, Museum of Fine Arts, Houston (August 29-31)
Lambertville, NJ, Acme Screening Room (August 29-31)
Seattle, WA, Landmark Varsity Theatre (August 29 - September 4)
Portland, ME, Space Gallery (September 2)
Boulder, CO, Boedecker Theater in the Dairy Center for the Arts (September 3-6)
Hamilton, NY, Hamilton Movie Theater (September 10-14)
Chicago, IL, Music Box Theatre (September 12-18)
Nashville, TN, Belcourt Theatre (September 19-25)
Lowell, MA, Luna Theater at Mill 5 (September 25)
Tempe, AZ, Valley Art Theatre (October 10-16)
Memphis, TN, Memphis Brooks Museum of Art (October 23)
Columbia, SC, Nichelodeon Theatre (February 9, 2015)