During South African hip-hop's budding years, heads would wait until the night on a weekend to hear the music they loved on the radio—mostly on community, campus and independent stations.

---
But in 2017, hip-hop is one the most popular genres in the world, and in South Africa. Hip-hop isn't played at night anymore. Some hip-hop shows play during the day, others even during primetime. With trap being the most popular sub-genre of hip-hop, it goes without saying that it's prevalently what you hear on the radio, even on hip-hop shows.
A majority of old hip-hop heads are feeling disgruntled about the fact that the type of hip-hop they favor isn't getting airplay.
Durban-based DJ Q1 is one of those heads. He recently launched an online hip-hop radio station called Radio Steez, joining the likes of Beat Bangaz Radio and VenRap Radio, among a few others, who are making a killing in their small corners.
If you're into old school South African rap or modern rap with those sensibilities, you've come to the right place, as that's all you'll hear on an average day on Radio Steez.

Q1 is an avid hip-hop head–a DJ, a crate digger, beatmaker and just overall hip-hop fan. He loves collecting vintage gear, magazines and other old school hip-hop collectibles. You can check out his Instagram for a glimpse into his world.
He prefers more golden-era sounding hip-hop music, and even though that type of rap isn't the most popular at the moment, he believes there is still a market for it.
Q1 has a passion for radio, having hosted a show on Alfred Nzo Community Radio station in 2012. He has been trying to get back to radio since he moved to Durban from the Eastern Cape five years ago.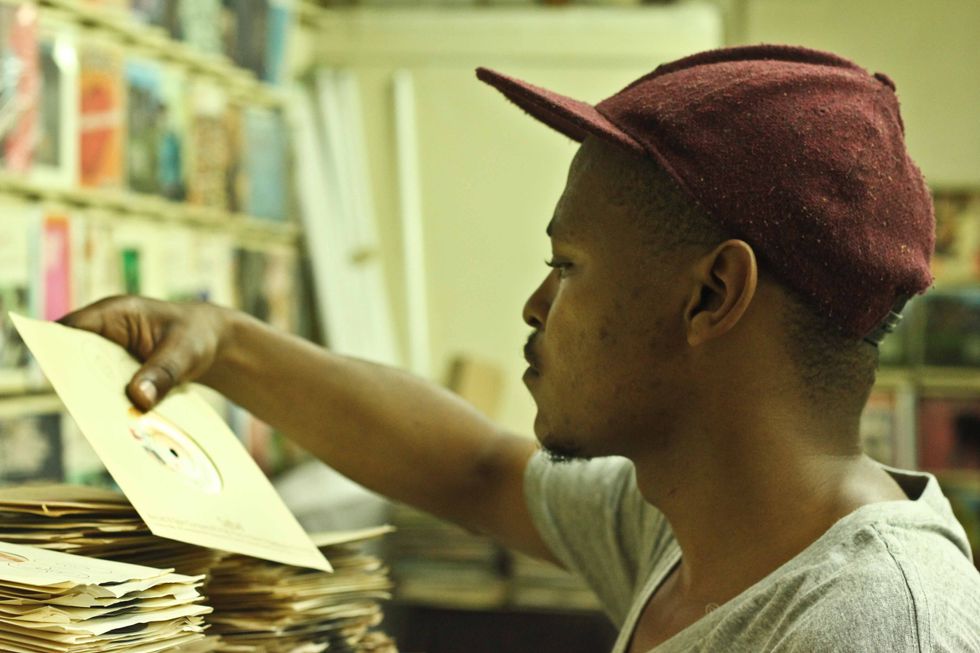 DJ Q1.Image supplied.
His reservations about modern community radio is that a lot of presenters try too hard to sound like their commercial radio counterparts.

"Maybe because every presenter wants to go up to that level so they end up sounding too much like what they look up to," he says. "Another issue is that most radio stations in South Africa sound the same and play the same music with same radio format."
Below, we chat to DJ Q1 about Radio Steez, his thoughts on the current state of hip-hop, and his upcoming book, among other things.
What is the idea behind Radio Steez?
I started Radio Steez to cater for the market that has been neglected. For years, the so-called backpack hip-hop kept South African hip-hop going, and I believe that market still exists. Radio Steez is all about positivity, authenticity and boom bap. We're also adding soul, jazz and funk to our shows, which I believe have all contributed to hip-hop a lot with apparent influence in most hip-hop albums. Radio Steez is for breaking new records, and digging albums to finding the illest joint that wouldn't cut it as a radio single. If it speaks to what we stand for, we will play it. We want to be the radio station that talks, teaches and informs people about the so-called alternative or authentic hip-hop.
I listened to the station for a couple of hours, and you lean more towards backpack, golden era hip-hop. Why is that?
The main reason, is that we are for the preservation of the culture. The plan is to document, teach and take people back to hip-hop from 1973 to the future. The current sound of most radio stations is the reason why DJ Shadow was once kicked out from a DJ booth because the club owner complained his set was too futuristic. How many hip-hop artists have been rejected by the radio and television because they were too hip-hop?
Radio Steez exists as a sort of internet hip-hop museum or audio documentary. We are here to preserve and promote hip-hop culture in its purest form. I am hoping our talk shows will also follow that direction. The main goal is to offer the best content and play the music that you always go home and play after a night at the club. Some radio DJs have admitted that they do not listen to the music they play on their shows when they get home. People cry for evolution and change and, yes, we are for change and evolution but we also have to progress in a way that doesn't forget or neglect where we come from. Leaning towards the golden era has also been inspired by a lot of conversations and social interactions I have had with heads as most OGs have somewhat given up hope on hip-hop. We want more [like-minded heads] to come up with newspapers, television shows, magazines and other things to preserve our culture. We are here to inspire, motivate and teach.
Image supplied.
What did it take to set the station up? Who did you work with?
It took like three months to finally go live, and I did most of the things, from the website development to the app and outsourcing our service providers to setup the live streaming. DJ Zakes Mixmaster has just joined our team, he is doing a talk show and we are looking for a dedicated team of graphic designers, writers and presenters to take up the talk shows.
What are your thoughts on SA hip-hop currently?
It's depressing. You have to note that a lot of people my age are going through a lot of depression. Everything sounds the same on the radio. When the old school music came back with the vintage jackets, radio started to follow that trend. When trap became hot, they all played trap. Everyone thinks trap is the only form of expression, and my issue with the trap wave is that most people who are doing that do not even care about the culture. They only associate with hip-hop because they rap. Ask them about DJ Kool Herc or Prophets Of Da City.
We can't all be DJs and rappers. No one wants to be behind the scenes, we all want to be famous. No one wants to take the risk, event promoters want to book the same people, radio and television want to play the same music. Where is the SA hip-hop museum? Where are our own hip-hop newspapers? We can't be blogging all the time, and if you check our South African hip-hop blogs, they almost all blog about the same things. Trap is hot at the moment, but we need heads who will make sure that wherever the sound of South African hip-hop is going; they will be part of that progress, representing the old school of thought. People like Emile YX? have a big contribution to hip-hop with initiatives like Heal The Hood. Ritual Media Group is doing great things with Back To The City, the annual hip-hop summit and the SA Hip Hop Awards. The [artists] on high rotation on radio should be helping with other positive initiatives instead of focusing on individualistic needs of fame and all that. The current state of SA hip-hop promotes self-praise and self-worship.
Are you going to have podcasts of your shows?
Yes, all our live shows and outside broadcasts will be available as podcasts from our website and from our mobile app. We have started with Android and we working on the iOS. Our main focus is on podcasting because of data and bandwidth struggle in South Africa.
What do you think of the few online hip-hop stations we have in SA at the moment?
I am a big fan of radio, but I have not heard about any online South African hip-hop radio stations at the moment. If there are, big ups [to them], because we need more.

What do you think of South African hip-hop's relationship with radio in 2017?
This question can be answered by simply playing "I Used to Love Her" by Common or "Man, Woman & Child" by Landmyndz featuring Devious D.
What are your thoughts on the hip-hop radio shows we have in the country at the moment?
My view is that most hip-hop shows are driven by what's hot–music playing on TV and popular trends. At Radio Steez, we believe that radio is supposed to break records, introduce people to variety of music. We also believe each hip-hop show should set itself apart from the rest of hip-hop shows. T'bo Touch's Rhyme & Reason was one of the best things on radio. Lee Kasumba's show (The Bridge) on Y FM, too. I hear shows presented by people who have less knowledge about the culture or people who do not care about where hip-hop is coming from or where it is going, but seem to be it for other reasons. Of which fame is one of those things. People join radio these days for self-promotion and few (if any) are in it because they really are for the culture except for few people like DJ Ready D, Yahkeem and Rashid Kay.
I don't think it's fair to playlist trap music the whole day throughout the shows and also include that on a hip-hop slot. The sad reality is that, as much as trap is indirectly doing big things for hip-hop culture, the ordinary person thinks hip-hop is just trap, and they don't understand that Appolo Brown or Basemental Platform are hip-hop.
I'm under the impression you are currently writing a book called Reasons South African Hip-Hop Might Go Extinct... Or something. Please tell us about that.
I published that book in 2012. I want to put it out as a second edition with updated information, but the reasons still stand as they were. The title, 100 Reasons why South African Hip-Hop is in Danger of Becoming Extinct was born from almost the same inspiration that birthed Radio Steez. The book's main purpose is to start a conversation about the direction of hip-hop in South Africa and seeing heads coming with solutions. One example of these reasons is women in hip-hop, in order for people to take you seriously as a female rapper [you must] wear funny clothes and write funny lyrics that have nothing to do with upliftment of women or society. On the book, I also touch on the issue of expensive data, ICASA policies and westernization of youth culture or hip-hop. The book offers a detailed explanation of how all those things affect our hip-hop culture. I am for the preservation of hip-hop and of the idea that we should be writing about our own culture for the next generation to know who did what, when and how we arrived to wherever the culture is going. The book is also a reminder that instead of pointing fingers, we should be coming with solutions.
You can listen to Radio Steez on their website or download their Android app on Google Play.