Ending its 12-episode run in June, The Real Housewives of Lagos was a surprising piece of franchise-making television. Winking at the theatrics within Housewives lore — the finger-pointing, voice-raising, altercations, slinging of profanities — the Showmax original convinced its biggest doubters.
RHOL gets serialized television right. With viewers in Nigeria as the primary focus, many have harbored misgivings about Nollywood because of its churn of poor movies. And while filmmaking and reality television aren't the same, elements like plotting, pacing, characterization, and suspense overlap in these mediums.
Here, RHOL fares much better.
In no small part, the personalities of the housewives played a role, contributing to a shapeshifting dynamic. There's Toyin Lawani, the outsize fashion mogul with the cutting awareness of an apex shark; Iyabo Ojo, who can swing between motherly impulses and self-contained chicness; Mariam Timmer, who is happy-go-lucky and whimsical; Laura Ikeji-Kanu, the designated villain who would later come around with a redeeming arc; Chioma Ikokwu, who is always supremely cool; and Carolyna Hutchings, who nestles in quiet, self-congratulatory grandeur.
With ages benchmarked between 30 and 40, the show was a study on female-bonding practices. In the premiere, we see Laura stay mostly quiet in the company of other housewives in Chioma's restaurant. The reason? She isn't comfortable opening up to people who she just met. But Laura — the show would later reveal — isn't just a wallflower. The show was setting up Laura to be a disruptive minefield. (Early complaints from viewers was that RHOL was boring; those critiques were premature in hindsight.)
Laura's peculiar social currency — and her relationship with her influential sibling blogger, Linda Ikeji — magnifies her seeming treacherousness. Known for pioneering a kind of indie gossip blogging in the mid-2000's — which grew monstrous and impacted lives negatively — Linda's name was invoked on the show using Laura as a proxy. It would be hard to believe if this wasn't an intentional set up from the producers. As expected, it opened a can of worms. In episode three, her clash with Carolyna at the bohemian-themed picnic took an emotional turn after Carolyna brought up the medical crisis surrounding her daughter's birth.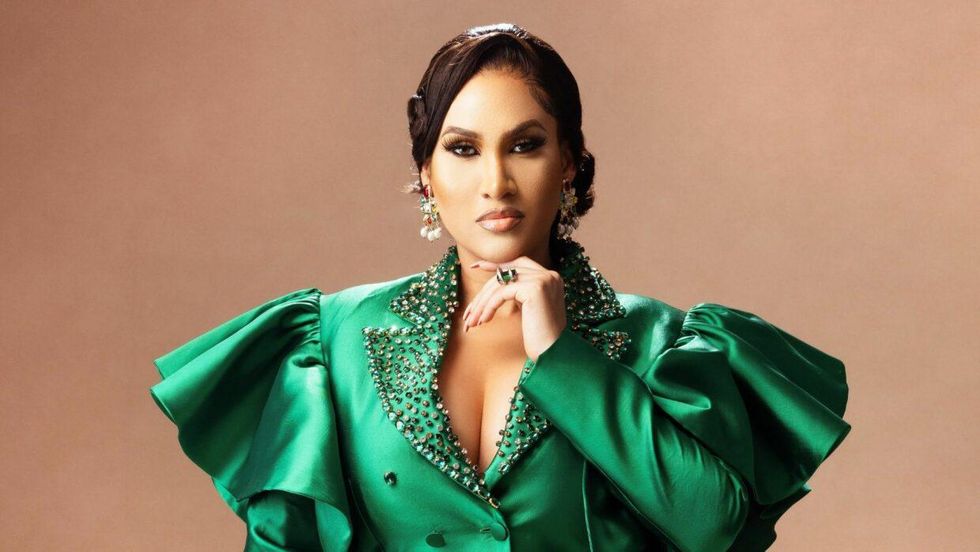 Throughout the season, Carolyna Hutchings who nestles in quiet, self-congratulatory grandeur.
Photo Credit: Showmax
Further, she mentioned how she suffered as a result of the news splashed as just another random clickbait material on Linda's blog. I, for one, was moved by the scene. In a way, Laura's "negative energy" had the potential to wrinkle the air with friction when hanging out with other housewives. (In the world of RHOL, the sexist narrative of "women don't like each other" is milked as fan service.)
One of the most reoccurring topics in the RHOL universe is fashion. Not only is it a critical subject, the show turns fashion into an aggressive sport, from the slimming silhouettes of Chioma's lace inset dresses to Iyabo's cute hair transformations and styling.
More than halfway into the season, it became slightly obvious that Toyin felt bothered about the way Chioma dresses, and the confidence it came with. At the sip and paint event in episode nine, the mild argument between Toyin and Chioma about who looked better was proof.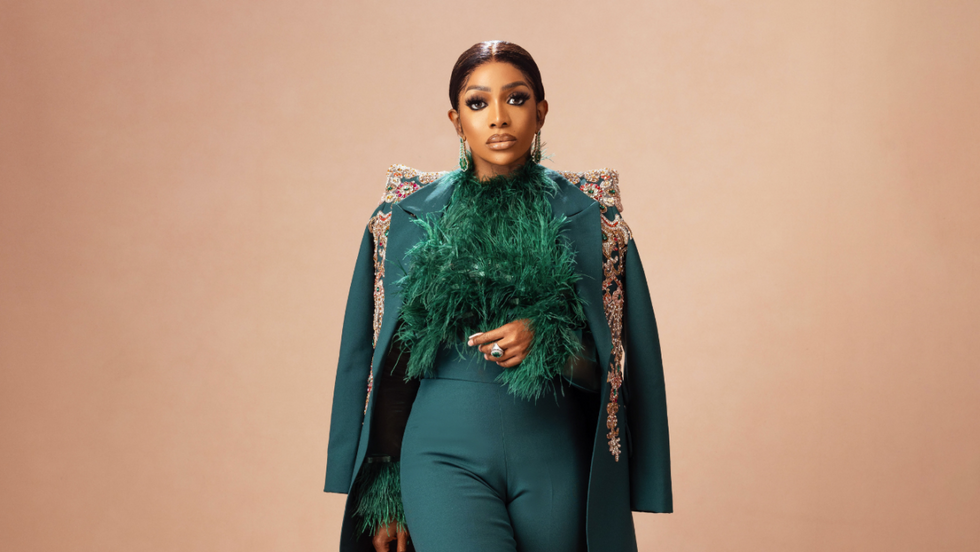 The supremely cool Chioma Ikokwu.
Photo Credit: Showmax
But Chioma — or RHOL — isn't just about looking pretty. In episode eight, her community outreach through her foundation introduced genuine emotional stakes into the show. Toyin towed this path for her birthday rollout, reconnecting with families in mainland communities. This is Lagos, too. The bleak narrow streets holding up the economic underclass, eating up whatever hope and optimism is left. Here, the women are poor, doing whatever they can to sustain their families.
RHOL takes a small break from showing the Lekki-Ikoyi Link Bridge as an analogue for wealth and prosperity. With worsening conditions in Nigeria, the show briefly ponders on the realities that the cast members aren't living. The cosmetic attempts to portray African countries as a landscape of skyscrapers and flourishing urban cities doesn't feel sustainable.
There are also serious pockets of conversation on RHOL, highlighting domestic abuse and sexual violence. This was an admission from Toyin in episode seven, in the dinner scene hosted by Mariam and from Iyabo as a young adult in the premiere. Last year, Iyabo severely called out an actor in the industry for sexually assaulting a minor, a moment that proves she isn't performative, trading off traumatic experiences for likability.
Perhaps one of the biggest thrills on RHOL was seeing the collapse of friendships. The friendship pairings that started the show dissolved by season's end. Now in the footnote of a two-part reunion, it has given viewers a chance to process the aftershocks. Further, it has resurrected tucked away feelings from the past. The bickering between Carolyna and Toyin skewed towards affairs we weren't privy to.
Reunions can be messy. It can also be a place of healing. How the housewives choose to navigate this space, and the out-of-continuity interactions in the future will be interesting to watch. RHOL has quickly established itself as a surprise hit, trending in Nigeria and South Africa. With goodwill from fandoms in the diaspora, the show can go anywhere from here.