It is the rare documentary that manages to inform, infuriate and entertain in equal measure. British-Nigerian filmmaker Remi Vaughan-Richards has made one such film. In Faaji Agba, she follows Kunle Tejuosho, who runs Jazzhole Records in Lagos, as he marshals a group of Yoruba musicians between the ages of 68 through 85 into recalling, recapturing and reclaiming their hey days, while attempting one big hoorah as a collective.
---
Of the lot, Fatai Rolling Dollar is the best known, but the contributions of the other musicians—SF Olowokere, Alaba Pedro, Sina Ayinde Bakare, Teju Baby—are just as significant.
The importance of the archival work that Vaughn-Richards has undertaken cannot be understated. It is needed and laudable. This is the type of project that national governments should pour money into, but often takes individual zeal to achieve.
I caught up with Vaughn-Richards shortly before the opening of London's Beyond Nollywood festival of Nigerian cinema this past weekend. Faaji Agba, which won the 2016 Africa Magic Viewers Choice Award for 'Best Documentary' earlier this year, was one of the major films to be shown.
The following interview has been edited and condensed.
How much Yoruba music did you know of or listen to before you began working on Faaji Agba?
I didn't know as much as I do now. I always had a love of the old music but the depth of knowledge came from mixing with "the old-boys" and from Kunle Tejuosho. He is so knowledgeable and passionate on the subject, it is hard not to catch his bug. Kunle is the person who brought all the guys together to form the Faaji Agba Collective.
Faaji Agba is like many bands in that they're competitive, often petty, but when on stage and in rhythm, they operate as one. Did you leave out any of their arguments, quirks, problems, anything that may not reflect well on them or their legacy?
Their challenge I think is that they were used to being leaders in their own individual bands so it took a lot for them to have to give up that role and learn to work together. They chose Fatai to be the "spiritual' leader," in the sense that he was the eldest, but it was Bakara that was the leader when it came to producing with Kunle to get the right sound out.
Faaji Agba
Do you know what the group's members make of those who have come after them, and also what they think or would have thought of Yoruba rap?
I have no idea what they would think, but I feel they would love it because what Kunle was trying to do in his own way was to "modernize and contemporise" their music. So yeah, I think they would have embraced it.
How does the group feel about the success of their once protégées and contemporaries like Ebenezer Obey, Victor Uwaifo and King Sunny Adé?
There is no collective thought on the success of their protegees. All Fatai and Teju Baby say is that they don't mind their music being used by other artists. He refers here to "Easy Motion Tourist" which became associated with Sunny Adé. He does however say they that they should be acknowledged.
What would be the best way to care for ageing musicians in Nigeria, especially those who are unable to today provide for themselves?
Lagos State have supported some of the aging artists—Fatai was given a house, Kokoro's funeral was partly paid for by Lagos State. That is a tricky question.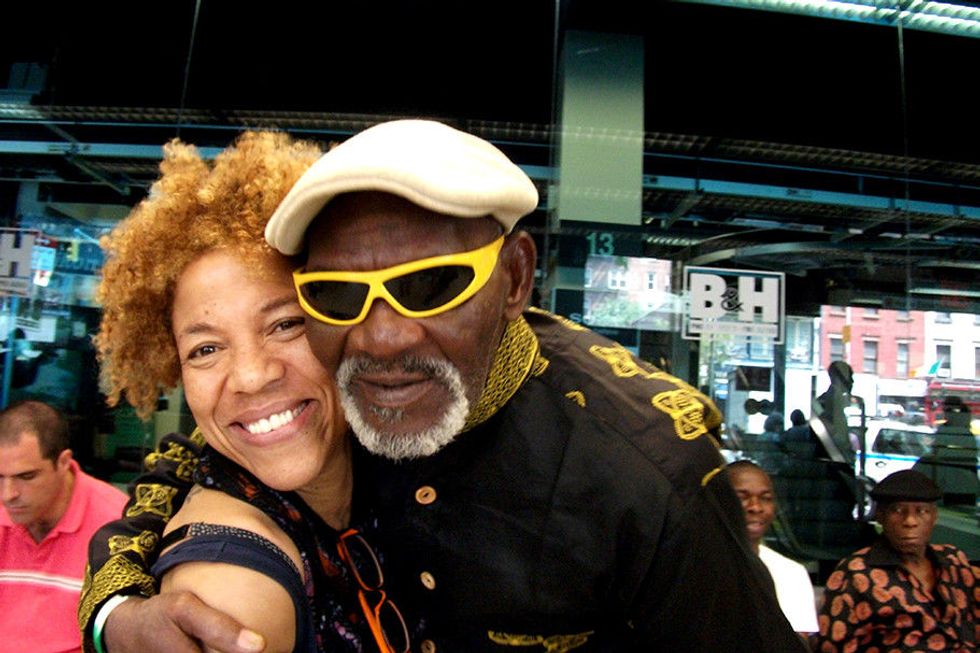 Filmmaker Remi Vaughan-Richards and the late Fatai Rolling Dollar.
Tell us about your next film project...
I am currently directing a documentary series about the first generation of artists that led the way in the contemporary art scene in Nigeria. Contemporary art in Nigeria is categorised as those that went through formal art school in Nigeria introduced by the British. It is a bit like Faaji Agba in that I am recording a group of master artists who are in their 80s—legends in the development of the modern interpretation of contemporary art in Nigeria.
Sabo Kpade is an Associate Writer with Spread The Word. His short story Chibok was shortlisted for the London Short Story Prize 2015. His first play, Have Mercy on Liverpool Street was longlisted for the Alfred Fagon Award. He lives in London.