Heading into Rio 2016, Zambian judoka Mathews Punza was a long shot. Ranked 112th in the world, the 28-year-old from Lusaka was going up against the best of the best in judo. Over the weekend, Punza pulled off the unthinkable. Competing in the 66kg weight class of the round of 32 on Sunday, the first-time Olympian defeated the sixth-ranked judoka, Israel's Golan Pollack, with a 100-0 win. Not only that, he did so REALLY quickly. The entire match took under two minutes.
---
Many are calling it one of the biggest upsets in Olympic history.
Unfortunately, Punza's success was short-lived. He took his final bow in Rio later that day when Slovenia's Adrian Gomboc beat him 101-0 in the last 16 of the competition. But regardless, Punza did has part to put Team Zambia on the map. He's more than earned his spot in the history books.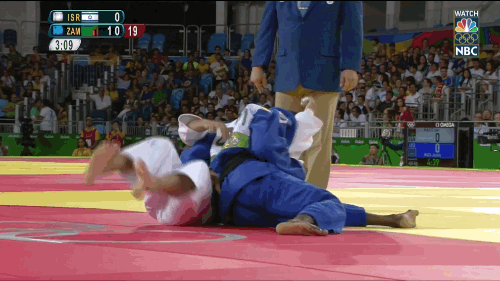 Congratulations to Zambia's own Matthews Punza for "Holding it down" for the motherland ? ??????????????????????????????????????????????????

— B A M • B A M (@thee_la_flame) August 8, 2016
Everyone needs family or a girlfriend/Friend/wife/partner/homie that can hold you down like Mathews Punza pic.twitter.com/ddoygfaHIR

— African King (@MrNdana) August 8, 2016
Congratulations Matthews Punza !!!! You have done motherland Zambia and entire Africa proud. https://t.co/QsBFarAnBh pic.twitter.com/qkvmfdrdgS

— Chibaula D.,Silwamba (@Chibaula_DC) August 8, 2016
#ZAM pins #ISR to the ground in #Olympics #Judo! Awesome pin, great bout. Well done Zambia!

— Tallha Abdulrazaq (@thewarjournal) August 7, 2016
Mathews Punza makes zambia proud at the Rio olympics. Ranked 116 against 3 in world judo. Biggest upset at these games says the commentator

— #TimbaLife #30to30 (@Djshowoff101) August 7, 2016
Zambia with the biggest upset in this Judo Olympics!

— ODERA ODEZUGO (@IAMODERA) August 7, 2016
Zambia #Judo has just beat the bronze medalist from last time. He looks like he wants to drop a mic right now and be like now what

— Damacia Johnson (@skylerzane) August 7, 2016
Who else saw how Mathews Punza won the first round in Judo? Fam, I'm so proud #Zam

— Kinasho (@SunnySholis) August 7, 2016