Last fall, when Senegalese rap pioneerNixreleased his album, Excuse my Wolof 2: The Ñuulest, he hinted that a fashion collection was to accompany it. For the rapper, his multi-faceted project was aimed at using all aspects of one's identity as inspiration to create—and in collaboration with clothing brand Mwami, it's finally here.
Fifteen years post the start of his career, Nix decided it was imperative he rap in Wolof and this work built upon that. He also gathered a team of tastemakers from his home to bring the album to life both sonically and visually. Papi, the Senegalese-Mauritanian renaissance man—artist, designer and entrepreneur—served as creative director. Mwami, his contemporary clothing brand, set on "infusing art into the mundane" through the use of embroidery, high-quality fabrics and traditional design was another catalyst used to drive The Ñuulest's point home.
The Ñuulest capsule collection is the fusion of Papi and Nix's worlds. The two have known each other for 4 to 5 years. Papi has had time to get a sense of Nix's style and who he is as a person; hence, the streetwear that represents the hip hop side of Nix and a kimono that exudes Senegalese elegance.
---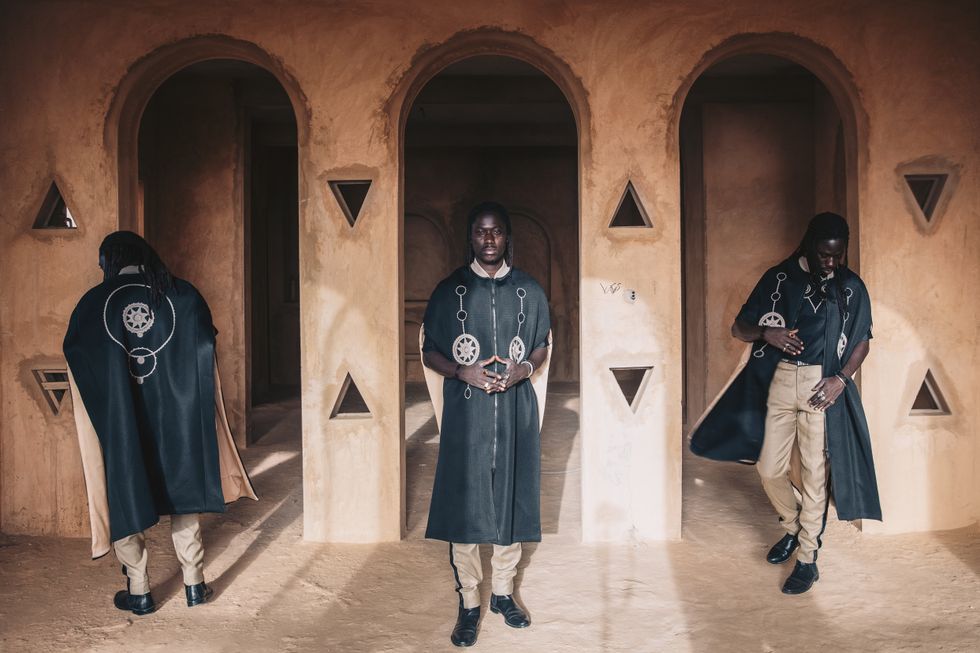 Photo by Seyni B.
Papi has an acute sense of detail; he acknowledges that every piece has been created with intent. There's a patterned bandana that doubles as a belt with the same print found on a shirt in the collection. The pieces that touch the hair have been lined so as to protect curls. The black is titled Ñuul Kuuk or "blacker than black." The curated color scheme comprised of sober browns and blacks is representative of the colors seen in Senegal—the colors found on the spectrum of melanin. There's a chaya, a sort of drop crotch pant habitually worn in Senegal, Mauritania and Mali, that allows for movement and can be worn with anything. Cotton, lycra, neoprene and silk have masterfully been used to construct pieces, "Nix can perform in [them]. I can paint in [them]. We can explore the world in [them]," Papi states. "It's hip hop but it's West African. It's comfy and dressy. Take for instance, the tuxedo pants with a traditional senegalese tunic and a kimono all in one."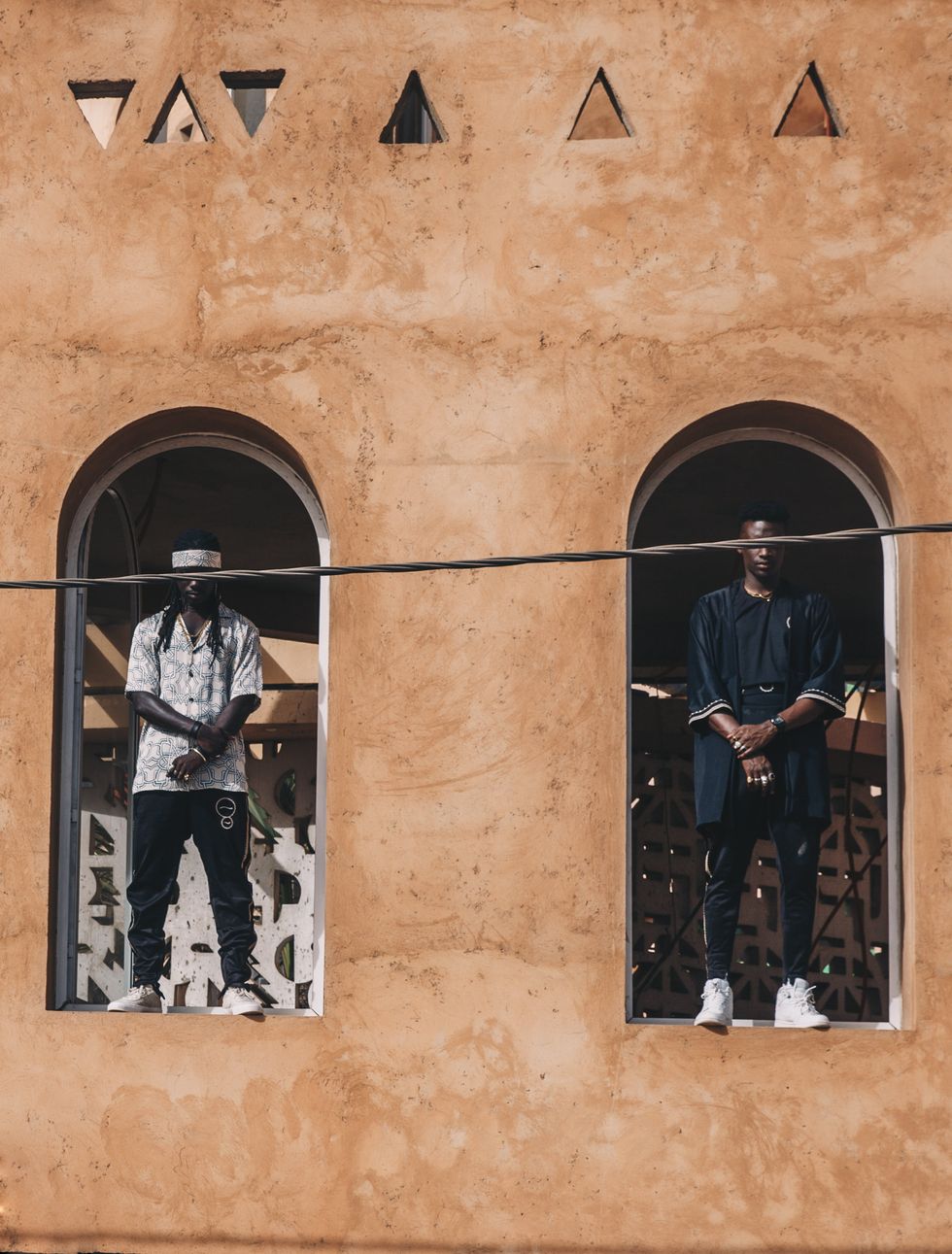 Photo by Seyni B.
Nix, conversely, focuses on the bond he shares with Papi. "We are very similar. It's fun to work with him," Nix says. "We both have our heads in the clouds, while being creative at the same time. Even when we do things last minute, there's always something that blows people away. Papi and I are very much guided by our feelings—when we work, we let creativity drive us." The pair share an unbounded vision.

The collection continues the identity conversation from the album between Nix, Papi and rapper Ndongo D from rap group, Daara J. "It's a look back at history and the things happening in our society today—what we believe should be, what is, what made things the way they are today; what's the way moving forward," Papi says. "It is the idea of dressing us for the world of today."
He continues:
"This is black enterprise. My audience is my people, so is my market. We are creating this industry. We are birthing it as we speak. It's global and we very much feel it. I'm not buying from places I'm not represented at—that's how I started my own brand."
Photo by Seyni B.
He reminds us he is driven by a distinct perspective that goes beyond clothing as he yearns to empower others and fuel Senegal's economy. Seyni B, a civil engineer and the photographer behind the lookbook, laughingly asserts, "I remember when Papi told me, 'I'm not going to wear anything else but my brand anymore,' I thought, 'Yea, whatever, dude.' I didn't take him seriously but for years now, he's really ONLY been wearing his own clothes."
Nix - The Ñuulest (feat. Ndongo D) (Clip Officiel)www.youtube.com
Seyni B's work is deeply appreciative of architecture and the art of photography. The building serving as a backdrop for the lookbook is co-owned by him and made 100 percent of African earth. Despite still being under construction, the intent is for it to become a hub for art and culture.

"Myself and a group of architects and engineers here promote earthen architecture," Seyni B says. "Earth is from here, from Africa. This album is very African, very proud, it's a cultural moment—I took my two worlds and mixed them together [and] I wanted to create a universe where you have clothes and an architecture behind them that makes their colors pop."
Take a look at more images from The Ñuulest capsule collection below. For more information on where to purchase, contact Papi via Mwami's Instagram page.
Credits
Photography:Seyni B
Creative Direction: Seyni B
*
Audrey Lang is a Boson-based writer and merchandiser. Keep up with her on Instagram.