For someone who has accomplished a lot working behind the scenes of South Africa's television industry, very little is known about Bonga Percy Vilakazi. Well, except that he writes Pulitzer-deserving, essay-esque Instagram captions — the type whose sarcasm is likely to have anyone chuckling from start to finish.
Currently a series producer on The River, one of South Africa's most-awarded TV shows, and creative producer on the new-ish telenovela Legacy, Bonga Percy is ready to shove aside his privacy policy in the hope that someone out there will learn a thing or two from his career journey. "I've become less self-conscious about sharing my story," he explains. "I've always thought I was reachable and approachable, especially on social media, hence the reluctance to put myself out there."
---
For three consecutive years since it's launch, The River has been cleaning out the annual South African Television and Film Awards (SAFTAs). Newcomer Legacy, launched in September last year, also joined this winning streak at the 2021 SAFTAs. The River's riveting success has led to the show being syndicated in Kenya, with a few tweaks to make it culturally sensitive to the audience and country's laws.
Between these two demanding roles, it would be safe to assume that Bonga Percy's life is mostly spent behind his MacBook screen. "If I don't wake up at 04h30 daily, then I know my day is ruined," says the self-confessed workaholic. He continues: "Essentially, my job as a producer is to utilise different facets of storytelling and collaborate with different departments — the script, fashion, music, location, stunts, talent — and curate them in a way that best delivers the story."
Below, he shares about learning on the job, what got him to the top and always being in search of ways to upskill himself.
Is there a reason why, 18 years in, you still prefer to let your work lead the way while you take a back seat?
Much as I am in the business of mirroring reality and changing perceptions through storytelling, I am also in the business of making stars. It's never been a priority for me to put myself in the forefront. I've always believed that my work will speak for itself, and certainly think it has in the past.
With social media growing at near-lightning speed, more and more youngins are studying our work and curious about our career journeys. I have had to be open to sharing my story; we all have stories and can definitely learn from each other.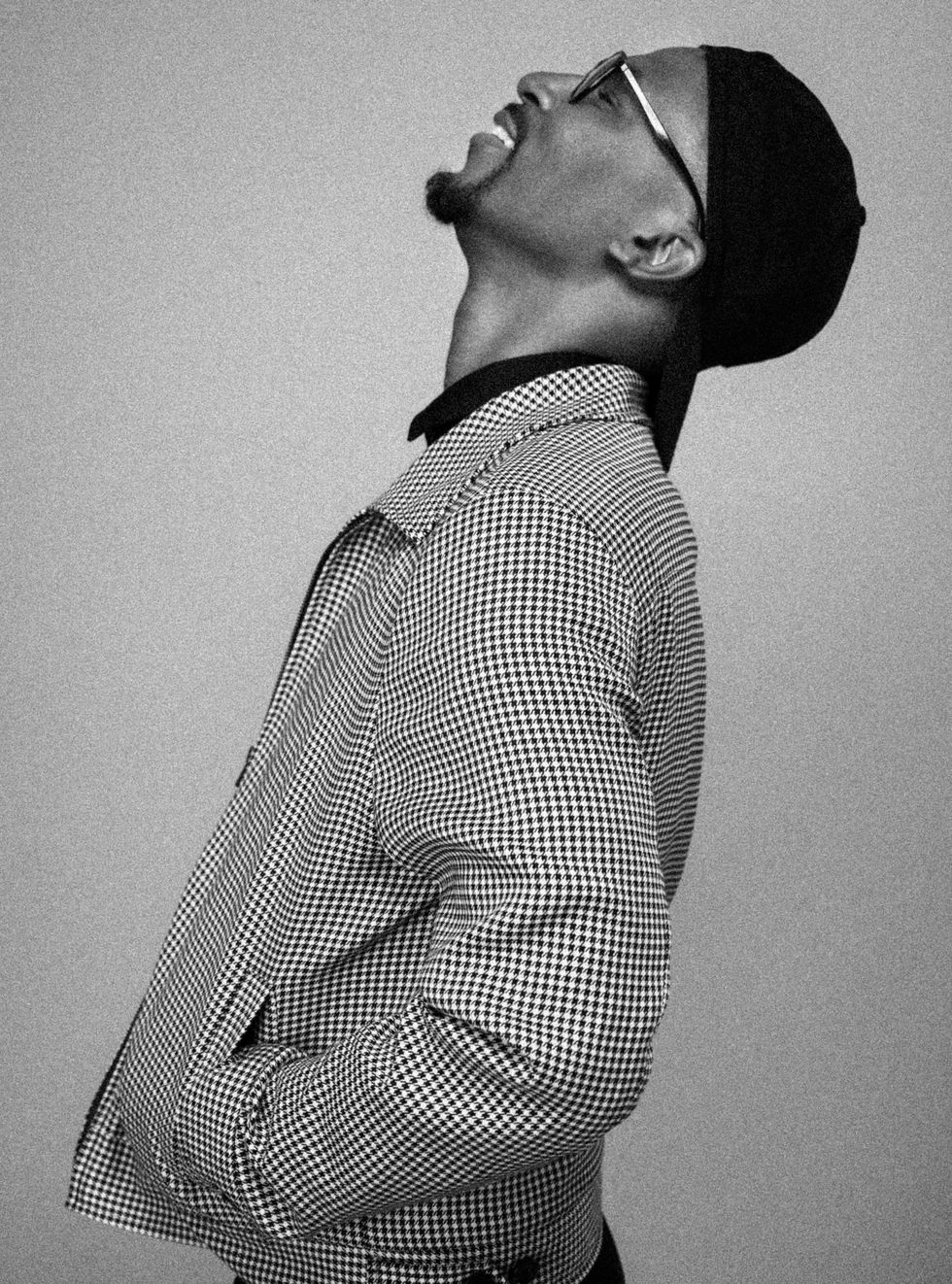 Living his dream!Lesole Snap
What did you study after school? Talk me through how you got to the top.

I probably knew I wanted to be in showbiz when I was in Standard 4 (Grade 6). One of my favourite hobbies was writing letters to the Whitney Houston, Tina Turner, Boyz II Men and Celine Dione fan clubs, I'd always get a response. My mom was a big reader who subscribed to every magazine under the South African sun. Even when we were low on money in our household, mom always stocked up on envelopes and stamps — nothing excited me more than those two things [chuckles].
I used to record one of my all-time favourite local TV dramas Hlala Kwabafileyo, andwould play it back and write down every line. It excited me that whenever I would watch it with my friends, I would then recite the lines.
In Grade 12, my mother came home with a list of courses that she assumed I would enjoy — law, radiography and another one that also had me rolling my eyes! Frustrated, I confided in my dad not knowing that he had also set about making career plans for me. According to my dad, I had a job waiting for me at the Correctional Services [chuckles]. Post-matric, I registered for a filmmaking and broadcasting diploma at a private college in Johannesburg. Though star-studded, the college was really shitty! I moved to Wits University for a two-year Television Broadcasting course [chuckles].
"It feels like my story was written for me way before I existed and I just stepped into it."
With no qualification in hand, how did you get your foot in the television industry's door?
During my stint at Wits University, I met South African musician and actress KB Motsilanyane who had just released her single "Rock Lefatshe". I convinced her to let us, the TV and film students, record her music video. Needless to say, it was a huge disaster. Through KB and one of the writers on the local soapie Backstage, the now late K. Sello Duiker, I interned at the show. I was tasked with washing and drying make-up sponges. I just wanted to be on set and paid no mind to not earning a salary.
From being the designated sponge-washer, I was trained in scriptwriting. All this while I was still studying. I ended up dropping out and not informing my parents; I only told them when I started writing scripts consistently. The only reason my mom believed I had a solid job was because I was able to repay my study loans. Later, when I felt that I had learnt all I could learn in television, I studied towards a marketing and communications degree.
What inspires the storylines on your shows?
If you are in my life, you will be written about in some way [chuckles]! My mom once confronted me about referencing her life on one of my shows and I simply said, 'You can't prove it!' [chuckles]
What TV shows have you written for in the past 18 years?
Backstagewhere I started off as a scriptwriter in 2003, and moved on to become the music manager. And then there was Take 5, Scandal, Rhythm City, Igazi, The Queen, The River,Skeem Sam, Rockville etc. On some shows, I doubled-up as either a publicist or music director. Everything that I was exposed to in the early days of my career has culminated in what I'm doing now — from writing, music, publicity and managing talent. It feels like my story was written for me way before I existed and I just stepped into it.
"One of my favourite hobbies was writing letters to the Whitney Houston, Tina Turner, Boyz II Men and Celine Dione fan clubs..."
At what point did you feel that your career was shooting through the roof?
At no point have I ever stopped and thought,
'I've arrived!'
or
'I'm doing really well!'
I'm always looking for new ways to accelerate my career. I usually know it in my heart when it's time to leave a job because I'm mostly guided by instinct. My name has always been on TV but what really put my name out there was when I started writing for
DSTV's Mzansi Magic
channel simply because I wrote a lot of shows for them. When all is said and done, many producers contributed to my growth. People like
Shona
and
Connie Ferguson
, the owners of
Ferguson Films
,
Winnie Serite
of
Skeem Saam
and especially the owners of
Tshedza Pictures
, and my current employers,
Phathu Makwarela
and
Gwydion Beynon
because I've written a lot of shows for them. I am fortunate to work with people whom I consider friends, brothers and mentors. I can't think of a luckier person in this world than me.
Behind the Scenes of The River - Percy Vilakazi | DStvwww.youtube.com
Is paying it forward on your list of goals?

I am where I am today as a result of the many people who willingly shared knowledge with me. I'm usually the first to raise my hand to any opportunity that requires that I pass on knowledge. Nothing fulfills me quite like teaching, it is my one true calling!
How does it feel knowing that your work entertains audiences beyond South African borders?
Firstly, there is never a moment when I see my name on TV and think to myself, 'Flip, this is my name. How did I get here?' To know that my work is seen in places that I've never set foot in is truly overwhelming. I come from the small town of Bethal in Mpumalanga. I was raised by government employee parents. I'm aware of the work I put in to get here — the people who took a chance on me, the prayers of the many mothers who always wish me well and God, who orchestrated this entire plan.
"Firstly, there is never a moment when I see my name on TV and think to myself, 'Flip, this is my name. How did I get here?'"
In the midst of all the craziness in the world right now, what holds you together?
I have learnt to protect my space because social media sometimes gives me anxiety. Social media has made criticism and validation so instant that one could easily depend on it for a constant high — but it can also do the opposite! I could never say that I have mastered the art of shutting out social media noise; I have to constantly remind myself of who I am, and what I'm about. I am, also, always willing to dissect the things that upset me and to work on myself.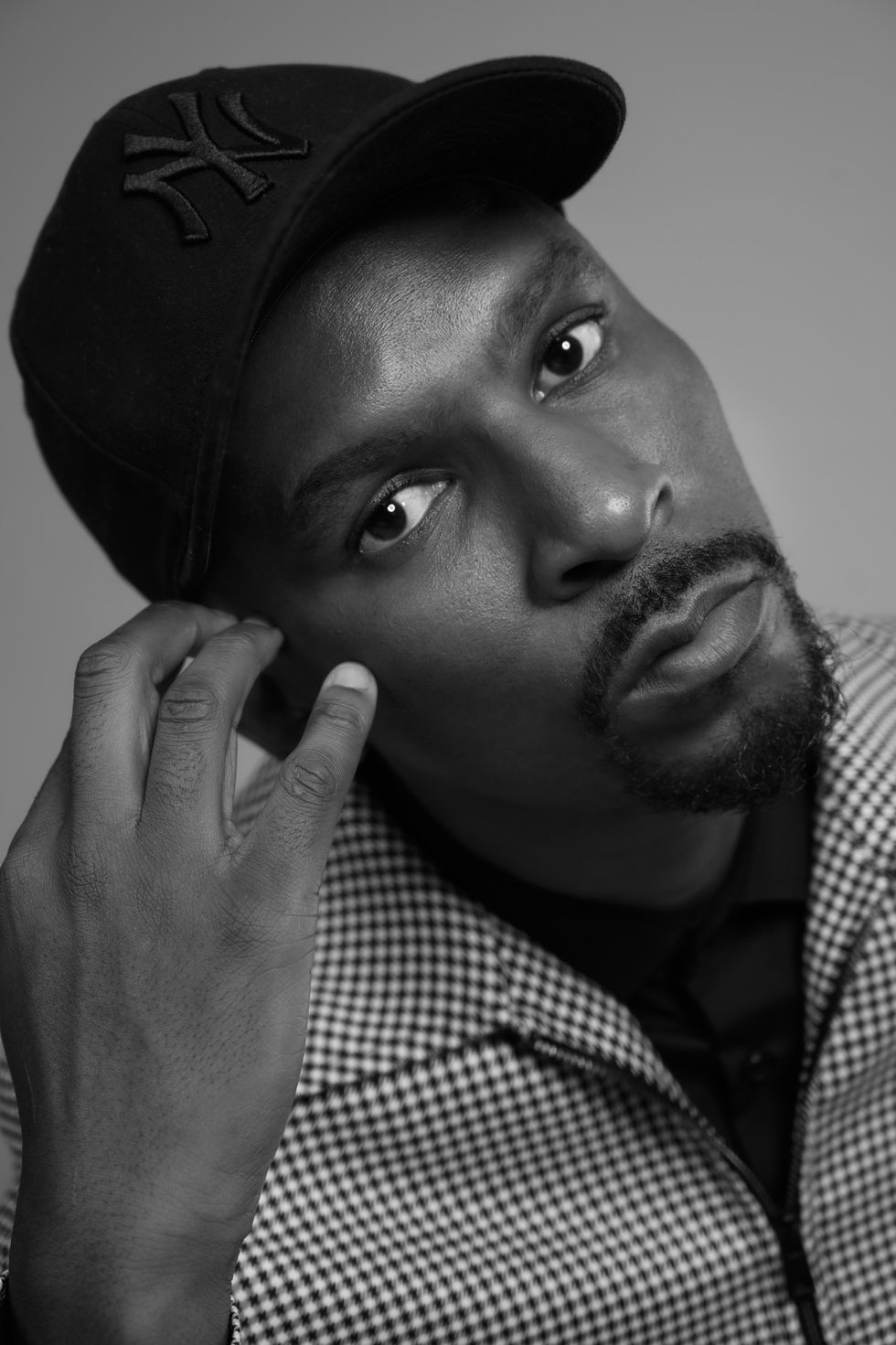 "To know that my work is seen in places that I've never set foot in is truly overwhelming," shares Bonga Percy Vilakazi. Lesole Snap
Off The Cuff

If Africa was a person, who would it be and why? Kanye West. We've gotten a lot of things right, and a lot wrong. When we get it right, we get it right. But when we fuck up, we do so monumentaly.
What was the last book by an African author that you read? The late K. Sello Duiker's The Quiet Violence of Dreams.
When last did you cry and what was happening? Tears involuntarily trickled down my cheeks while watching Undercover Boss. The CEO changed the lives of his employees by surprising them with financial rewards, making their dreams come true.
What African TV show/film do you consider brilliantly executed? I would shamelessly and proudly say Legacy and The River, the latter being South Africa's most awarded TV show.
Do you generally wear your heart on your sleeve or hide your feelings? I generally feel and express every emotion that I go through. But I've become very measured about when and where to let loose.