---
The Brother Moves On rehearsing in Melville, Johannesburg. Photo by Petter Ringbom.
'Shield And Spear' is a new documentary from filmmaker Petter Ringbom, which explores the role of artists twenty years into democracy in South Africa through the stories of BLK JKS, Gazelle, The Brother Moves On, Brett Murray, Zanele Muholi, Yolanda Fyrus, Fokofpolisiekar, and The Smarteez. Okayafrica contributor and The Brother Moves On collaborator Rob Scher caught up with Ringbom ahead of the film's African premiere tonight at the Durban International Film Festival.
_____________________________________________________________________________________________________________
Typical of a Brother Moves On rehearsal, the scheduled starting time was less a specific hour, than a range. That day, playing was delayed courtesy of a bearded American Swede named Petter Ringbom. In between the Brother's barrage of banter, Ringbom explained he was making a documentary about freedom of expression in South Africa twenty years after Apartheid. Ringbom travelled surprisingly light – a one man, one camera operation, which, when added to his foreign twang, contributed to my swelling scepticism. He fast dispelled those doubts with his follow-through, reappearing several days later for our Human Rights Day gig in Soweto. Weaving in and out of eyeshot, Ringbom briefly appeared as an extra member of the Brother, beautifully capturing that sunny performance on film, as I'd come to discover a year later watching his completed film – Shield and Spear.
"That first trip was very open, I didn't really know what the film would be about or who would be in it," Ringbom tells me, weeks prior to his return to South Africa for Shield and Spear's African premier at the Durban International Film Festival. "I met and shot many people who weren't in the film. This was partially by design, as I was figuring out who was interested in collaborating and being in the film and whose stories I felt could paint the portrait I wanted to paint."
Thinking of Shield and Spear as a portrait works. If it's not the film's poster itself – the infamous silhouetted figure that forms the film's guiding narrative of artist Brett Murray's defiled The Spear – it's the palette of individuals who offer up their stories, ideas and reflections on South Africa today, that truly makes Ringbom's picture a whole.
Refreshingly, that resulting picture is one void of typical fetishized tropes. "If you just show up once, it doesn't work; it's likely to be superficial reportage," notes Ringbom. "If you want to go beyond that travel reportage you need to return. By revisiting people, you give them the chance to open up and trust you."
In gaining that trust, Ringbom has tapped into many of the important dialogues taking place in South Africa, the result being the coherent and incisive conversation central to Shield and Spear.
"In some ways the outsider-ship can work both in your favour and against you," reflects Ringbom. "I think people are more comfortable opening up to a complete outsider. But there's a duality to it also, where you encounter that question of why are you coming here and taking our stories? It's something I thought about a lot. It comes with a responsibility not to be exploitative essentially."
Remaining firmly behind the camera, Ringbom has allowed his accomplished cinematography to tell one story, leaving the rest up to the earnest dialogue of his subjects. Together the two combine effectively in capturing the paradoxes present at the heart of any discussions pertaining to freedom in South Africa.
"Something which surprised me the most was how emotional this project would be for me," admits Ringbom. "Maybe it was due to how inspiring, genuine and open the people I met were. All I know is that I haven't felt this emotionally overloaded in any other project I've worked on."
Update 6/5/2015:Shield And Spear is now available online via iTunes, Amazon, and Google Play.
Xander Ferreira, aka Gazelle, in the Drakensberg mountains. Photo by Petter Ringbom.
Mpumi Mcata of BLK JKS in his livingroom in Johannesburg. Photo by Petter Ringbom.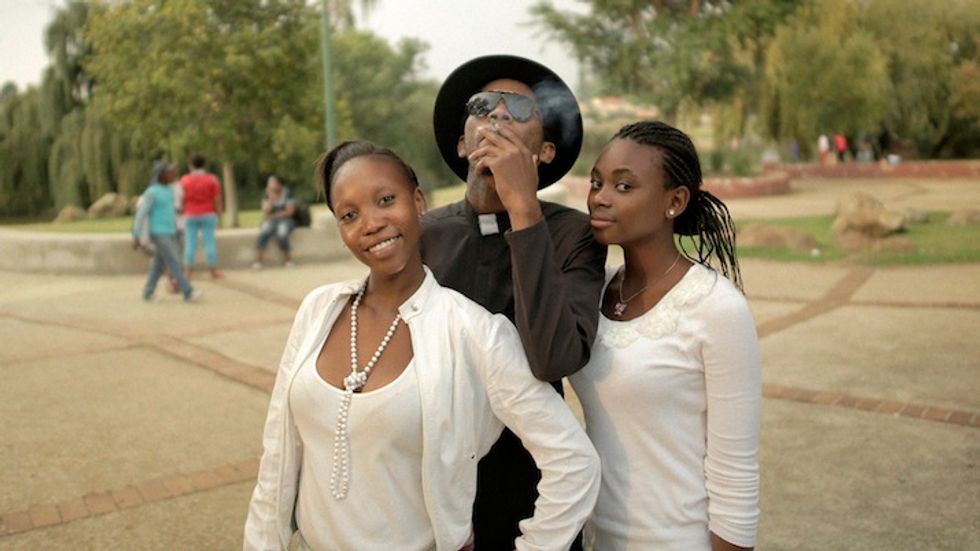 Floyd Avenue of the Smarteez in Moroka Dam, Soweto. Photo by Petter Ringbom.
Nkululeko Mthembu of The Brother Moves On before a show in Soweto. Photo by Petter Ringbom.