As much as South African hip-hop is male-dominated, it has a huge network of women working behind the scenes, making sure your favorite rappers' live shows are A1 and that their craft is lucrative. 26-year-old Sibu Mabenais one such woman and she has a resume that will humble even the biggest egos. She worked behind the scenes on Cassper Nyovest's Fill Up The Dome, Fill Up Orlando Stadium and Fill Up FNB Stadium—some of the biggest hip-hop concerts South Africa has ever seen.
---
Her creative agency Duma Collectivecurrently employs eight young people, and works with a plethora of South African personalities and brands. Artists and personalities such as Natasha Tshahane, Luthando Shosha, Reason, K.O., Solo & The BETR Gang, The Muffinz, Sne Mbatha and DotCom are all managed by her agency. Mabena, full disclosure, briefly worked for OkayAfrica in 2017.
Mabena, who started out as a hip-hop dancer in high school, has a degree in political science from the University of Pretoria. "While still in varsity," she says, "I was doing SAB conferences and doing choreography for Brutal Fruit and Miller, and going on tours, teaching kids how to dance."
"Then, while still studying, I thought let me register a company so I can invoice properly. Registering my company gave me something to work with. I went to work for MTV Base, fresh out of varsity, I did a 2-month stint with Pop Bottles, where I consulted for them, and they gave me office space."
In 2016, after working for a digital agency as an operations manager, she decided to run her agency, Duma Collective, full-time. She attributes her success to hard work, God, and intense networking. Duma Collective "manages talent, procures talent for events, does social media campaigns, manages influencers and does creative direction for events."
Mabena took time off her intensely busy schedule to chat to us about her work.
What exactly do you do for the artists you work with?
It varies because of the different industries they are in. so for example, with an actress, they will have an agent to get them into TV shows, ads and find all the auditions for them. And then I come from a business management perspective to say, 'okay, fine your craft is acting, and that's how you pay the bills, but how can we build the brand and monetize it,' so plugging an actress with a brand and seeing how that can go forward, from brand campaigns, an ambassadorship or social media campaigns or plugging them into live events, also I will advise if we need PR, a stylist or makeup artist. As the business manager, you basically come on as a CEO of the company that is that artist. I like to treat my artists as companies, versus just seeing them for what they do.
You've been involved in all of Cassper Nyovest's Fill Up concerts. What other events have you been involved in?
I've done the MTV Base MAMAs 2014 and 2015. I've done SAFTAS, 2015 and 2016, the SAMAs, 2014 and 2015, I've been a part of Homecoming Africa and Afropunk. I've worked in Afropunk in Brooklyn and in Johannesburg. I'm currently working on Just For Laughs Africa, which is happening in December. I'm also working on Homecoming Africa, which is happening in October.
What did you do with the Fill Up series?

My role with the Fill Up series changed over the years. With the first one, Fill Up The Dome, I had just come back from shadowing the director of the EMAs (MTV Europe Music Awards) in Milan. I landed, and I called T-Lee (Cassper Nyovest's manager) and said, "T-Lee, you have to give me a job, I have to do something," and he said, "Fine, come to the Dome, we'll see what we can find for you. I got there and created a role for myself. I asked the stage director, Gareth Hadden from Formative, who was helping Cassper change outfits during the quick changes, and there was no one, so I put my hand up and it ended up being me. So I was just making sure that Cassper wore the right things, got to stage on time, in between these changes.
That role grew with Fill Up Orlando Stadium; I came aboard to make sure that talent got on and off stage on time, and that we had the right things happening on time. So I dealt with dancers, the stage team, the technical crew and the show caller. It was a technical job… so stage assistant really.
With Fill Up FNB Stadium, my role grew to head of talent operations, which then means I managed everything that had to do with talent—from the principal, which is Cassper, to the first DJ who gets on stage, making sure that they've been contacted and even know that they are performing. Dressing rooms, dancers, on and offsite rehearsals, catering, tech and hospitality riders, props… a lot, I had a team of 29 people working with me, including interns and some very experienced people in the industry. And I had the privilege of heading up that team and being the coordinator of this big machine.
How did you get into the industry?

I used to wait for my mother to pick me up at school at 5pm. So I started following my friends into a dance class, and eventually I started dancing. I was good at it, and my teacher put me in the SA dance team. With that, we went overseas to compete, and my eyes opened to this big world of hip-hop, like 'wow this is crazy, there's so much more than what we know.' I was 10 the first time I went to compete in Germany. We did well, and I started knowing people so my network grew from there. I eventually joined the crew The Repertoires when I was 16, and was there for a year. I met some people from Clinch (a dance crew which was popular then); so I latched myself onto Clinch to work on Masters of Rhythm (a dance event), as a volunteer first. I've been that person that's just like 'give me a chance to work and I will show you what I can do then we'll take it from there.' I spent three years with Masters of Rhythm. From there, I met Jay Kayembe, who spotted my talent and said, "I can use your skills in the other projects that I do, so we did STR. CRD (a street culture festival), a Flying Fish dance challenge thing. Jay then got an opportunity to do the Miller Boomtown Tour with Kendrick Lamar, so that was my first big gig and entry into the industry. I creative consulted on that team. And then I did the choreography for the tour with dancers Taryn, Sne and Sbu, who were the choreographers, but we gave the creative direction for that. And through that I met people at SAB, interacted with the artists and grew relationships. Reason was on that tour, that's why we're so close today. Khuli was there, too, we very close today. Tumi, same story.
With all these stories from women who have been abused by men in the entertainment industry and just sexism as we know it, how has it been working in a male-dominated industry for you?
I must be very honest, I haven't been a victim of that. I have always had the mindset to let it not affect me. I think the only time I've ever complained about guys and their behavior was when a group didn't wanna hear me, and then I kicked and screamed, and then they called me emotional. But in terms of being kept out of the loop or not having a seat at the table, men working with each other and against us, that thing for me has always been an idea more than it is a reality. So I've always said 'just be so good that they don't ignore you.' Or be so good that you are needed at the table, and it's happened a number of times. It's just like the race thing—a white agency will have more opportunities than black ones, but eventually they'll call on you.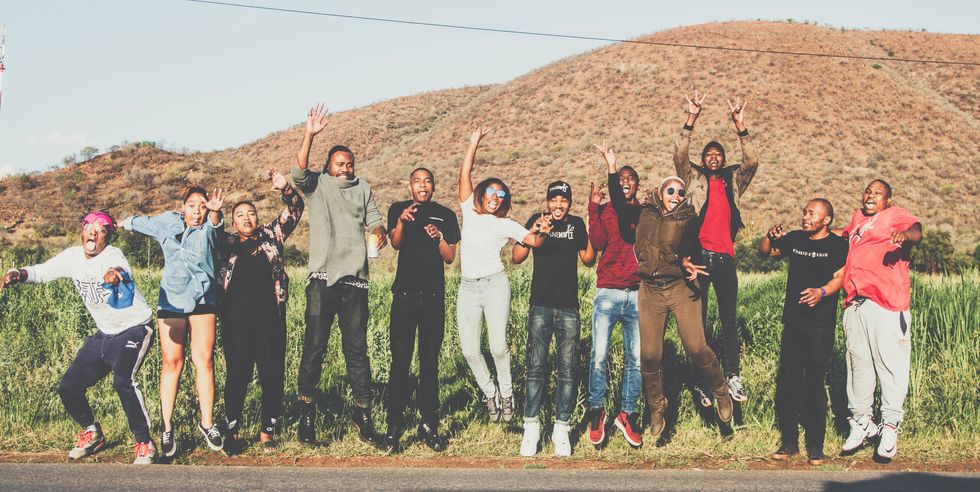 Sibu Mabena (fourth from right) with Reason's band and road crew en route to Oppikoppi festival last year. Photo by Sabelo Mkhabela.
To the young girl who follows you on social media or just sees you and would like to follow your path, what would you say are the biggest misconceptions of your job?
What I put out on social media, more often that not, it's the final product, which is the picture in front of the big stage at FNB Stadium, or the picture at the table with al the accreditation to Afropunk, and my life looks like 'wow, that's so great, that's so cool.' It's cool, it really is, but the work it takes to get there is hard. I've gone from picking up cases of cool drink and water into dressing rooms, and then an hour later, I'm serving Raphael Saadiq a cup of tea on stage. So, it's glamorous, but it's hard—long hours, physically and emotionally draining, you don't see your family as much as you want to, and having a decent love life has been difficult until recently. It's hard but it's so rewarding, because every rand you get to spend has been earned. Secondly, flirting with the right person is not as easy as some people think. Some people are able to sleep their way through, and make it to the top. But that's just some people. That's not God's potion for all of us, some of us were put on this earth to work very hard for what we get. And others just breeze through. As a young girl, I would say don't test which one you are—take fate into your hands and work your way into the space you want to be in. it's really as simple as that.
Follow Sibu Mabena on Twitter and visit the Duma Collective website.