South African rapper Cassper Nyovest is audacious. When he announced he would be attempting to fill up the venue TicketPro Dome, with a capacity of 20,000, in 2015, a lot of us were skeptical.
---
He succeeded, and there's a DVD to prove it. The following year, he attempted to fill up Orlando Stadium, which has a 40,000 capacity. Even though he fell 3,000 people short, his show was still a success. He was still the first rapper to perform a show that size in South Africa, which put him years ahead of every one of his counterparts.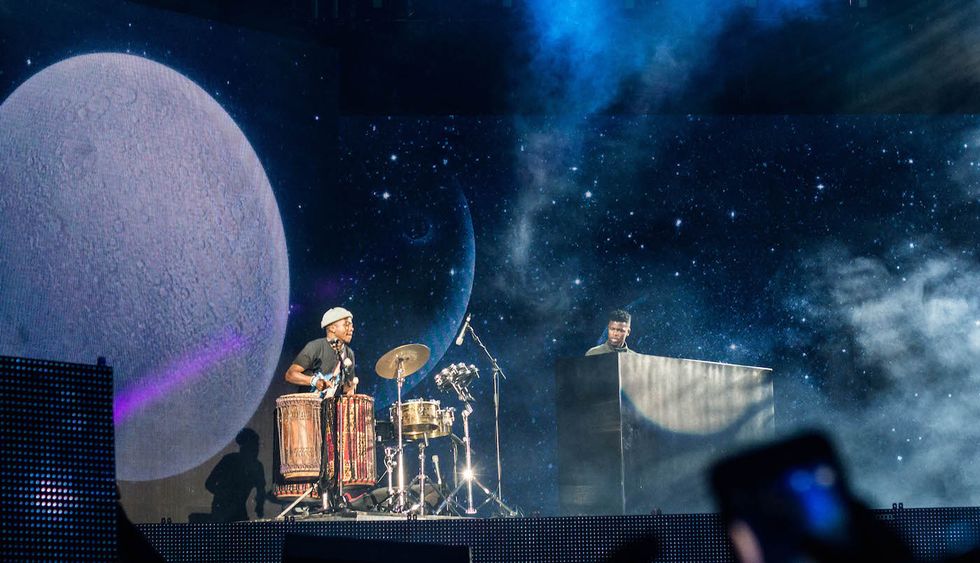 Black Motion deliver a short set. Photo by Sabelo Mkhabela.
Last weekend, on the 2nd of December, Nyovest further dwarfed fellow musicians when 68,000 fans showed up to his third iteration of the Fill Up series of concerts, Fill Up FNB Stadium. His initial aim was to have 75,000 people attending at the venue which has a 90,000 capacity.

So he fell 7,000 people short, but who cares?
He only comes third after U2 and One Direction in terms of numbers in the same venue. U2 filled up the stadium in 2011. One Direction had 131,615 people over two days in 2015.
Cassper Nyovest performs with Zakwe. Photo by Sabelo Mkhabela.
The likes of Rihanna, Justin Bieber, Lady Gaga, Foo Fighters, Bon Jovi, Linkin Park and more, all attracted less people than the 26-year-old rapper.

So what was it like being at Fill Up FNB Stadium?
First of all, I love South African hip-hop. I'm not saying it makes me a special person, but I've been a fan before rappers could even fill up clubs. Before the average citizen wasn't even aware there was a hip-hop scene in South Africa. Before rappers could make money off of their craft. And this was less than 15 years ago.
So, being in a stadium with 68,000 people all there to watch a South African rapper was, to say the least, surreal. And hearing that many people chanting "Mufasa," the rapper's new nickname, every now and then, gave me goose bumps.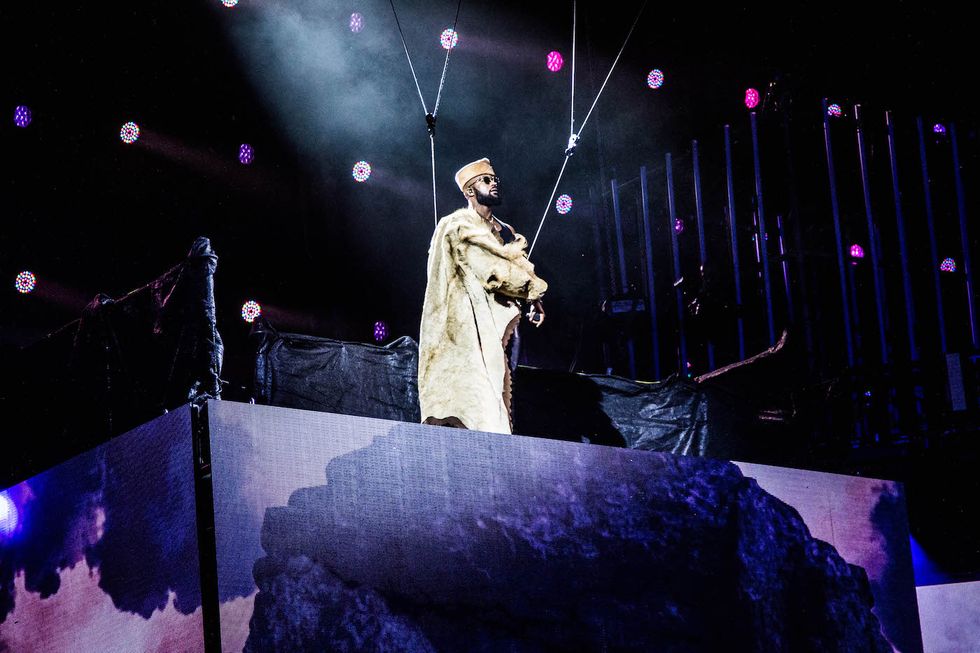 Grand entrance. Photo by Sabelo Mkhabela.
How difficult it was for me and my fellow media people to gain access into the stadium is a story for another day. I missed most of the opening acts–I only witnessed YoungstaCPT, Frank Casino, Oskido and DJ Shimza, who all delivered great performances and sets.

Nyovest took to the stage at about 10pm. His entrance was grand. He was rocking black leather jeans, draped in a lion's hide on his right shoulder.
The show was a full-on production that came with coherent visuals that stuck to the theme of the show–the rapper has been posting pictures of himself dressed like an ancient warrior, with captions of afrocentricity and pan-Africanism, which he was still preaching during the show. He had multiple outfit changes, and was joined by hordes of dancers dressed in traditional attire­–he role-played himself as the king that he actually is now.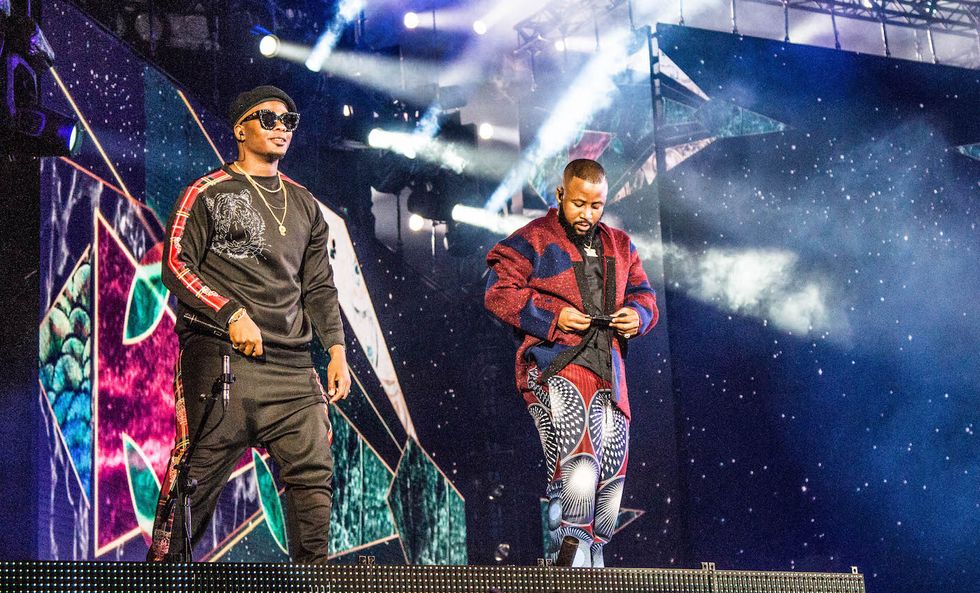 Nyovest is joined by one half of Major League DJz. Photo by Sabelo Mkhabela.
I'm a fan of moments. Apart from the show itself being a huge milestone for South African music, the rapper's set came with some notable moments.

The biggest one, for me, was when Nyovest brought out his mentor Hip-Hop Pantsula (aka, HHP, aka Jabba) and the producer Thaso aka Thasman to perform their 2009 hit "Wa Mo Tseba Mtho."
The song was one of the first times many of us were introduced to Cassper Nyovest. He has always paid homage to Jabba–for instance on "Cold Hearted," a song off of his debut album Tsholofelo, he rapped, "Shootout to Jabba, he told me I'ma take this shit over/ I'm still a fan of his, I'm Yeezy and he's Hova."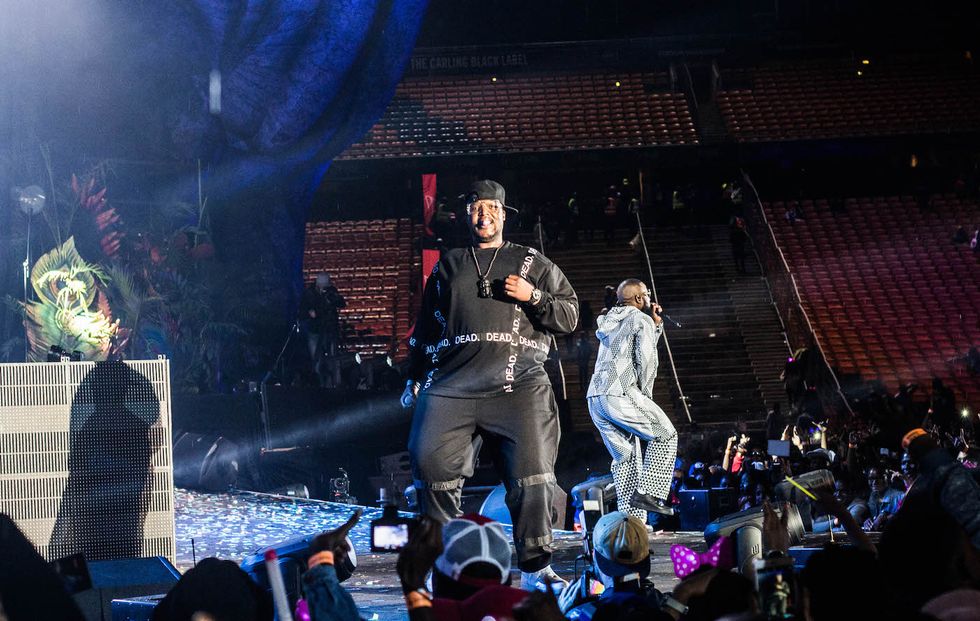 HHP joins Nyovest to perform "Wa Mo Tseba Mtho." Photo by Sabelo Mkhabela.
After performing "Wa Mo Tseba Mtho," Nyovest told the audience, "These guys took a chance with me when I was 16 years old and put me on this song." Turning to the two artists, he continued, "So I invited you to come see your product." I shed a thug tear there for a second.

After performing some of his big hits like "Gusheshe" and "Phuma Kim," and others he is featured on, such as "Juice Back Remix" by Nasty C, "Rands and Nairas" by Emy Gee, he was joined by Kwesta to perform their smash hit "Ngud'." "This song saved my life," said Nyovest. Kwesta then went on to perform his current hit "Spirit," after the crowd demanded it. Kwesta then thanked Nyovest for the huge leap.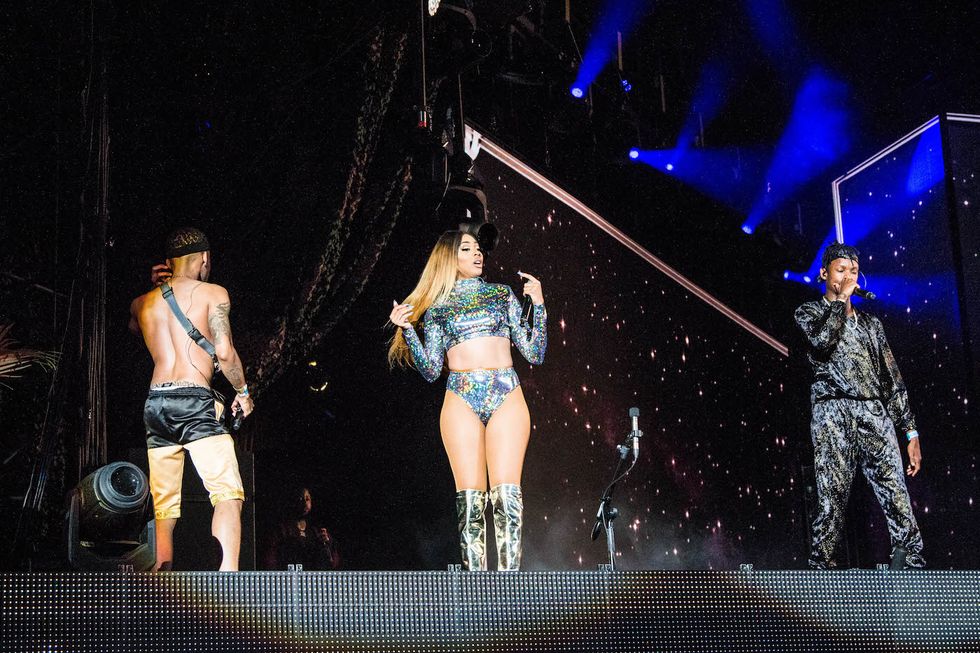 Tshego, Nadia Nakai and Gemini Major perform "Ragga Ragga." Photo by Sabelo Mkhabela.
Some of the guests during Nyovest's set distorted its feel a bit. DJ Tira, Distruction Boyz, Black Motion and Babes Wodumo­–all house artists, are great in their own right, but had no place in the rapper's set. The transition from hip-hop to gqom was painful.

Riky Rick joined Nyovest for a few of their collaborations–including "Zulu Girl," "Le Mpitse" and "Fuseg." This was the most spontaneous part of the show. The two had great chemistry on stage, even starting a mini battle of some sort, in which they competed on which side of the crowd was louder. Riky then went on to perform his hit "Sidl'ukotini."
Towards the end of his set, Nyovest introduced Nadia Nakai and Tshego, who are signed to the rapper's Family Tree label, to perform some of their collaborative hits, and some of their own songs.
After the painful gqom part of his set, Mufasa then performed "Destiny," his collaboration with Goaepele (she wasn't there). During this song, he asked the audience to put their lighters up. This has become the most celebrated moment of the show by way of a now viral aerial view photo of the show taken by Jabu Nkosi.

He ended his set with his biggest hit since "Doc Shebeleza," "Tito Mboweni," putting the whole stadium in a euphoric frenzy.
Not one to rest on his laurels, Cassper Nyovest has already announced that next year, he plans to fill up Moses Mabhida Stadium in Durban. The first three Fill Up shows have all been hosted in Gauteng, and Fill Up FNB Stadium was the last to be hosted in the province.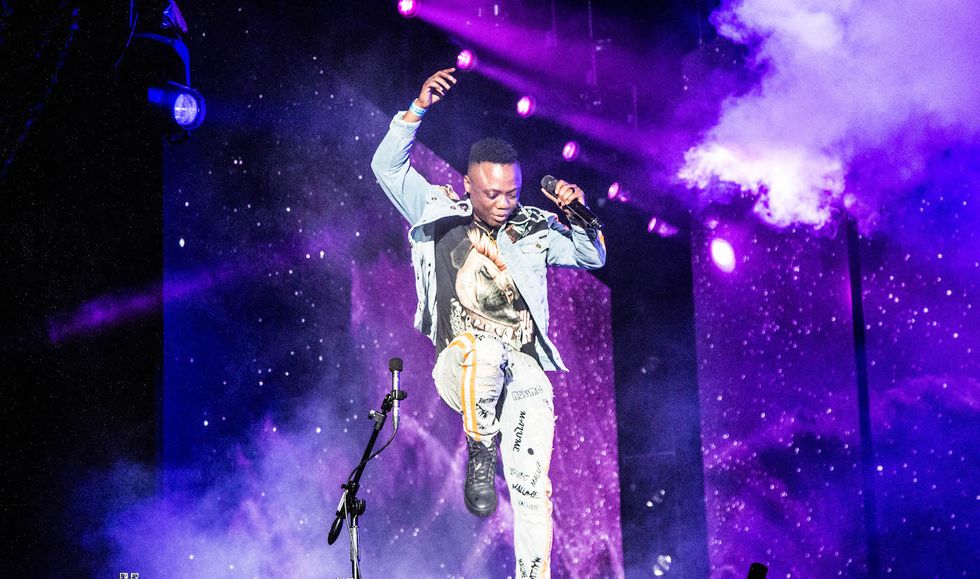 DJ Tira performs during Nyovest's set. Photo by Sabelo Mkhabela.
Even though, he fell 7,000 people short, he is still miles ahead of not just every rapper, but every artist making music in South Africa (or even Africa) right now, in terms of numbers.
Nyovest has had the most impressive come-up story in South African hip-hop history–what he has achieved in a few years' time is unimaginable–from working with hip-hop icons like Black Thought, Talib Kweli and The Game, to having each of his three albums achieving at least gold statuses. As much as this is his milestone, it also catapults hip-hop as a genre in South Africa to levels not many genres have reached.
Well done, Mufasa.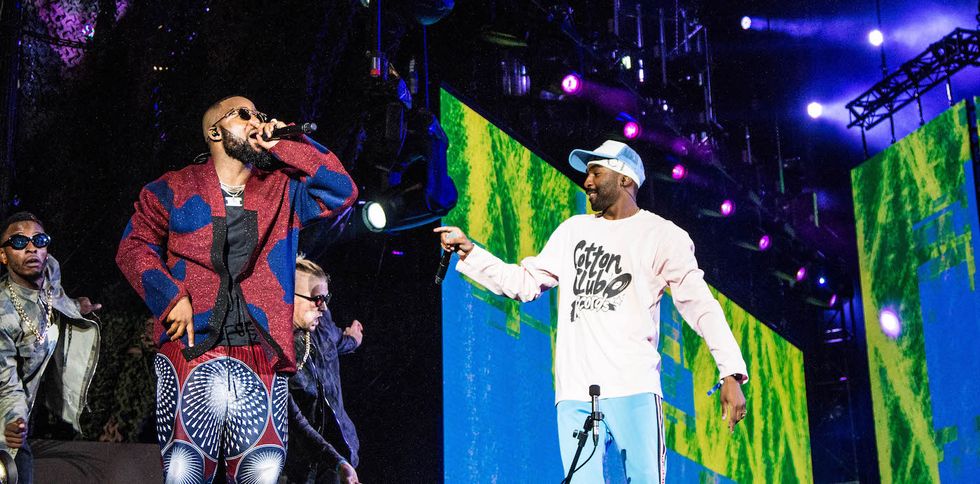 Nyovest performs with Riky Rick.Photo by Sabelo Mkhabela