We're a week out from the third New York edition of 1:54 Contemporary African Art Fair, and we're still processing the beautiful and complex art from the continent's best visual artists.
---
In the midst of the buzzy preview night, we caught up with six artists from Africa and the diaspora who talk about their new work they shared at the fair, along with intimate portraits by Ginny Suss.
Serge Attukwei Clottey | Ghana
Serge Attukwei Clottey. Photo by Ginny Suss.
"This is a series of work from My Mother's Wardrobe, which basically explores stories from women's wardrobes. In our tradition when a mother dies, they lock up her wardrobe for a year, and after a year they share her belongings. For me, because I'm the only child and the son of my mom, I couldn't get any of her belongings. So, I question how tradition questions human rights, so for me, it's being able to relate to my mom's belongings, then I can formulate something through the performance in which I ask guys to wear their mom's clothes, so these are a series of wardrobe stories."
Serge Attukwei Clottey. 'My Hood,' 2016. Photo courtesy of Gallery 1957.
Marcia Kure | Nigeria
Marcia Kure. Photo by Ginny Suss.
"For me a concept is an idea of forces—positive and negative, beautiful and ugly, right and wrong; black and white. And then I think about how those opposites come together to create something, because when there's a disagreement about something or some kind of misunderstanding about something, someone has disconnect. It almost seems as if it stems from this space where people are not talking to each other. It seems to me as if in speaking, it might not necessarily come to a resolution but it will come to an understanding—some appreciation of the other. I'm talking about post colonial trauma. I'm talking about the migration of bodies. In terms of cutting pieces from one section of cloth or transferring that into another environment—and inside that new environment providing pieces, a new kind of story for new conversations to take place. We can use collage in such a way to speak about very profound and deep things. But while you're doing that, you're also creating something new from this interaction."
Marcia Kure. 'Of Saints and Vagabonds,' 2016. Photo courtesy of Officine dell'Immagine.
Angel 'Ihosvanny' Cisneros | Angola
Angel Ihosvanny Cisneros. Photo by Ginny Suss.
"This work is about my very personal process of creation and the way I deal with and look to the city—my restless thoughts on the future of Angola. I questioned what Angola is going to be in 50 years. I focus on architecture because for me they are sculptures that tell the history of the people and communities. I try to make some parallels with art by using geometric shapes, as a way to escape the realities of the gray mass of concrete that we see everyday, and to try to bring color and create some illusions and try to dream through the concrete. I use photos as a reference to guide me and bring back what I saw when I was in that space taking the photos of the city. Some paintings look like photography to make a reference that the images are coming from a digital medium, then I give the piece more of an organic feel."
Insomnia City VII, 2017. Angel Ihosvanny Cisneros. Courtesy of 1:54/MOV'ART Gallery.
Modupeola Fadugba | Nigeria
Modupeola Fadugba. Photo by Ginny Suss.
"'How to Do a Double Platform Lift' is part of my Synchronized Swimming series, and it shows a team of black women pulling these underwater stunts in what is a very technically complicated but also very beautiful sport and it's sort of loosely inspired by Venus and Serena Williams. I've beaded the hair in certain locations—it's supposed to be from when I used to watch them play tennis, the beads in their hair would move with them as the navigated the tennis court. I remember thinking that 'these can't possibly be serious tennis players—the beads probably slowed them down.' But I think as we saw their careers progress, particularly Serena's, it's neither here nor there. For me it's a nice nod to black women and our hair issues—it's always going to be a thing and it's something to embrace."
'How to do a Double Platform Lift.' 2016. Courtesy of 1:54/Ed Cross Fine Art.
Derrick Adams | U.S.
Derrick Adams in front of 'Fabrication Stations.' Photo by Ginny Suss.
"I have two wall hanging fabric pieces called 'Fabrication Stations' (photo above) that are referencing TV and TV culture and the idea of information and how it translates up into fabrics. They show how cultural representations of contemporary and traditional cultures merge together; very similar to how TV is a construction, so can a quilt be a construction of identity and social politics.
'Culture Club' features small blue collage pieces of black figures. The pieces, called floaters, are part of an ongoing series that show the black figure in a position of leisure and relaxation as a political gesture and in a state of reflection. Seeing the black figure in a state of not entertaining but just enjoying and being in their own space—the mundane, which is something that we rarely get the benefits of participating in."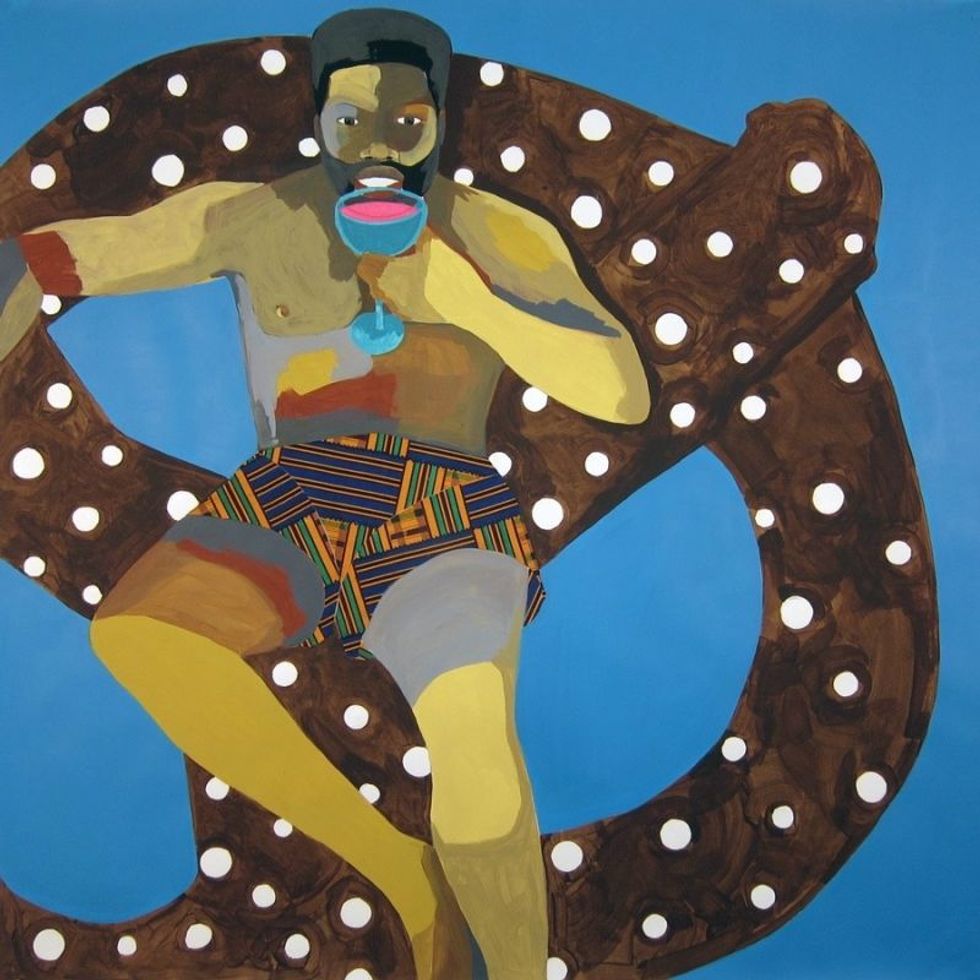 'Floater No. 24 (pretzel),' 2016. Derrick Adams. Courtesy of 1:54/Vigo Gallery.
Olalekan Jeyifous | Nigeria, U.S.
Olalekan Jeyifous. Photo by Ginny Suss.
"I have small scale sculptures that are about 15 inches tall and one 3D wall piece from my solo exhibit, Not My Business, and it's a series of nostalgic artworks reflecting the fact that I was born in Nigeria and I left when I was 7, but I haven't been back since I left. So it's a detached reflection on a country that's very close to my heart but I'm now so removed from and the work is a mix of interactions with current news, media, vintage family photographs, as well as sort of my own architectural interests and spaces like Lagos. I have an architectural background, so that's the lens through which I imagine or try to corral my memories of this place—it's a mash up of different things that I remember like the music we listened to in my household, the photographs my mother took. Architectural follies is what you call that language—sort of playful, whimsical structures that don't have a particular function, but serve more as devices for conceptual narratives."
Dispatches From/To. Olalekan Jeyifous. Courtesy of 1:54/50 Golborne.