Padmond Annor, popularly known as Nana Mitch is a Ghanaian creative who has achieved something remarkable in Africa's social media space, particularly on the popular photo and video sharing app Snapchat. The 24-year-old digital artist is the creator and designer is the artist behind a number of Snapchat filters that have gone viral among a section of Ghana and Africa's Snapchat users.
Nana Mitch had been an avid Snapchat user for years, but in 2019 he felt something was lacking. He saw the need to diversify and better represent Ghana and the Ghanaian experience on Snapchat. Because of that, he decided to take upon himself the mission of personalizing Ghana's Snapchat experience. After making that decision, he then dedicated a year of his life to learning how to create and edit filters, through an online workshop combined with a lot of research and practice.
His first-ever creation was a beauty filter he titled "Ahuofe," which means "beauty" in Twi, one of the major languages of the Ghanaian people. "Ahuofe", which currently has 7 million views caught on, and Nana knew he was on to something. So far, Nana Mitch's creations have collectively earned a total of 100 million views. He's now a verified creator on the highly popular photo and video sharing app, on which he currently has over 47,000 subscribers on his personal account.
He went on to create more, including customized filters for a number of celebrities and influencers across Africa to commemorate important events in their lives and careers. His most popular filter has a total of over 50 million views. However, that isn't all there is to Nana Mitch. He's also a film school graduate, who works on creative campaigns for companies and brands. He writes, directs, shoots, and edits brand campaigns and as an all-round creative, his work on Snapchat was just the tip of the iceberg.
We sat down with Nana Mitch where he tells us about his journey, making Snapchat filters for the president, and what being a creative means to him. Check out our conversation below.
---
Photo courtesy of Nana Mitch.
How did you begin your Snapchat filter journey?
I've been on Snapchat since 2017 and I've always asked myself why we had a limited presence on Snapchat when it comes to African activities like national holidays, business and political agendas, and the likes. So I decided to change the narrative. I remember before the coronavirus lockdown in 2020 I joined a virtual class for Snapchat lens creation. I also joined a forum for creators on Snapchat, and I was also doing as much research as I could and just practicing and creating. When the lockdown happened, I was like this gives me the opportunity to stay home, study, and exhibit my work.
So that's when I started practicing and working on creating filters. I released a couple filters, but my third ever creation to be exact was called "Butterfly." And I realized thatm even though I didn't think it was that nicem there were about 20,000 people using the filter in just two days So I thought why don't I sit down and put colors together to make something about beauty instead of aesthetics. If you look at all my recent work now, it's more geared towards giving you that facial transformation, that beauty look. That's when I came up with my filter called "Ahuofe," which got a million views in just about three or four days.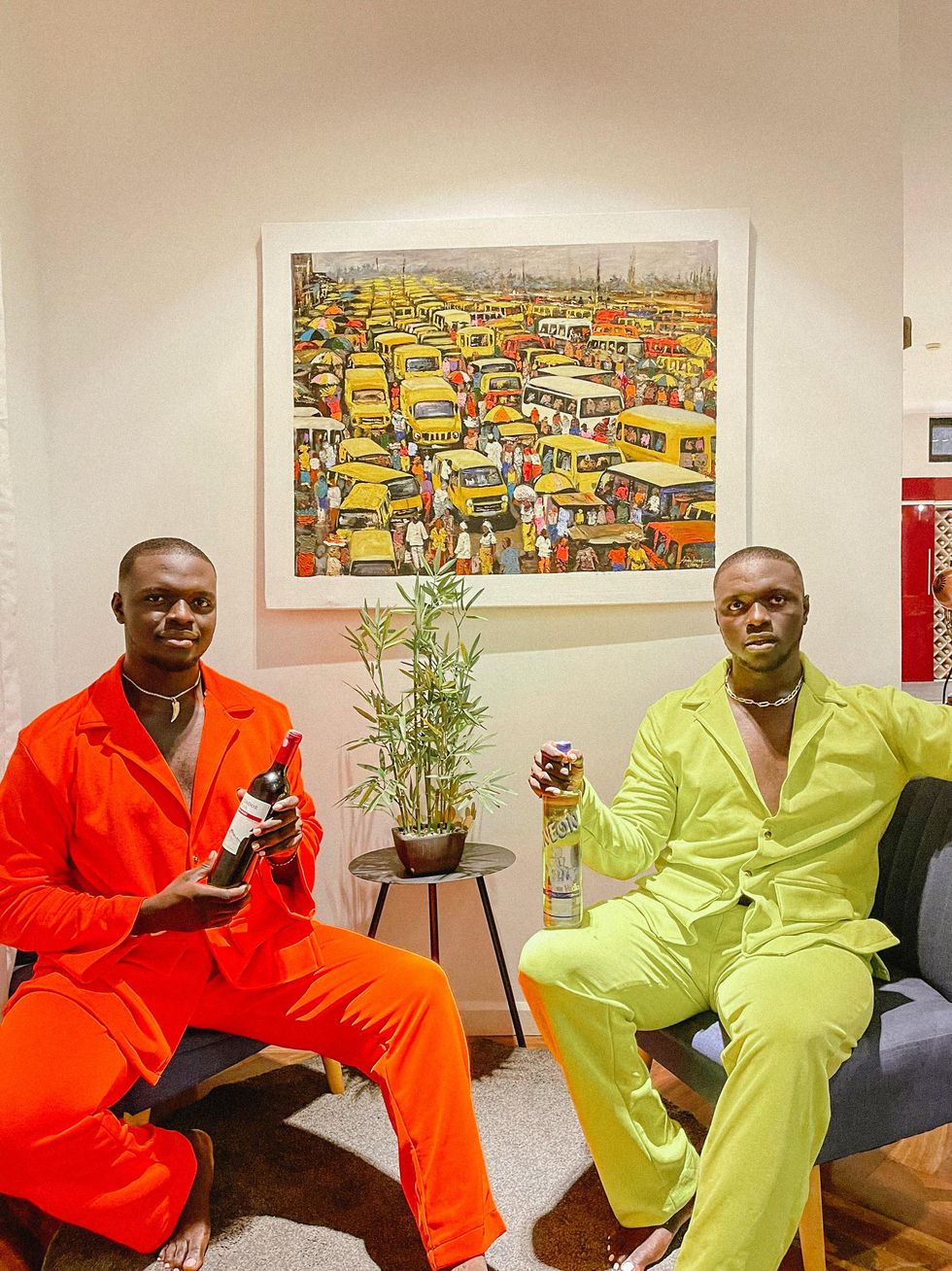 Photo courtesy of Nana Mitch.
What led to your Snapchat filters taking off? How exactly did that happen?
I remember I got a call from a political party that they wanted me to create a filter for their upcoming campaign. So I went to the presidential palace to initiate the contract, and I ended up making about four lenses for the current president of Ghana, Nana Akufo-Addo, and the entire political party. That was back when he was running his campaign. So after I made the lenses for him, they started using them and people started catching on. That filter ended up getting 1.8 million views in a week.
Right after that, I started getting contracts from people in Nigeria, United States, and Dubai. That's when I got in contact with one of Nigeria's biggest influencers, called Berbiedoll. A friend of hers was having an expo in Nigeria called the Wodibenuah Fair, and she wanted me to make a filter for the event. That's when I broke into the Nigerian market. 99% of my customers for filter designs are from Nigeria. Here in Ghana, people weren't that into Snapchat at the time. They were more invested in Instagram, unlike now that the entire country is on Snapchat. So I penetrated into the Nigerian market. I didn't just meet influencers, I also met celebrities. I met Zlatan, I met Eniola Badmus, I met a number of others and I made filters for them. So that's basically how things took off for me.
What does being a digital creator mean to you?
I always had this idea that you create what you stand for. When you see my work you see my creativity. So I always make sure that everything I put out there represents who I am. My art is intimate. That is the zeal and the power I put into my work. My creations are my number one day to day activity. I'm always looking out for how to upgrade myself, I'm always looking out for how to match the energy of the market. I don't want to stagnate. If you just relax the market will move on. I always make it a point to be in line with the market, I always make it a point to upgrade myself when the system is upgrading. That's what being a digital creator means to me.
Photo courtesy of Nana Mitch.
What would you say your biggest challenge is as a creative?

My biggest challenge is the understanding people that have no value for creative work. I remember when things like photography, videography, art itself weren't rated here in Ghana. Being a creative here is hard. It comes with so many challenges.What you need to do is either sell your craft outside or get international clients, or you won't make as much money as you should. The value they're going to place on you is low. So those are the challenges. Remember I stated that 99.9% percent of my clients are Nigerians, Americans, people from Dubai and other African countries.
Over here they think it's outrageous or over the top, and I don't know why because I feel like the magnitude of work that goes into creation is not easy. Sitting down and putting colors together to make sure that when I put color A and color B together I am going to make the skin look a certain way, that alone is a whole challenge. And then sitting there to design different things for different categories of brands, it's not a joke because you always have to create to suit the client and make sure that everything sits right. So that's been my biggest challenge. But despite the challenges, the benefits are huge because I've gotten to meet so many influential people, and I've gotten to go to certain places.
What would you like to be known for? When your name is mentioned, what do you want to be the one thing that runs through people's minds?
I want to be known as a creative extraordinaire. I want to be known as an artist because I'm not just a lens creator. A number of people are now beginning to know me for content creation. My twin brother and I actually started a journey of creating content for brands. Recently we did a campaign for Infinix, for Big Brother Naija's first runner-up Liquorose. We created the concept, we shot it, and we edited it. Because I went to film school. I have a Bachelor's in Fine Arts from Ghana's National Film and Television Institute. So despite what I'm most known for, I consider myself to be more of an all-round creative. I can act, I can direct, and I know cinematography. So I want to be known as an all-round creative extraordinaire.