In Nairobi, a young Somali man with dreams of becoming a famous actor gets caught up in an unfortunate sitaation. He's asked by a friend to act as a terrorist leader for international reporters. This is the scenario at play on Ayaanle, the feature debut from Somali director Ahmed Farah.The movie comes with a certain self-awareness. The mocking of international media and its troping of Somalis as terrorists is present. Western reporters, in their pursuit for convenient labelling, are scammed by locals impersonating pirates and terrorists.

Farah makes sly observations of this cottage industry. Barkhad Abdirahman, who plays the titular character, joins forces with Farah to shine a light into his own life as an actor. Starring in 2013's Captain Phillips, where he plays a Somali pirate, he hasn't been afforded the room to step into other roles of interest.
Coming from making documentaries (The Last Hijack) in 2014, 43-year-old Farah is applying his creative impulses towards feature-length projects. Last month, Ayaanle premiered in the U.S. at the New York African Film Festival. Come October, it will screen at the BFI London Film Festival. Next month, the film is set for a wide release in Uganda, Tanzania, Rwanda, Zambia, South Africa, Djibouti and Kenya.
Speaking from this year's Cannes Film Festival, which wrapped up last month, Farah tells OkayAfrica about making Ayaanle despite challenges and his vision as a filmmaker from Somalia.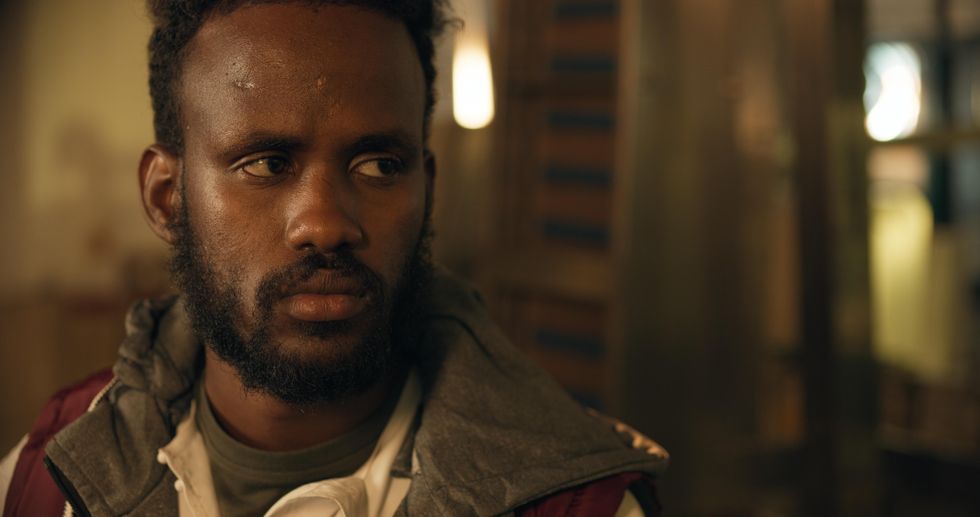 Barkhad Abdirahman plays the titular character.
Photo Credit: Screenshot Ayaanle
How did the inspiration for Ayaanle come about?
I was with friends who were shooting a documentary about Somali pirates. We have both been following each other's works and on this set, the man who they found as the pirate was sharing his life story to them. As I listened to him, I immediately suspected that what he was saying was made up. He's Kenyan-Somali and even though he did his research, it was still a fabrication. He wasn't a real pirate. During a break, I approached him to have my suspicions confirmed. Turned out I was right. By his own admission, he asked that I [don't] ruin things for him or spoil his gig.
I realized that this was an actor. I did some research and found out that he's among a group of make-believe actors who have been featured as pirates in international press like the New York Times. This is a documentary about someone posing as who they are not just to earn some money. So this was how the inspiration for Ayaanle came about, from fake pirates and terrorists.
Ayaanle was shot in Nairobi, Kenya. How challenging was it to shoot?
First, it's the same problem plaguing African filmmaking, the lack of support from the government. You are required to do everything yourself in making your film without assistance. We struggled to get access to government institutions and places. There was also a challenge in gaining government permits. It was really tough trying to get guns and you can't use fake guns. It took weeks and months to get the access and permits we needed. Another thing we faced was trying to shoot scenes in main streets and city centers because filming is restricted. What we were left with were the slums, and crowd management with which was tasking.
Ayaanle premiered at the New York African Film Festival last month. Are there plans for theatrical releases in Kenya and Somalia?
Actually we were still editing the film just before it was shown at NYAFF. And there are plans to release the film in Kenya and Somali because I'm particularly interested in what Africans think about the story we tell. Because, at the end of the day, the people you would like to give you credit are Africans.
Cinema in Somalia has suffered decades of being in the dark, hijacked by terrorism which has posed security challenges. How do you think Ayaanle will revitalize cinema culture in the country?
We are aware of the security issues in Somalia and all the mayhem. And even though we shot the film in Kenya, we had the trailer premiere in Somalia and people came around, including government officials and the media. They saw that we could tell local stories with an international level of production, stories that otherwise won't be told by Western media.
Take for example movies like Captain Phillips and Black Hawk Down, which were adapted from books written by white men. Despite having Somali characters, it is not a Somali story. It's all shown through a Western lens.
We need to tell our own stories and to be able to do that, we need access and funding. We need people to be supportive and understand the value of storytelling. I think Ayaanle is breaking the barrier and it's proving that we too can deliver the same quality with Hollywood movies. Also, cinema is a business, and investors and business people will see that there's money to be made and invest in our industry.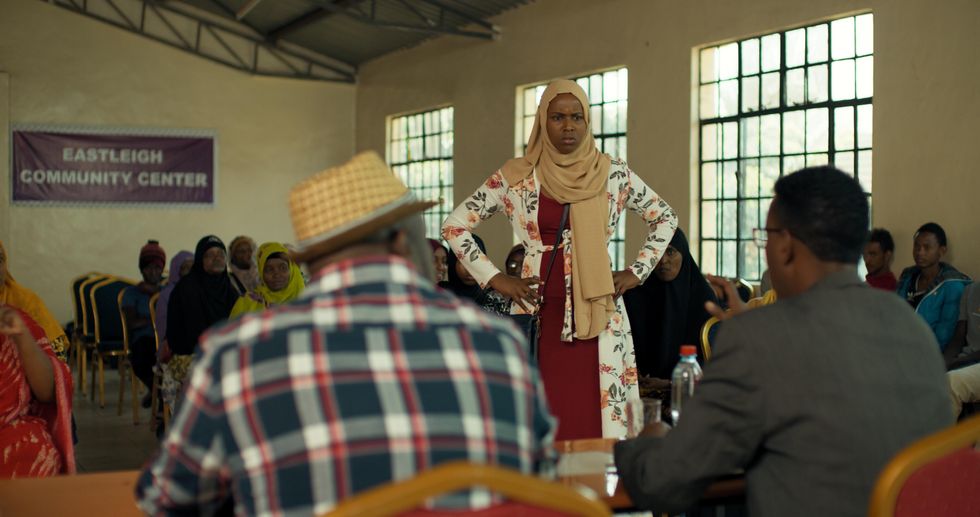 Ayaanle comes with a certain level of self-awareness.
Photo Credit: Screenshot Ayaanle
What do you think are the pressing concerns for Somali filmmaking or the Somali film industry?
We have a lot to do and learn ourselves. Our government comes from a failed state and has been struggling with building the system. If you look at any successful film industry, the government has a hand involved, the support is there. What we are hoping is that things become stable and the government understands the value of storytelling. Movies have the power to change the mindset of the youths, with employment and distract them from participating in certain vices.
I think movies will help people see a different side of Somalia, even for the Somalis themselves and the ones in the diaspora, who barely know what's happening in the country. We need to talk a lot more and make ourselves heard, with the government and entrepreneurs coming together to build cinema infrastructure for the country.
What did you hope to achieve in handling the portrayal of terrorism and radicalization?
Ayaanle is story about a young Somali actor who has always been cast as a terrorist or a pirate, so he's struggling to find a balance to get different roles other than the ones he is always portrayed in. He's also not making enough money as an actor. I wanted the film to talk about what international media gets wrong about terrorism, to ask the question of how much is true in their depictions.
For me, it's also about drawing attention to the desperate actors who are tell fake stories as terrorists and pirates in movies. I focused on the theme of terrorism because it affects the youth in Somalia. Let's say you have been arrested for something and the first thing the police does is label you as a terrorist. It also addresses police corruption and complicity. When you go for casting or auditions, the roles about terrorism are reserved for Somalis, we aren't portrayed as doctors or business persons. Ayaanle is targeting how Somalis are typecast as terrorists.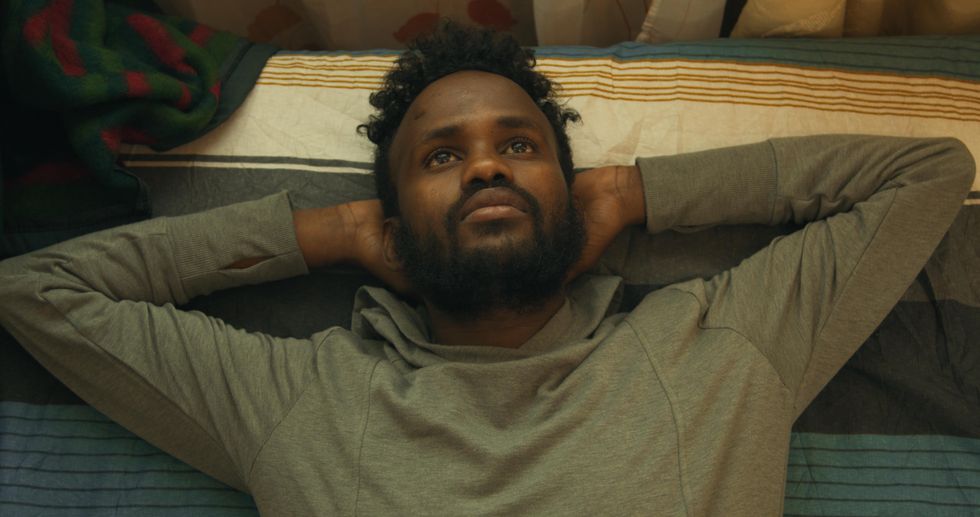 Abdirahman joins forces with Farah to shine a light into his own life as an actor.
Photo Credit: Screenshot Ayaanle
Talking about the cast, Barkhad Abdirahman is famous for playing a member of a pirate crew role in the Hollywood film Captain Phillips. Did you have Abdirahman in your mind when you were thinking about a male lead for Ayaanle or did his casting come much later?

Incidentally, Barkhad was in Kenya as part of the cast for Watu Wote,which was nominated for an Oscar. The film was about a bus being attacked by Al-Shabaab, a unique story and I was on the set. That was where I met Barkhad for the first time. He was telling me how he couldn't get roles other than terrorist and that was when I saw him playing an actor in my film. It felt convenient.
Throughout the story of Ayaanle, there's nothing that I made up. It is based on real stories. Barkhad has experience and isn't a newcomer. He was in the American series Fargo and Stray. As my first film, I didn't want to take the risk of casting someone new. Right away, I saw him playing the role of Ayaanle.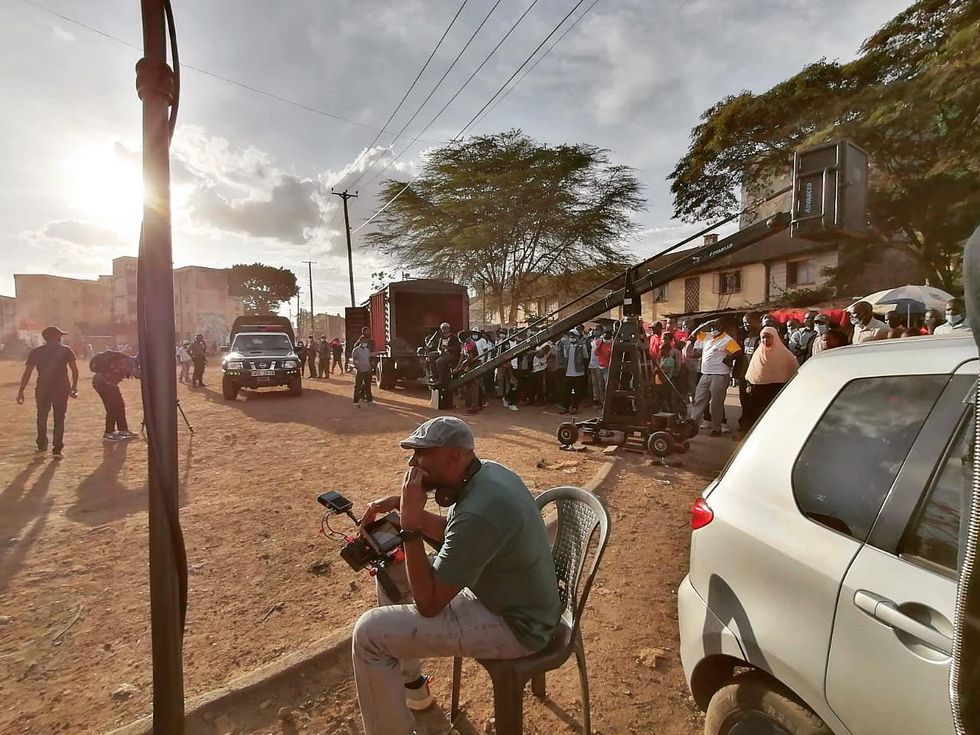 "My focus is to tell Somali stories and make it universal."
Photo Credit: Ahmed Farah
As a a Somali filmmaker, do you think there are expectations for you to make films that talk about terrorism?
I have the freedom to do whatever I want because I'm not dependent on anyone's funding, it's a choice I made a long time ago. If I want to do things my way and I need to find my funds my way. I don't have the pressure of fulfilling the expectations of others. I'm doing my things the way I see them fit. This is why I prefer to do low-budget movies for which I'm in full control and then progress from there. In the future, I would like to do comedy, horror, thrillers, love stories, whatever comes to mind as long as it is interesting for people to watch. My focus is to tell Somali stories and make it universal.