As fashion becomes gender fluid, more and more designers are incorporating unisex pieces into their work. One of those designers is 21-year-old Lebogang "mynameislebo" Mokgoko, a third-year LISOF design and photography student from Pretoria.
---
His debut collection, Blossom, exhibits majestic floral patterns reminiscent of impressionist paintings. The two-piece garments are loose-fitting and cut in box-like frame patterns. He's accompanied the look book with a soundtrack, "Leblomo Laka" (meaning "flower"), which you can stream below.
We caught up with the young designer over email to find out how his new collection came into full bloom.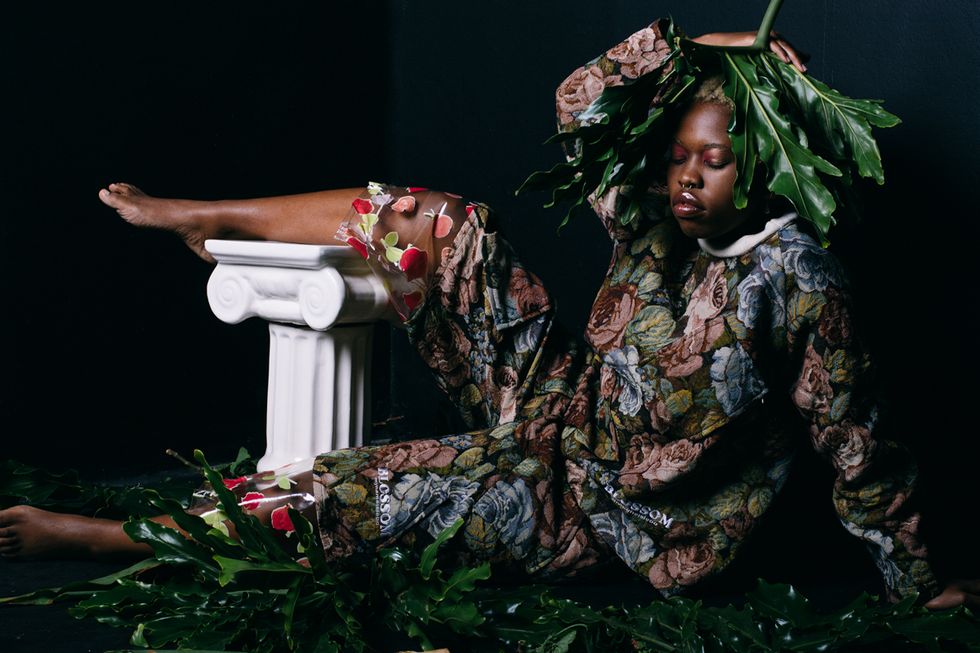 Lebogang Mokgoko's Blossom Collection Look Book. Photo by Keletso Nkabiti & Lunga Ntila.
Sharine Mokgoko for Okayafrica: Tell us more about the Blossom collection and how it came about…
It wasn't as much about drawing inspiration but more of me proving a point. Blossom is not my brand but rather a collection. It really deals with me planting a seed, which is the vibe, tone and just general aesthetic I am trying to introduce to the market, as this is my first official collection being made available to the public. It's what I hope years from now people will be able to look back and say this is where it all started. So it wasn't about creating a winter or summer collection. I didn't even think of gender when creating the pieces but rather I just focused on creating great pieces that could fit into everyday life. Something that ultimately just adds value to the culture and serves as my contribution. I really wanted to shy away from what I'm being taught at school in terms looking for what's "trendy" and so on, but rather create clothing that means something to people. It was important for me to create pieces that had the design principles, but at a level that even the guy on the streets could relate to.
What inspired the aesthetic of the look book?
I wanted the viewer to get the feeling as if they were getting to know a person, understanding their past and seeing what they were going to "blossom" into. I also felt like I wanted to give the viewer something honest and sincere and let the clothes speak more than anything.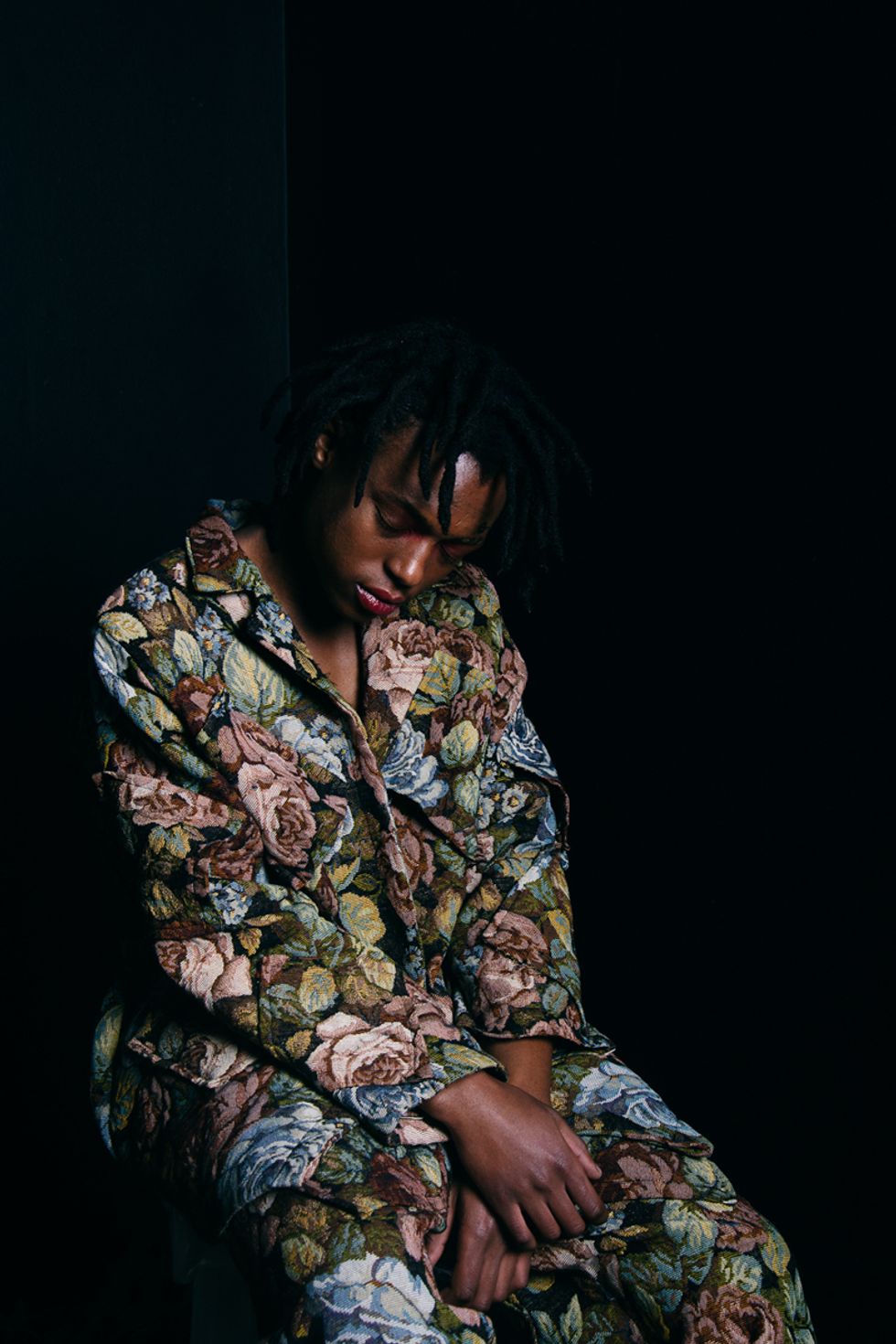 Lebogang Mokgoko's Blossom Collection Look Book. Photo by Keletso Nkabiti & Lunga Ntila.
How did you choose the material for your pieces?
I worked with upholstery and PVC on this collection. I really wanted to create something special and I like the idea of using materials for not their intended purpose. I just feel like since the introduction of fast fashion people are just consuming the same thing but at different price points and I never want to fall into that trap of making and not creating. I like the idea of expanding on the possibilities of design and truly creating something that people can look at years from now and marvel at.
Who or what are you inspired by?
Just being young and African is more than inspiring for me. I feel like being born post-apartheid I've have the responsibility of truly taking advantage of the opportunities that I now have and furthermore I want to play my part of this new wave of Africans that are changing the world's perceptions of what it means to be African now.
What's Pretoria's fashion scene like? How has growing up in PTA influenced your work?
It's very identity-driven for lack of a better word, and compared to Cape Town or a Joburg, it is oblivious to current trends. This has allowed the scene to be filled with individuals who have a more unique sense of what fashion is to them. There are a lot of vintage and punk influences.
I owe my whole idea of fashion to Pretoria. Since we didn't really have a scene when I was growing up it allowed me to figure out what fashion is to me. I got my sense of fashion from looking at everyday people and family for what I thought was cool and fashionable. So I fell in love with clothing more than I did with fashion. What one can also get from Pretoria is a sense of humility because in Pretoria nobody is trying like everyone is just themselves so I think that's the most important thing I've gained, to just be myself and not try and fit in or whatever.
You mention you didn't think of gender when creating the pieces. What do you think about androgynous fashion? What does it mean to you?
When I think of fashion I don't think of boy / girl. I just think of really cool stuff regardless of gender or age etc. So it wasn't about me creating an androgynous collection or hopping on the androgynous trend. I just wanted to create great items of clothing. Something great should not be restricted by anything, especially gender, age etc. I always told myself that no matter what I create, that I'm not going to put restrictions on it because I want people to be able to create their own interpretations and find their own meanings because that's what I feel anything considered to be art should do, create dialogue in one form or another.
Are you planning on growing Blossom beyond the collection and the soundtrack you created?
It will be a dream to shoot a short film for Blossom, if I can get the right director.
What are your plans for the future?
Hopefully release a Blossom short film and people can just expect more collections, pictures series, my graduate collection and when I feel that the timing is right the release of my official label/brand.
Mokgoko is taking orders via email at ordermynameislebo@gmail.com.
Lebogang Mokgoko's Blossom Collection Look Book. Photo by Keletso Nkabiti & Lunga Ntila.
Lebogang Mokgoko's Blossom Collection Look Book. Photo by Keletso Nkabiti & Lunga Ntila.
Lebogang Mokgoko's Blossom Collection Look Book. Photo by Keletso Nkabiti & Lunga Ntila.
Lebogang Mokgoko's Blossom Collection Look Book. Photo by Keletso Nkabiti & Lunga Ntila.
Blossom Look Book Credits:
Creative Direction by Lebogang Mokgoko
Art Direction by Size Mbiza
Make-Up by Michelle Coetzee
Photography by Keletso Nkabiti & Lunga Ntila
Models: Ethan Richards, Zinhle Mtimkulu, Thato Chandlyamba, Natalie Paneng, Nicholas Lawrence, and Raeesa Ladha