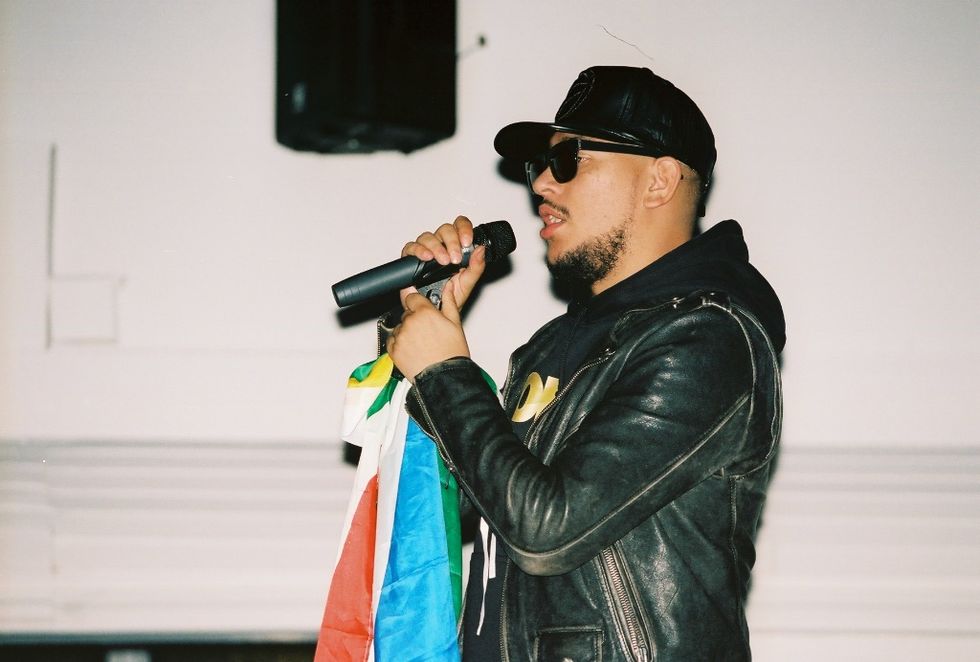 South African Hip Hop Awards 2016 nominees have just been revealed.
The fifth edition of the South African Hip Hop Awards are coming up next month, the 14th of December, at the Lyric Theatre in Johannesburg. Hosted by comedian Nina Hastie and actor and MC Batsile Ramasodi, this year's show is themed "Who Wants to be a Billionaire?" According to a press release, it's "inspired by the role big money is starting to play within the culture."
---
Public voting is open for the following six categories: Best Collaboration, Best Female, Best Male, Best Hip Hop Radio Show, Best Video, Song of the Year.
Our very own Sabelo Mkhabela is up for Best Hip Hop Radio Show for his weekly Headwarmaz show on Bush Radio. Get to voting by heading to the SAHHA website.
The 2016 SA Hip Hop Awards will premiere on MTV Base (DSTV Channel 322) Monday, 26 December. Nominees have just been revealed. Check out the full list here:
SONG OF THE YEAR
"Gwan" - Maraza
"Ameni" - Miss Pru
"Pearl Thusi" - Emtee
"Sidlukotini" - Riky Rick
"One Time" - AKA
"Ngud'" - Kwesta ft. Cassper Nyovest
"Hell Naw" Nasty C
"Now Or Never" - DJ Switch
"Washa" - DJ CitiLyts ft. Ambitious Artists
"Walking & Dabbing" - Aewon Wolf ft. Gemini Major & Khuli Chana
BEST ALBUM
20FIFI - Fifi Cooper
Avery - Emtee
DAKAR II - Kwesta
Refiloe - Cassper Nyovest
We Need a Title - BETR Gang
HONORARY AWARD
Goddessa
MIXTAPE OF THE YEAR
AM-EP - Maraza
You Don't Know Me Yet - Priddy Ugly
Ground Zero - Gigi LaMayne
3/4 Pace - Kid X
Cameron Diaz - Stilo Magolide
BEST MALE
Avery - Emtee
DAKAR II - Kwesta
Refiloe - Cassper Nyovest
BEST FEMALE
20FIFI - Fifi Cooper
Bragga - Nadia Nakai
Ground Zero - Gigi LaMayne
Storiez 2 Tell - Megmafia
DJ OF THE YEAR
DJ Switch
Major League DJz
DJ Dimplez
DJ Speedsta
Ms. Cosmo
PRODUCER OF THE YEAR
Tweezy
Ruff
Ganja Beats
Lunatik Beats
Gemini Major
BEST COLLABO
"Ameni" - Miss Pru ft. Fifi Cooper, Emtee, B3nchmarq, A-Reece, Saudi & Sjava
"Kuze Kuse" - Fifi Cooper ft. Emtee
"Washa" - DJ CitiLyts ft. Fifi Cooper, Emtee & B3nnchmarq
"Dreamwork" - AKA ft. Yanga
"Ngud'" - Kwesta ft. Cassper Nyovest
"Ragga Ragga" - Gemini Major ft. Family Tree
"Now Or Never" - DJ Switch ft. Shane Eagle, Proverb, Reason & Kwesta
"Way It Go" - DJ Switch ft. Tumi, Nasty C and Youngsta
"Jump" - Anatii ft. Cassper Nyovest and Nasty C
"Walking & Dabbing" - Aewon Wolf ft. Gemini Major and Khuli Chana
LYRICIST OF THE YEAR
Nasty C
Solo
A-Reece
Kid Tini
Kid X
BEST FRESHMAN/NEWCOMER
Coming Of Age - Kid Tini
20FIFI - Fifi Cooper
Cameron Diaz - Stilo Magolide
¾ Pace - Kid X
Book Of Chad - Chad Da Don
HUSTLER OF THE YEAR
Cassper Nyovest
Khuli Chana
Proverb
Gigi LaMayne
BEST DANCE CREW
Creed Crew
Supreme I Crew
2Legitt Crew
Vintage Crew
BEST VIDEO
"Couldn't" - A-Reece ft. Emtee
"Le Mpitse" - Cassper Nyovest ft. Riky Rick
"Sidlukotini" - Riky Rick
"Ameni" - Miss Pru
"War Ready" - Cassper Nyovest
"Yippikayay" - Reason ft. AKA and Khuli Chana
"More" - Stilo Magolide
"Mr. Madumane" - Cassper Nyovest
"Jump" - Anatii ft. Cassper Nyovest and Nasty C
"Fuseg" - Riky Rick ft. Cassper Nyovest and Anatii
BEST GRAFFITI
RIOT
MARS
TAPZ
BEST LOCAL BRAND
Bupan
Two Bop
GALXBOY
Ama Kip Kip
Cassper Nyovest
BEST INTERNATIONAL BRAND
PowerPlay
Castle Lite
Redd's
Absolut vodka
Red Bull
PROMOTER OF THE YEAR
Pop Bottles
Major League Gardens
Authentic Sunday
Sneaker Exchange
Maftown Heights
MILESTONE
Fill Up The Dome - Cassper Nyovest
BEST DIGITAL SALES
Kwesta - Gold Album + Gold Single
Cassper Nyovest - Double Platinum Album
Emtee - Platinum Album
BEST REMIX
"Ambitions (Remix)" - Tweezy ft. Khuli Chana & Ice Prince
"Roll Up (Re-Up)" - Emtee ft. AKA and Wizkid
"Baddest (Remix)" - AKA ft. Fifi Cooper, Rouge, Moozlie & Gigi LaMayne
"Now Or Never (Remix)" - DJ Switch ft. Various Artists
"Juice Back (Remix)" - Nasty C ft. Davido & Cassper Nyovest
MOST VALUABLE
Cassper Nyovest
AKA
Riky Rick
Khuli Chana
Kwesta
BEST HIP HOP RADIO SHOW
The Hip Hop Floor - YFM
The Stir Up - 5FM
Namba Namba - UKHOZI FM
The Ready D Show - GOOD HOPE FM
Headwarmaz - Bush Radio
The Mixtape - Alex FM
Hip Hop Corner - NW FM
Hip Hop Culture - Ligwalagwala FM
The Fresh Cut - Gagasi FM
The Capital Rap Up - Cliff Central
KING OF MP
Thabs Tha Acid
Fortune Ntekati
Marvin Straight
KING OF WP
Lolli Dekeni
Zanzolo Uzwi Kantu
Emile Y?X
KING OF LIMPOPO
Hip Hop Live SA
Nema Wama Hunguni
DJ Chocos
KING OF EC
Yahkeem Ben Israel
Trusenz
Snesh Nota
KING OF NW
Amos Ofentse Tapile
DJ Lemonka
Thabiso "Lunchboy"Tshabalala
KING OF FS
Thabo Tsasane
Psykonik
Ba2cada
KING OF NC
DJ Speedy V
Snowy Maine
King Kyla
KING OF KZN
DJ Feel
Junior De Rocka
Lindo Prowjekt Thwala
KING OF GP
Spoken Priestess
Enzo
Major League DJz