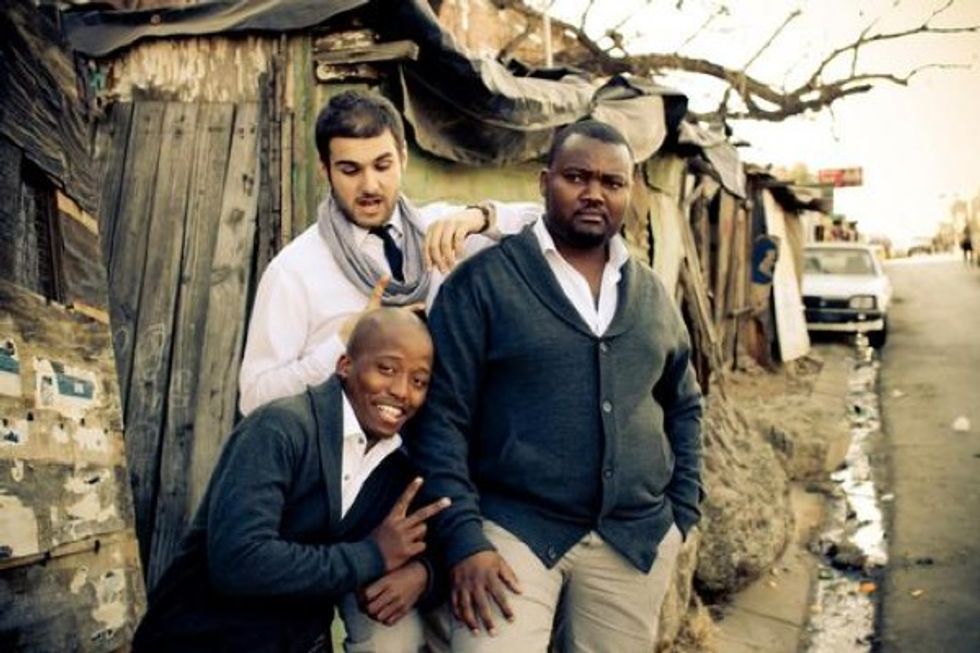 ---
In our new monthly column Kasi Kassette , Johannesburg based contributor Heather Mennell will deconstruct the inner workings and sounds of South African house music. In this first installment, she speaks to Mi Casa about the pitfalls and perks of fame and their forthcoming album.
"I remember what they told us when we started out - as soon as your song gets played the on radio you become public property. You are now like a can of coke on the shelf of a store. People can come and take you, put you down, return you, open you, use you, throw you away – they can do as they want with you." says J Something , front man and lead vocalist of South African house band Mi Casa .
Mi Casa are so big that they can't walk around shopping malls without being mobbed by fans. Women scream and cry at their shows. Their success in South Africa is nothing short of a phenomenon — they've even performed in front of President Obama . So, if I was to start at the surface of SA house music and work my way down, Mi Casa offer a good starting point. Their music booms from the speakers of opulent clubs and rattles the bumpers of tired taxis. It's ubiquitous. This three piece band have become household names in South Africa and are indeed public property.
Mi Casa's music isn't particularly edgy or boundary-smashing, except perhaps in the reach and success it has had. In their tracks, pop, afro-pop, soul, jazz and gospel elements ride a house groove. It's easy to see why people connect. In person they're as warm and accessible as their music. Instead of swilling amber coloured liquor while lounging on obese leather couches encircled by barely dressed dancers in an imaginary mansion (generic formula for most SA house music videos) the video for their single "These Streets" (below) was shot in Alexandria, a township in Johannesburg North.
Their two year journey began with an impromptu collab at a rooftop shindig. Since then their self-titled debut album has hit double platinum album and been showered with awards. It would be easy to dismiss them as mainstream but there is more to Mi Casa than meets the eye.
Mpumalanga-born Dr "idokatela" Duda is an accomplished producer with solid credentials and an extensive discography. Many of the scene's young guns cite him as a mentor. Duda has paid his dues. His skills in the studio underpin the group's sound and he put a lot on the line for Mi Casa, including his own solo album. "My album was next in line," he says "these guys were new – no one knew them. I took a big risk. I said 'J, are you aware that I'm cutting all my bookings for Mi Casa?'"  At which point Joao interjects, "He was earning ten grand per gig and at our first Mi Casa gig we shared a thousand". "He'd get booked and introduce us to the promoters" continues Mo T , "we'd perform with him and he would share his gig fee with us. ' Come guys,' he'd say ' equal cut .' His life is different to ours and still is, he has a family and responsibilities. He sacrificed a lot to make this happen. We'll never forget that."
Musicians occupy several branches of Mo T's own family tree – his grandfather, Harry Kgasoane led Big Harry's Band which would play weddings in Alexandria. His father, Banza Kgasoane, took over the reins after Harry died and played in several other bands before forming iconic afro-pop group Mango Groove in the eighties. Banza came home one day to discover five year old Mo playing on the trumpet. Clearly, all the practice has given him the ability to flaunt the versatility of the instrument. Echoes of marabi and mbaqanga effortlessly mingle with more modern brass motifs. When talk turns to the new albums he says "We aren't paying too much attention to anything or anyone else. We're sticking to our sound."
J-Something (Joao Fonseca) was born in Portugal and moved to South Africa at age seven after his folks split up. He started playing guitar a few years later. His Mediterranean heritage can be felt on the samba-soaked '"La Vida." (below)
J talks about the plus side to success, "We've made some money and invested a lot into our production - better hardware, better software and more instruments. As a band we have grown, we now have a full time bassist and percussionist. Our team is the same — just stronger, more mature. Upgraded." With the follow up album set for release in August, I ask if the pressure's kicking in. "We were very nervous. Until we got into the studio." he answers. "We have recorded seven or eight tracks in ten days, most the tracks are recorded live and created with a live performance in mind. We're really excited about the collaborations on the new album. We didn't have any guests on the first. There's collab with an African artist and a local artist – but we can't say more than that."
Mi Casa's new album drops in August.
Words: Heather Mennell