In our "10 Things I Love" series we ask our favorite musicians, artists & personalities to tell us what they like the most about their home country.
---
In this new installment Khartoum-born singer and songwriter Alsarah, frontwoman of the East African retro pop band Alsarah & The Nubatones, shares the 10 things she loves the most about Sudan. Her group's newly-released album 'Manara' is available now.
With over 58 different tribes, languages, and cultures, Sudan is a large and diverse place to live. However due to the non-stop turmoil making travel so difficult and unsafe since its independence, most people are unaware of all the magic that is available there—even its own people.
I was born in the capital city of Khartoum where over a third of the country's population makes its home, but until I was in my early twenties I had never traveled too far outside the capital city. Hence I want to preface this list by saying: I probably don't know enough about the real magic of all that makes Sudan Sudan, and I am not sure any one of us alone does either—so I highly encourage anyone reading this article to chime in with their favorite spots as well as links so we can all share in the magic of Sudan with one another.
Nuba Wrestling
The Nuba Wrestling competition in Haj Yousef on Fridays is one of my absolute must-dos when in Khartoum. Haj Yousef is a suburb of Khartoum host to a variety of different peoples from different regions of the country (as is the case in most neighborhoods in this diverse city).
The competitions normally start after the Friday prayer and continue into the early evening. Here is a clip of one of the matches from the stadium I usually go to when visiting.
The Moolid aka Muslim Christmas
This is a celebration of the prophet Mohamed's birth. This was also my favorite holiday as a kid because you got to have a new outfit, go to the big maidan where everyone was gathered, and you got those giant pretty dolls which were made of colored sugar.
The dolls that you would sneak around and eat slowly behind your mom's back until you got caught and had to explain why the doll was missing half its head and you swear you didn't eat it, and no those aren't your teeth marks on her head...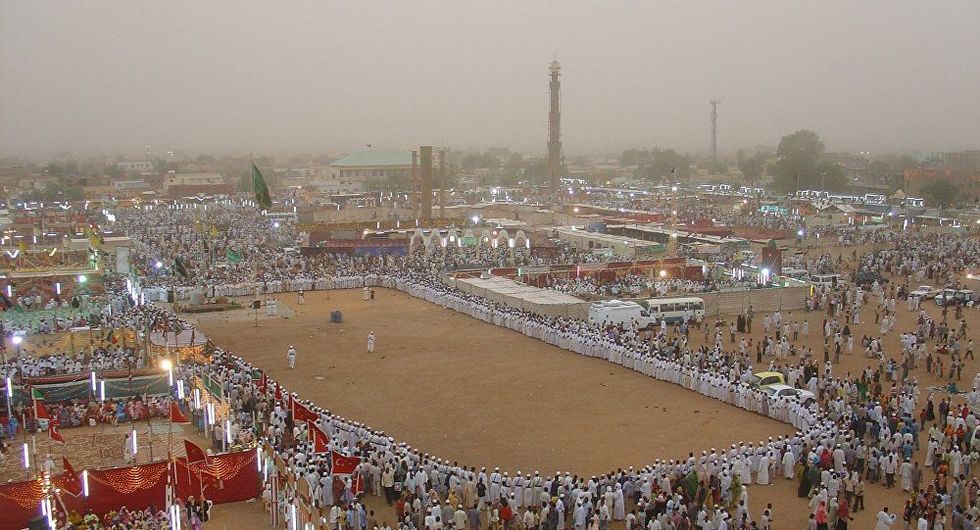 The gathering in the Maydan. Image courtesy of Alsarah via Sputnik News.
The entire Shamalia State is magical!
While the majority of the land is desert up there, it's also host to the largest number of Nubian-built artifacts having been the seat of Nubian history until very recently (Nubia ended in Egypt, it didn't start there contrary to popular opinion) with the building of the High Dam in Egypt.
At the moment a great deal of new Dams are being built on the Nile in north Sudan causing a great deal of strife and putting a lot of this history in further jeopardy than it already is, so go now because this might not be possible down the road sadly.
Samekmek Fish Restaurant in Khartoum 2 (مطعم سمكمك الخرطوم 2)
Mind blowing fried fish! Seriously, just mind blowing! Just get to the Khartoum 2 area and ask any rikshaw driver and they will send you to the exact location. While you are there get into the Aseeda with Mula7 Nei3mia and a side of fresh arugula if they have it that day (depends on day of the week and time of day). Never forget to ask for the special dakwa hot sauce! #sudanisauce #gamechanger
"Sit Alshai" Across the Circle from Ozone Park
Ozone Park is arguably the bougiest place to be in Khartoum. It's a place where you can sit in the middle of a giant traffic circle shielded by old Neem trees and other greenery in Khartoum 2 rubbing shoulders with all the who's who of Sudanese upper crust inteligencia, bratty expat high schoolers, and other couples celebrating a special moment that warrants dropping $6 USD on some coffee...yeah that would be six US dollars my homie…
OR you can be like me and thousands of others and have your tea on the side of the street over by the tea lady and only pay $.25 for some bomb-ass tea! Maybe even a fresh benigt (aka ligaymat), if you time it right (e.g. before 9am)...see even these old school British guys were in on the secret...But seriously, the tea lady across the circle from there has particularly fancy batch of teas and her dried mint is always fresh!
Port Sudan and the Red Sea Area
Port Sudan is a large bustling port city on the Red Sea and perhaps Sudan's only "winter" resort area. By winter I really mean that time of year between November and January when it's pleasantly/borderline too hot, as opposed to oppressively-wanna-kill-yourself-hot. There is also a beach, and a perfect one at that. You can even take a boat cruise up the Red Sea all the way to Egypt! Around the Christmas and New Year season there are so many open air concerts to attend too!
Sudanese Weddings!
If you haven't been to a Sudanese wedding then you haven't done any socializing in Sudan. Considered by many to be the most important social activity in Sudan it can span anywhere from 2-7 days in activities, and usually takes months and months of preparations (including dance training for the bride).
There is also an entire industry of cosmetics built around the wedding activities, the star player of which are the Henna designers and practitioners. Every new year there are new fads of designs and patterns, and long waiting lists at the top salons in khartoum to get an appointment.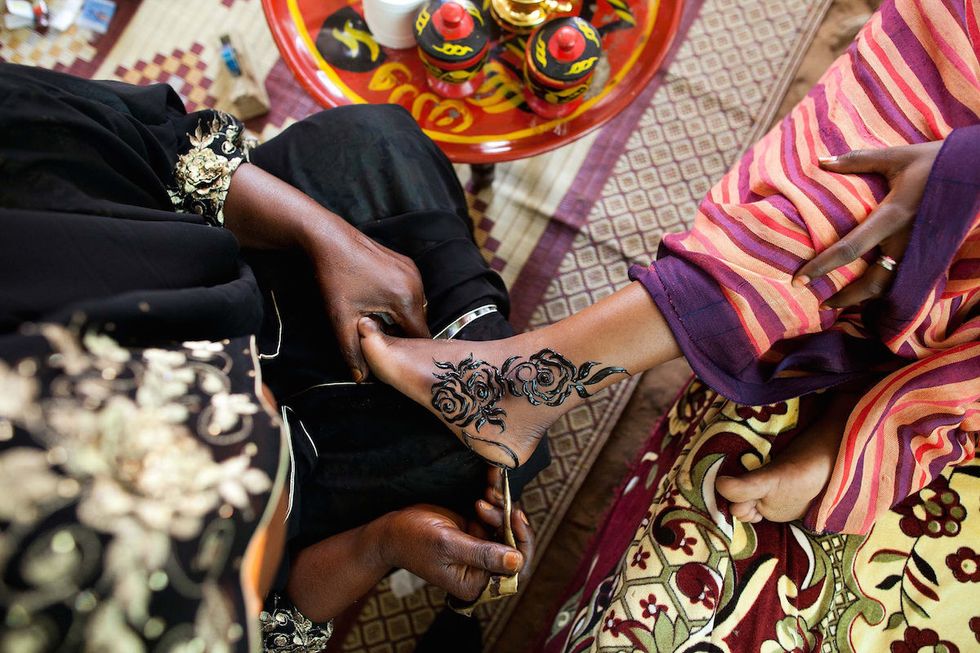 Henna drawing in Sudan. Photo by Albert González Farran, UNAMID. Creative Commons image via Flickr.
Rashid Diab Art Center
The Rashid Diab Art Center is one of the few places in Khartoum to see any new artwork... they also host workshops and concerts sometimes. Always worth passing by and asking to see what's up
The Sudan National Museum
The Sudan National Museum in Khartoum is surprisingly awesome and full of wonderful facts. Definitely worth a visit!
Buhen Temple reconstructed at the Sudan National Museum. Creative Commons photo by David Stanley (via Flickr).
Marrah Mountains in Darfur
The Marrah mountains are somewhere I've never been but always wanted to go. My dad used to work out there and always came home with lots of stories for us when we were kids. It's on my list of things to do in Sudan eventually.