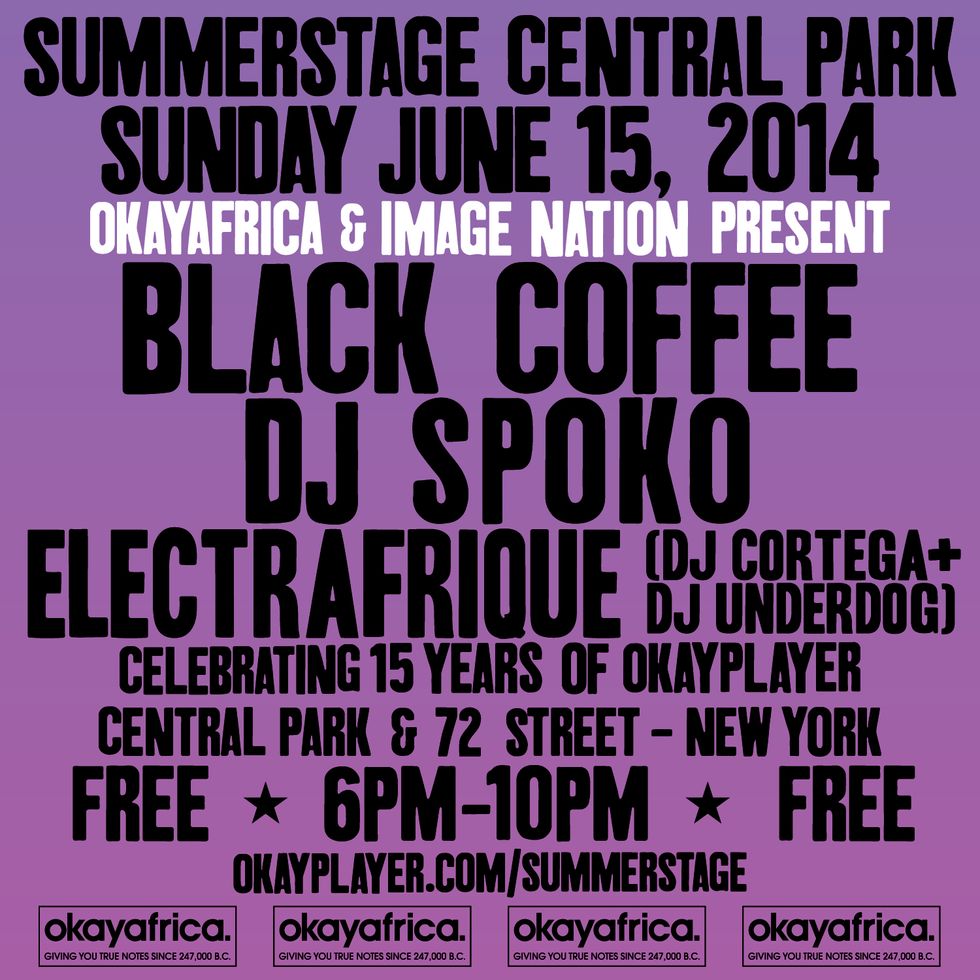 Okayafrica Presents Black Coffee, DJ Spoko & Electrafrique at the Central Park SummerStage on June 15! The show is free to attend.
---
We're excited to announce that Okayafrica will be presenting a special night in celebration of 20 Years of Freedom and Democracy in South Africa and the National Youth Month (June 2014) at this year's Central Park SummerStage concert series on June 15. The night, presented in collaboration with the South African Consulate General-NY, will feature performances from South Africa's biggest DJ/producer Black Coffee, 'bacardi house' creator and one of the leaders of the new wave of SA dance DJ Spoko, as well as our very own Electrafrique DJs Cortega & Underdog. Stream Cortega's Black Coffee (The African King of House) mixtape, crafted exclusively for the occasion, below. Electrafrique starts at 5pm, right at doors, get there EARLY!
Okayafrica's show with Black Coffee and DJ Spoko will be part of Okayplayer's 15th Anniversary SummerStage celebration, featuring 5 separate shows from us and our channel partners Okayplayer, Okayfuture, Revive Music and LargeUp that will include performances by Blood Orange, Moses Sumney, Bonobo, Gregory Porter &The Revive Big Band, Bonobo, Cibo Matto, Chronixx and more. See our schedule below and come celebrate Okayplayer's 15th year with us!
>>>See the full SummerStage schedules at Okayplayer
Sunday, June 15 | 5pm – 10pm
Okayafrica & ImageNation Presents
Black Coffee
DJ Spoko
Electrafrique (DJ Cortega & DJ Underdog)