Events
Petite Noir, Young Fathers, & Christian Tiger School At Okayplayer's SXSW 2014 Takeover!
Okayplayer's networkwide SXSW 2014 takeover features Okayafrica favorites Petite Noir, Young Fathers, and Christian Tiger School.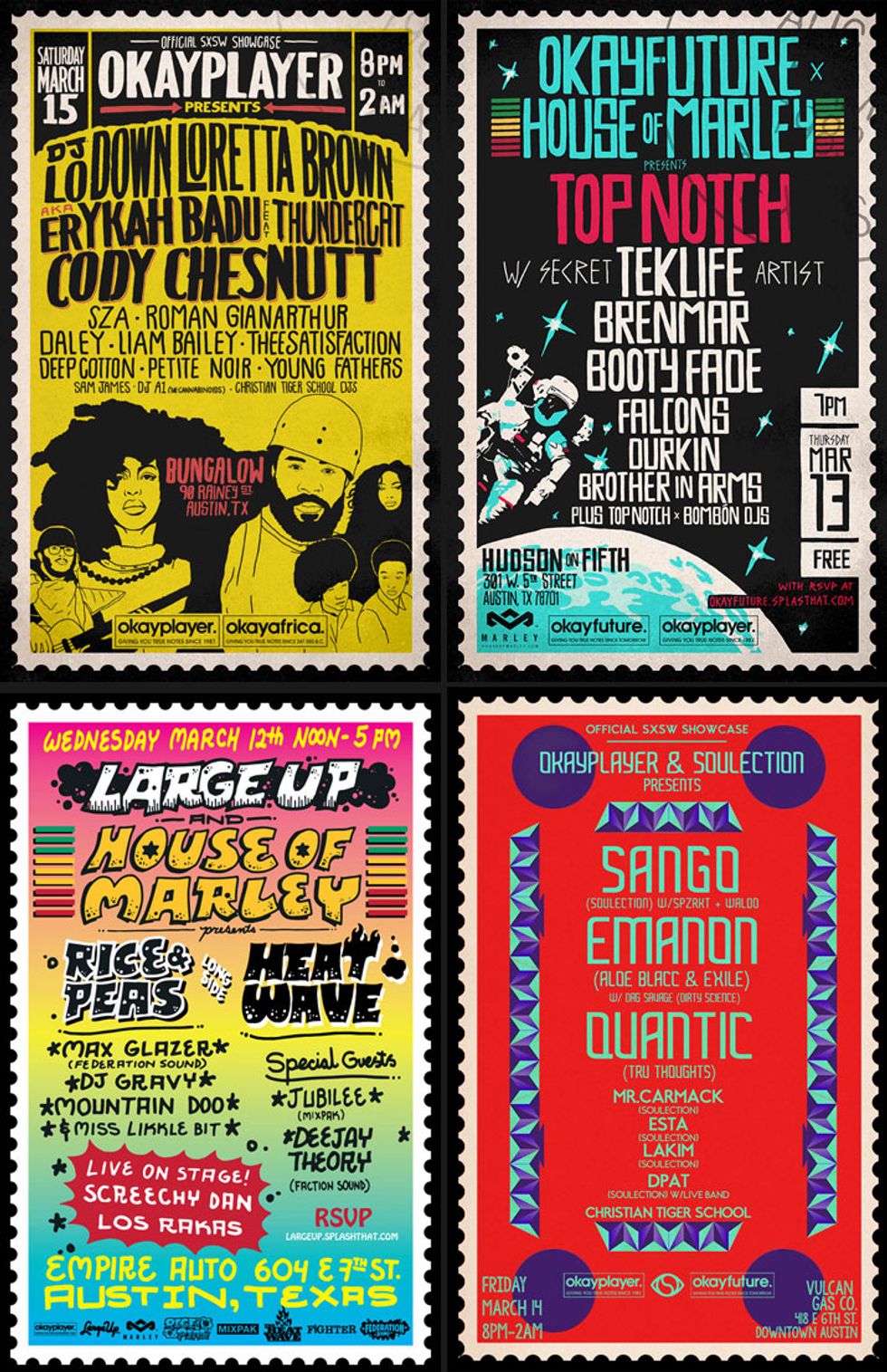 ---
South By Southwest is just around the corner (1 week!). And earlier today our partners in blog let loose news of Okayplayer's networkwide SXSW takeover. Beginning next Wednesday, March 12th, OKP hits Austin with a series of four family-wide (OKP, OKA, Okayfuture, & Large Up) parties. We're proud to note that Saturday's event comes especially stacked with Okayafrica featured artists! Joining the likes of Erykah Badu, Thundercat, and Cody Chesnutt at the Okayplayer Official SXSW Showcase are three of our favorites: Scottish / Liberian / Nigerian art-rap trio Young Fathers (who topped our 'Best of 2014' lists with "I Heard" and "Low,"), South Africa's father of noir wave Petite Noir, and Cape Town's psychedelic beatmaking duo Christian Tiger School. The CTS dudes are also set to take the decks Friday night at Okayplayer & Soulection's Official SXSW Showcase along with Sango, Quantic, and more. Scroll on for details on the Saturday (3/15) event and catch up on Africa In Your Earbuds mixes from Petite Noir, Young Fathers, and Christian Tiger School. Stay tuned for our full guide to SXSW 2014...
>>>Head Here For Full Details On Okayplayer's 4-Part Concert Series At SXSW
Okayplayer Official SXSW Showcase
Saturday, March 15th, 8pm – 2am
Bungalow
90 Rainey Street
Austin, TX
DJ Lo Down Loretta Brown AKA Erykah Badu featuring Thundercat
Cody ChesnuTT
SZA
Roman GianArthur
Deep Cotton
Daley
Liam Bailey
THEESatisfaction
Petite Noir
Young Fathers
Sam James
DJ A1
Christian Tiger School
Official SXSW Event, Badge & Wristband Required for Entry
(Limited number of tickets for sale at the door–stay tuned to OKP for giveaways!)