News
Apr. 02, 2015 02:02PM EST
The very first '1:54 NY' contemporary African art fair reveals its lineup of 70+ artists that will showcase during New York Frieze Week 2015.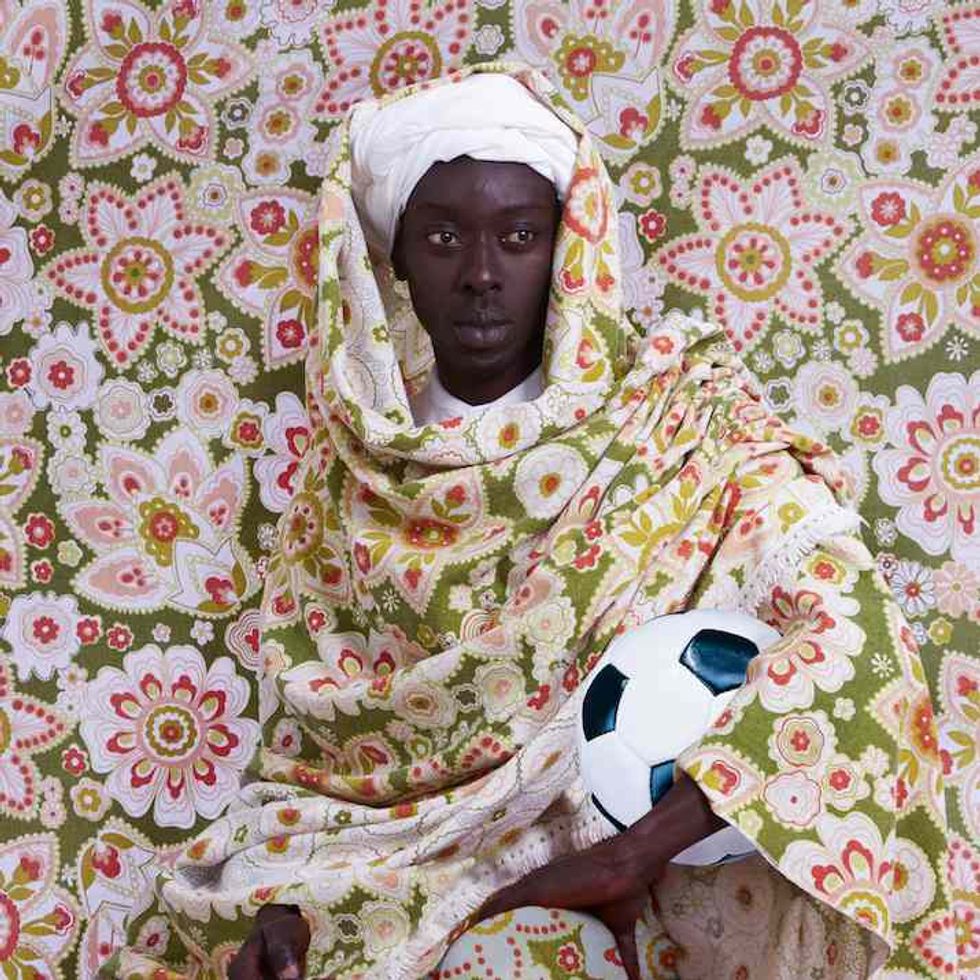 Omar Victor Diop's 'Project Diaspora'
London's 1:54 Contemporary African Art Fair is crossing the Atlantic next month for its US debut during New York's Frieze Week. Dubbed 1:54 NY, this satellite edition of the growing art gathering will set up shop at Brooklyn's Pioneer Works from May 15-17. Yesterday, 1:54's creator and director Touria El Glaoui revealed the lineup of artists and galleries exhibiting at the New York presentation. "Contemporary African art is continuing its rise to the fore as it is granted the attention it duly deserved," El Glaoui said about expanding the fair. "In light of this, it seems only right that 1:54 would spread its wings to land in New York, where established and emerging African artists and artists of the African Diaspora are leading a burgeoning contemporary art scene that communicates across international geographies. The New York edition will retain the intimacy and charm that the setting of London's Somerset House has made possible, and as always, will showcase the highest caliber of art to date, in an unrivaled setting."
1:54 NY's participating galleries, which come from Abidjan, Cape Town, Johannesburg, Lagos, London, Marrakech, Milan and Paris, will feature works from 70+ African artists, including Gabonese painter Boris Nzebo, British-Nigerian draftswoman ruby onyinyechi amanze, legendary Malian portrait photographers Malick Sidibé and Seydou Keita, Senegalese fashion and fine arts photographer Omar Victor Diop, Kenyan visual artist Jim Chuchu, Beninese mixed-media artist Romuald Hazoumè, iconic Nigerian photographer J.D. Okhai Ojeikere, Mozambican sculptor Gonçalo Mabunda, Belgian-Beninese photographer Fabrice Monteiro, and Tunisian artist and researcher Nidhal Chamekh, among others. For more on the upcoming 1:54 NY fair head to their official website, Twitter, Instagram, and Facebook, and see below for the full list of participating exhibitors and artists.
1:54 NY Selected Exhibitors
A Palazzo Gallery, Brescia / Afronova, Johannesburg / Art Twenty One, Lagos / ARTCO Gallery, Aachen / Axis Gallery, New York / Bennett Contemporary, Cape Town / CIRCA Gallery, Johannesburg / Galerie Cécile Fakhoury, Abidjan / Jack Bell Gallery, London / Magnin-A, Paris / Mariane Ibrahim Gallery, Seattle / NOMAD Gallery, Brussels / Primo Marella Gallery, Milan / SMAC Gallery, Cape Town / VOICE Gallery, Marrakech
1:54 NY Selected Artists
Aboudia
Leonce Raphael Agbodjelou
Leila Alaoui
ruby onyinyechi amanze
Olu Amoda
Joël Andrianomearisoa
Younes Baba-Ali
Sammy Baloji
Steve Bandoma
Wayne Barker
Rim Battal
Daniel Blom
Conrad Botes
Armand Boua
Frédéric Bruly Bouabré
Nathalie Boutté
Edson Chagas
Nidhal Chamekh
Jim Chuchu
Soly Cissé
Bruce Clarke
Peter Clarke
Barend de Wet
Calixte Dakpogan
Omar Victor Diop
Bright Ugochukwu Eke
Theo Eshetu
François-Xavier Gbré
John Goba
Maïmouna Guerresi
Romuald Hazoumè
Ayana V. Jackson
Seydou Keïta
Lebohang Kganye
Abdoulaye Konaté
Lawrence Lemaoana
Toyin Loye
Gonçalo Mabunda
Ibrahim Mahama
Abu Bakarr Mansaray
Megumi Matsubara
Vincent Michéa
Jean-Paul Mika
Bobson Sukhdeo Mohanlall
Shula Monsengo
Fabrice Monteiro
Jean-Claude Moschetti
Richard Mudariki
Lavar Munroe
Vitshois Mwilambwe Bondo Cheikh Ndiaye
Boris Nzebo
J.D.'Okhai Ojeikere
Gérard Quenum
Chéri Samba
Amadou Sanogo
Kura Shomali
Malick Sidibé
Ransome Stanley
Pathy Tshindele
Eric van Hove
Billie Zangewa
Asha Zero
Keep reading...
Show less