A statuesque Tchinda Andrade strides out of the White Plains cafe, and finds a table for us to sit. The charming Cape Verdean is in town to promote her documentary, "Tchindas" part of this year's New York African Film Fest line-up. Over the course of our discussion Andrade tells me about her love for carnival and how she became the island's most famous transgender figure.
---
Selected in over 20 film festivals, and awarded ten times, "Tchindas" is a story about Cape Verde's colorful carnival and its empowered transgender community. The Outfest film festival awarded the documentary with the Grand Jury prize, for its stunning portrayal of the island's culture and people.
It was by the insistence of Cape Verde's celebrated crooner Cesaria Evora, that led journalist Marc Serena to make the documentary 'Tchindas', which follows Andrade, a prominent transgender activist, as she prepares for carnival. The São Vicente native is known mainly for coming out as a transgender woman in a 1998 newspaper article, which made it easier for others to follow suit.
"I like the fact that I was the first to come out, but if anybody wanted to talk to me about it, I was open. During the time that I did the diary, it sold out because people were just interested in learning about my life," says Andrade.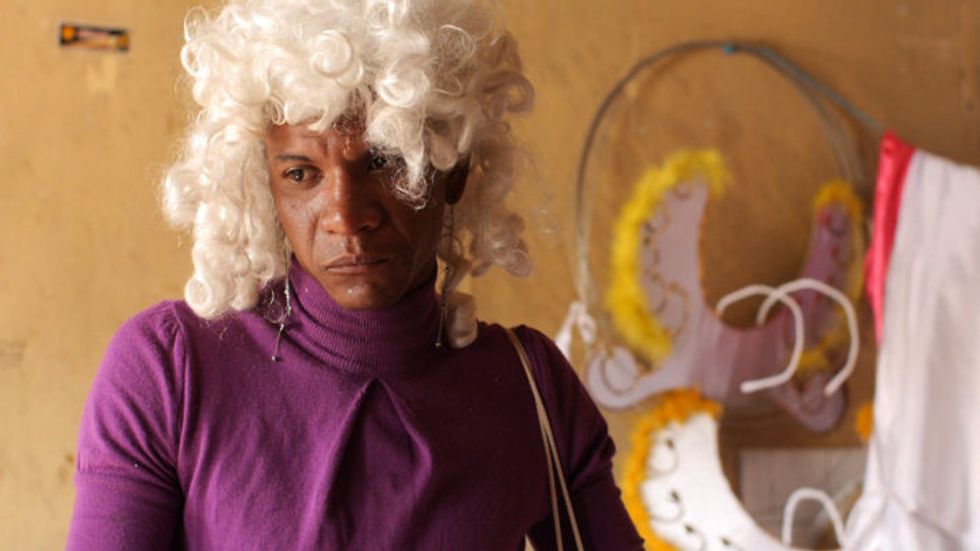 Tchinda Andrade. Photo courtesy of "Tchindas"
'Tchindas' documents the community and culture of the São Vicente residents, who are preparing for Carnival, an occasion that transforms the place and people through the eyes of Andrade. "I showed the way my life is, and talked about my culture, carnival," Andrade notes emphatically.
The film has netted many positive reviews about what critics are describing as a vibrant and alternative look at little-known Cape Verde and its people. Perhaps it is Andrade's unapologetic disposition as she saunters down the street, or tirelessly goes over details of the costumes and arrangements for carnival that audiences love. Either way the Creole and Portuguese speaking star is a favorite, pleased with the reception at the New York African Film Festival that she relays with a pageant smile.
In New York, Andrade communicates through a family friend about the experience of traveling from home to Spain and now the U. S—her first time.
The film received many nods of approval including the Grand Jury award at the Outfest Festival, and Best Documentary at the Cape Verdean American Film Festival. When asked why she thinks foreign audiences resonate so much with her story, she offers that maybe it is "my courage which seems big for someone coming from a small country," adding: "Cape Verde is a small country, but a lot of people have open minds—not all, but some. The island where I'm from, [people] are more open to a lot of things."
The archipelago state had its first gay march in 2013, but in the film, Andrade is known on her island for overseeing the highly anticipated carnival. A task she enthusiastically explains with perfectly manicured, red nails.
Before our interview concludes, Andrade is happy about the fact the documentary shows a more nuanced and positive look at the transgender community, and emphasizes that what we see is "no script, 100 percent me." Declining to share the secret behind her popular coxinhas treats, or partake in a snack at the White Plains coffee shop where the interview takes place, she asks for her photograph to be taken instead.
It becomes clear in the interview that her name—Tchinda—is synonymous with the Cape Verdean transgender community. It is an honor she takes great pride in.
Watch the trailer below:
«Tchindas» Trailer from doblebanda on Vimeo.