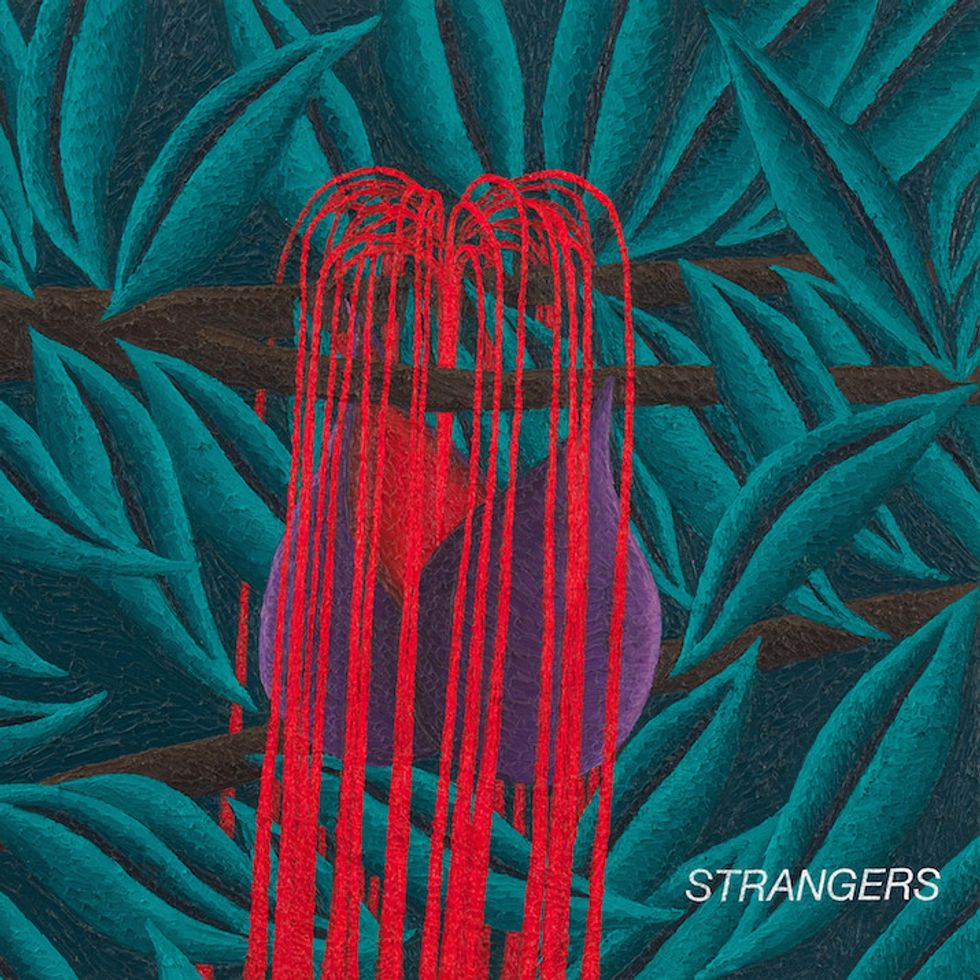 ---
New York City-Rio de Janeiro producer and multi-instrumentalist Gabriel Cyr aka Teleseen 's fourth full-length Strangers is set to come out next week on Feel Up Records , the Brooklyn-based label founded by Major Lazer 's Jillionaire . The album combines production influenced by zouk, afro-house, afrobeat and Ethio-jazz with live instrumentation from an array of collaborators.
"This record is inspired by my experiences living and working between Rio de Janiero and New York the last couple of years," Teleseen writes to Okayafrica via e-mail, "two cities with wildly different views on themselves and their place in the world. New York is aggressively cosmopolitan, with an infamously short memory, while in Rio the tendency is to look inward, towards the past. For me the record is about how your surroundings influence you and you in turn influence your surroundings and the intersection of these two competing outlooks. I'm constantly reminded that music is an incredible passport that allows musicians and listeners alike to cross borders without really crossing them, and to translate and access cultural information that they would otherwise be cut off from. For me its in these encounters, people and ideas, that the really interesting stuff happens."
At its core, Strangers is a shape-shifting album for the dance floor that plays off Teleseen's past as a jazz musician and pirate radio DJ in Brooklyn. Fusing diverse elements of electronic production, dub, soukous through a Brazilian lens the LP  aims to "soundtrack a nomadic world connected by rhythm." Speaking about the African influences on his tracks Teleseen mentions:
"The African influence is pervasive on this record, as it is on a lot of my work. Beyond the obvious genre influences of Ethiopian music on "Lose You" and "Emergent," zouk and soukous on "Outlines," and afro-house on "Distant Drums," the way I naturally approach music is very informed by African music. I tend to make sense of rhythm and melody more in terms of interlocking phrases and patterns and less in terms of beats and measures. When producing I like to build up layers of syncopation and then work backwards, taking things away rather than adding, finding the structure of piece by shifting the emphasis on the different parts. It's an ongoing joke between myself and some of the musicians who contribute to this project, that it can be difficult to figure out where the down beat is when we are recording. A lot of dance music has this approach and aesthetic as well. Perceiving music in terms of loops or phrases instead of linear progressions."
Teleseen will be hosting an album release party alongside Bajah of The Dry Eye Crew at a special edition of AFRICAINOIR at Bushwick's Bizarre this Saturday, get all the show info here . Stream our premiere of Strangers , which is out June 9 on Feel Up Records , above and watch the music video for "Outlines" below.