DIASPORA—African dads love WhatsApp.
---
If you surveyed any group of the children of African immigrants they would tell you about the hilarious, tender and sometimes strange, shared experience of receiving chain style messages every day from our parents on WhatsApp, especially our dads.
Religious material is a favorite topic among the chain messages ranging from daily scriptures, uplifting art to the more fervently worded evangelical topics. "My dad is usually quiet so imagine my shock when he started sending me bible paragraphs each morning," says Nana Ashanti.
However for every pious message, there are the weird and annoying ones that come along with it. Rumors and conspiracy theories spread like wildfire across the platform, and no matter how outrageous the story—if it's on WhatsApp it lends the outlandish things credibility.
"African Parents have taken WhatsApp as their news channel, whereby they believe almost anything or everything forwarded to them by their friends or family," says the comedian Emmanuel Acheampong whose dad hails from Ghana.
"My dad sends me messages almost about everything on WhatsApp, which is, bible quotes, Good Morning messages, a flyer that says "God Bless America," prayer topics, a picture slide audio with a worship song playing in the background a video of 'How Chinese People Use Plastic to Make Rice' and just a whole bunch of random videos," he says.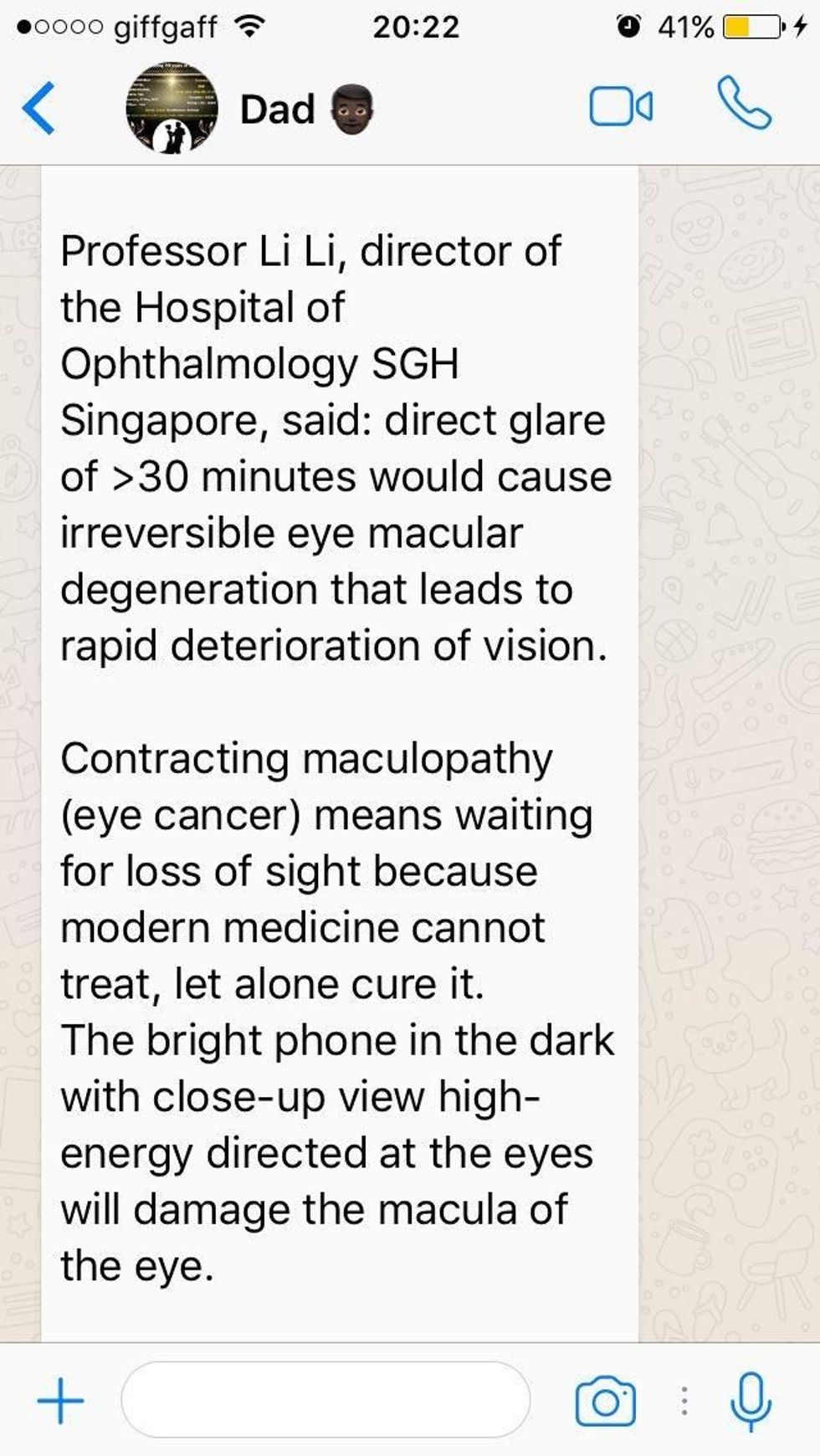 Screenshot used with permission
As the generation most defined by its relationship to technology, perhaps the constant missives are simply their way of staying connected to their children. However, whether it is daily Bible verses or fake news, it can come off as a constant nuisance. "To be honest, I can't be bothered to read 12 lines of someone's interpretation of the Bible. I don't think he reads them either. Probably honoring the "please share" command at the end of the message. Just being a polite African, I guess," Ashanti admits.
The messaging service boasts a massive global reach of over 1 billion people in 180 countries and has been so popular that that Facebook snapped it up in 2014 for a whopping $19 billion. South Africa can claim it as the country's favorite app, and in many of other countries around the world, it continues to be one of the most used apps.
With so many users worldwide, WhatsApp is an easy way to stay connected to friends and relatives back home, as well as the community at large. The platform is so accessible, and to a community of immigrants that are citizens of the world, it's a perfect and (mostly) free way to maintain social connections.
Princella Boateng recounts a message her dad sent her about the danger of using smartphones in the dark causing eye cancer: "when I questioned him about his message [it] did make me laugh," she says.
Acheampong, takes the poke fun approach as well. He makes videos online where he creates characters such as the "African mum" and makes fun of the stereotypical things African parents do. His "When African Parents Discover Whatsapp" skit particularly resonated with people—"everyone messages me to tell me how accurate the video is because they go through the same thing."
In a culture where fake news and hoaxes abound on every corner of the internet, having your phone assailed with strange news and conspiracy theories from our parents multiple times a day is less than ideal. But there's also a tender side to it as well–taking the time to spread some positive messages, even though it may be just because they worry about our eternal souls is heartening. "I can't even count how regularly my dad sends me WhatsApp messages. I get at least a couple a day!," Boateng recounts.
"Although they can be annoying at times, African parents should never stop with their WhatsApp addiction because it does keep me entertained."
Maybe they should just stop sending them everyday.