Johannesburg's own Mantsho clothing brand has become a household name thanks to the bold work of its founder and creative director, Palesa Mokubung.
Designing both ready-to-wear and red carpet creations for her clients, Mokubung has been honing her craft as a designer since creating her label in 2004. Meaning "Black is Beautiful" in Mokubung's native language Sesotho, Mantsho is best known for its vibrant fabrics, bold and edgy designs with distinct silhouettes and structure. Her collections have been seen on runways in Senegal, Greece, New York, India and Nigeria, however her collaboration with Sweden retailer H&M may mark her biggest industry splash yet.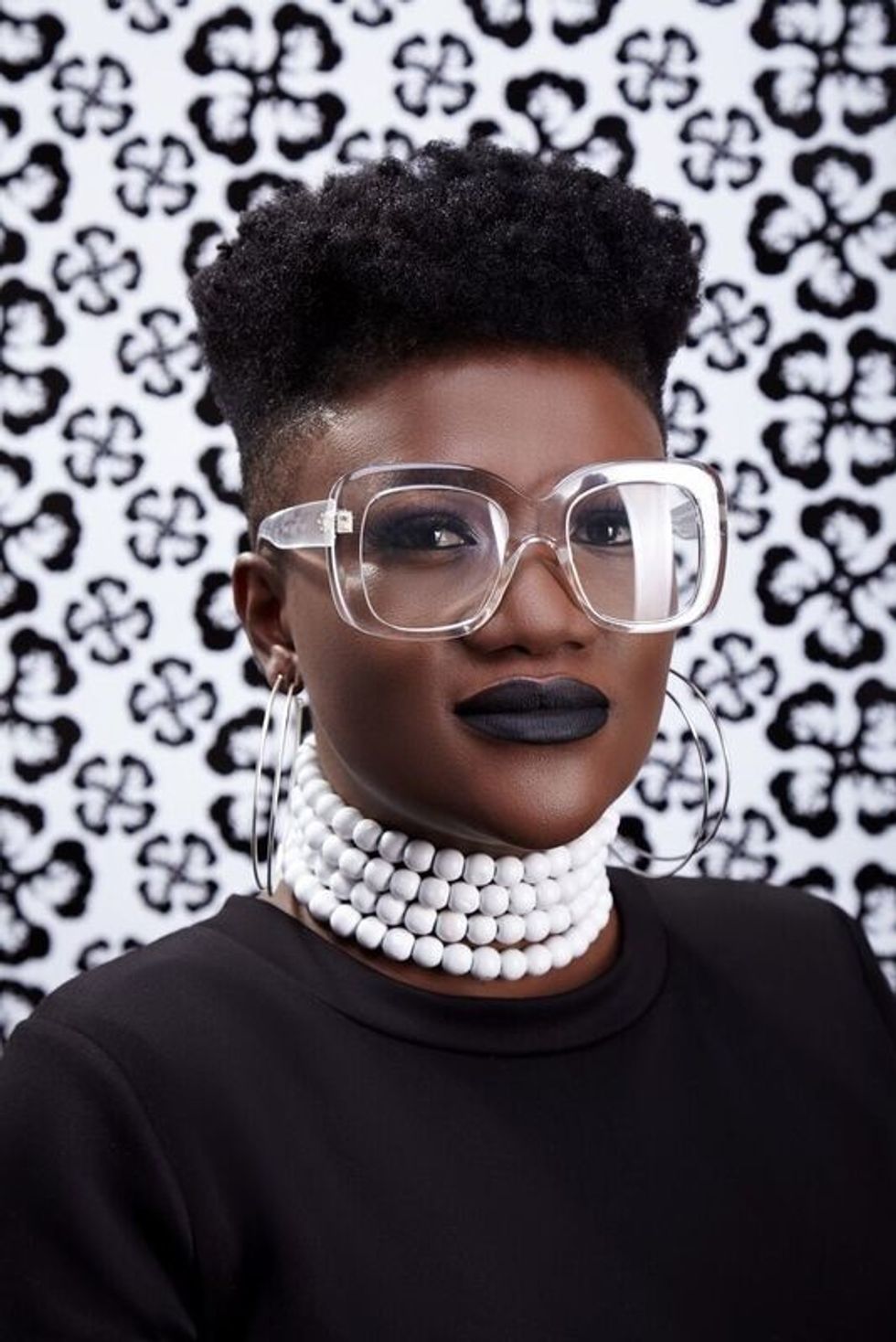 Palesa Mokubung Photo: Courtesy of H&M
"I chose the name 'Mantsho' to speak to my love and my appreciation for the strong black woman," she tells OkayAfrica. "Even though it's been over 15 years, I'm still inspired by my original work because I'm only just now starting to understand and sort through them. I guess that I can say that I've created this Mantsho world that has become an inspiration on its own to both myself and to others."

Mantsho is the first African label to collaborate with the retail giant who was heavily criticized last year in South Africa due to an advertising display of a young black boy clothed in a hoodie with the word "Coolest Monkey in the Jungle." Several stores in area were vandalized and finally closed as a result of the customer outrage.
"This was a big mistake and we simply got it wrong," H&M's manager for South Africa, Oldouz Mirzaie tells a room of journalists at a scheduled press conference. Mirzaie adds that removing the racist hoodie advert and the hoodie itself from stores was not enough.
Photo: Courtesy H&M
As a result, the Mantsho X H&M Collection is currently online and in 11 countries including South African H&M retail stores.

A true Mantsho garment can be identified by its confident silhouette, structure and colors. These three elements work well to describe Mokubung's knowledge of her craft. "I decided to go back to school to get my degree right in the middle of it because it wasn't working for me. I had the talent but not the qualifications and I didn't want anything standing in my way. When big opportunities like this came my way, I wanted to make sure that I was worthy of it because I've put in the time," Mokubung tells SABC TV.
"I now understand how retail works. I understand the mind of the consumer and their lifestyle. I think that's why H&M wanted to get into business with me. My talent is undeniable. I know that but you still have to put in that work. I know certain parts about retail. There are pieces that I sell in the store for say R2500 and you can get them at the Mantsho X H&M Collaboration for a fraction of the price maybe R900 or R800 which is the average price point and they needed a designer that would not oppose that because they understand that the life of this project is short."
Photo: Courtesy of H&M
Shapes and colors are big characters in her designs as she believes that is where a woman stores her confidence. "This is my love letter to the world from Africa," says Mokubung. "I hope customers around the world will enjoy this ensemble of my stand-out pieces from my last three collections." Through this collection, Mokubung wanted "to celebrate the beauty of women and the vibrancy and diversity of the African aesthetic, its textures and its colors."

The brand has a signature, a face-floral motif that's spotted across its main line—it's so core to Mantsho it had to appear in this capsule (and it does, in three new prints, created by Mokubung on the occasion of this partnership). Products, which range from apparel to accessories and footwear, start at $24.99 and cap out at $129 and are on sale for a short period of time.
"I'm happy that, from the onset, H&M gave me full rein to be authentic in my designs, which are influenced by the life of the modern African woman," Mokubung says. She wanted to represent "the best of Mantsho,"
"And I'm hoping it won't be in stores for more than four weeks," says Mokubung.