Film and Music:
---
DIASPORA—Nigeria's very own Wizkid and Tiwa Savage are set to perform at this year's Budweiser Made In America Festival. British-Ghanaian grime heavyweight, Stormzywill also be in attendance.
The annual festival will take place from September 2-3 at Philadelphia's Benjamin Parkway. Jay Z, who's also the festival's founder, will headline along with J.Cole, Solangeand the Chainsmokers. Visit the festival's website for more details and ticket information.
Excited to be playing at Made In America Festival in September!!

For more info and tickets head to @MIAFestival pic.twitter.com/3wppHxPahk

— Kelela (@kelelam) May 2, 2017
DIASPORA— Senegalese-American talent, Gabourey Sidibe's memoir This is Just My Face: Try Not to Stare, was released on Monday (May 1). Sidibe gets candid about her experience navigating Hollywood as a plus size woman, and tackles themes of self-love, body image and more. You can listen to Sidebey read an excerpt from her book debut via NY Daily News.
DIASPORA— The depiction of Dear White People's only African character, Rashid Bakr, isn't sitting well with just everybody. The adapted series, based on the 2014 film by the same name, made its Netflix debut on Friday (April 28) to mostly rave reviews. However, many are calling the character an inaccurate and stereotypical portrayal of African students at ivy league universities.
In a review of the show, Aisha Harris of Slate writes: "A token African side character—if they ever specify what country he's actually from, they breeze right past it—might rub viewers the wrong way, since he mainly exists to be on the receiving end of his black American classmates' foreign-related jokes. Read the full review here.
Politics:
NIGERIA— Last week, Nigeria's Minister of Information and Culture, Lai Muhammed, caused quite the stir over the weekend, when he claimed that Senegalese jollof rice was superior, after being asked which country made the dish best by CNN anchor Richard Quest. The country's Vice President, Yemi Osinbanjo, challenged Muhammed's claim on Monday during a panel discussion on Nigeria's economic recovery. "And by the way, we all know that Nigerian jollof rice is the best," he remarked. "We beat the Ghanaians and the Senegalese hands down." Read more on this story on Vanguard.
Revisit OkaAfrica's Jollof Wars taste test, where we attempted to discover which country really makes the best jollof.
Fashion:
DIASPORA—African celebrities stunned at this year's Met Gala Benefit, which took place on May 1. We highlighted some of our favorite looks from previous Met Galas on Monday, and below we take a look at some of this year's fashion, featuring Kenya's own Lupita Nyong'o, mutlitalented Nigerian actor Cynthia Erivo, South African funnyman, Trevor Noah, Ghanian editor and chief of British Vogue, Edward Enninful and more.
Just trying to figure out which colour can't @Lupita_Nyongo pull off? Nope, she owns them all. #metgala #metgala2017 pic.twitter.com/mn4pHXGF2t

— PsychologyofFashion (@PsychOfFash) May 2, 2017
Award winning actress, @CynthiaEriVo adorned in Mikimoto last night at the 2017 Met Gala. #Mikimoto #MetGala pic.twitter.com/AooYlNBpD1

— Mikimoto (@Mikimoto_US) May 2, 2017
.@Trevornoah wore a black wool peak lapel tuxedo at the Met Gala 2017 #metgala #metgala2017 #trevornoah #hollywood #dapper pic.twitter.com/bTOdCAs6I4

— HELLO! India (@HELLOmagIndia) May 2, 2017
.Edward_Enninful, OBE ahead of yesterday evening's #MetGala wearing a custom Burberry tuxedo pic.twitter.com/VDwXjfChqn

— Perfect Clothes (@perfteenclothes) May 2, 2017
RAMI IN TOTAL RED #MetGala pic.twitter.com/aeQFpTAt95

— drama lama (@pondgitsune) May 2, 2017
Not all heroes wear capes. Some wear couture cape dresses by @MaisonValentino Ruth Negga at the #MetGala pic.twitter.com/5EhTx8GLlc

— Looklive (@Looklive) May 2, 2017
Jaden Smith's "African inspired" look is also worth an honorable mention.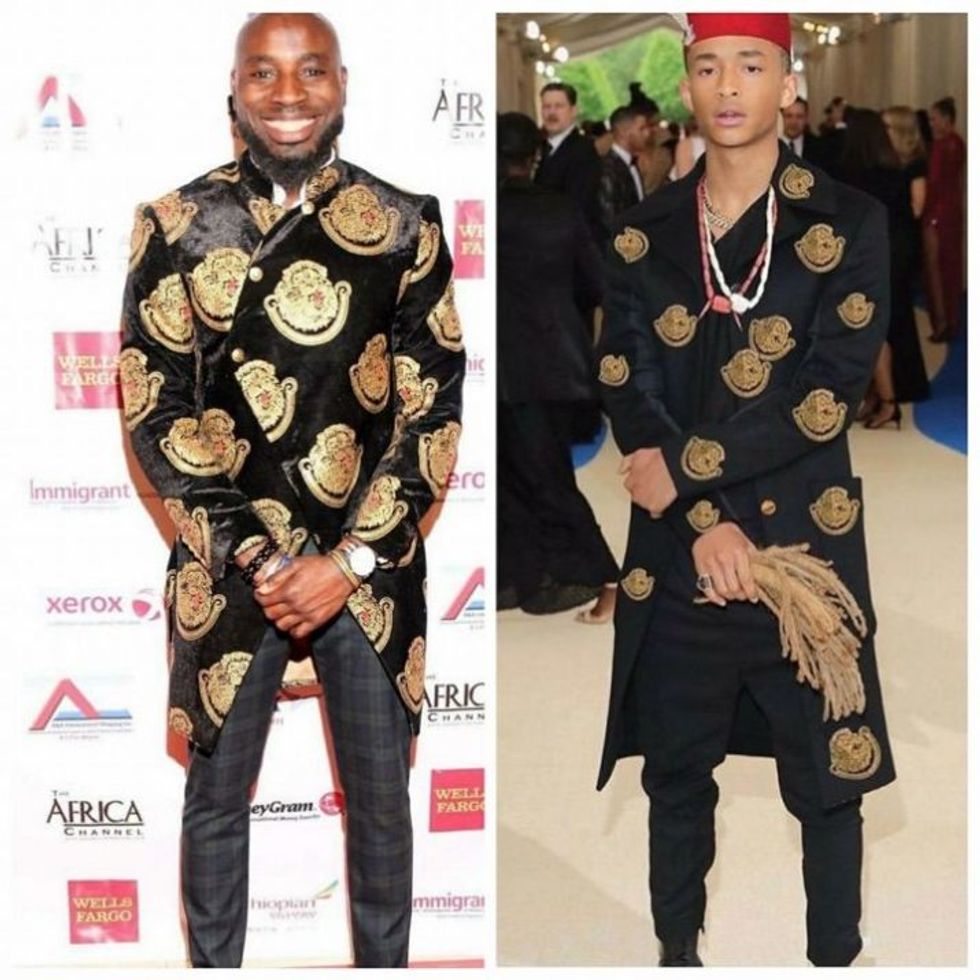 Sports:
DIASPORA—Ghanaian-Italian soccer player, Mario Balotelli, took to Instagram over the weekend, and blasted Kim Kardashian, after she posted photos of herself at the beach, wearing a bikini, reports Sport Bible. "Kanye What is this? How can you chop this?" he wrote in a post.
Mario Balotelli rates @KimKardashian then😂 pic.twitter.com/lQE3nN4tOO

— LordCKS (@LordCKS) April 26, 2017
DIASPORA—Ghanaian soccer star, Sulley Muntari, is the latest victim of racial abuse at the hands of European soccer fans. Muntari walked off the field during a game in Italy on Sunday, after receiving racist remarks from people in the audience. He then asked the referee to stop the game, but he was booked for dissent, and given a yellow card instead. The incident has once again reignited the conversation around racism in international soccer, and how such occurrences should be dealt with by the sport's officials, reports Quartz Africa.