There's a moment in The Woman King where Thuso Mbedu conveys her character's pain with a vocal desolation that rings out through her cries. It contrasts the quiet might with which the 31-year-old actress shouldered the role of Cora in Barry Jenkins' Emmy-nominated series The Underground Railroad. While fans back home in South Africa have known of her ability to wholly embody a character, as she did with Winnie in Is'thunzi – a part that earned her two International Emmy nominations for best performance – audiences beyond the continent are fast-learning Mbedu's name too, thanks to her latest role.
In The Woman King, directed by Gina Prince-Bythewood, Mbedu plays Nawi, the newest recruit to the Agojie, an all-women army of warriors that protected the African kingdom of Dahomey in the 1800s, in what is now known as Benin. Oscar-winning actress Viola Davis plays the Agojie's leader, Nanisca, a role model to Nawi and also her harshest critic. The film premiered at the Toronto International Film Festival where it drew passionate praise, especially for Davis and Mbedu, with Vanity Fair dubbing the South African actress the film's "crown jewel."
Anyone following Mbedu on social media will have seen the actress' unbridled enthusiasm for The Woman King, her big-studio feature film debut, and follow-up role to The Underground Railroad. The Barry Jenkins-directed series, based on Colson Whitehead's novel, made Mbedu the first South African to lead a U.S. TV series. It also gave the young actress the confirmation that she was on the right track, after having moved herself to LA to try her luck in pilot season. Along the way, the role also allowed Mbedu to heal wounds she didn't know she had. "Nawi," she tells OkayAfrica, "gave me a voice."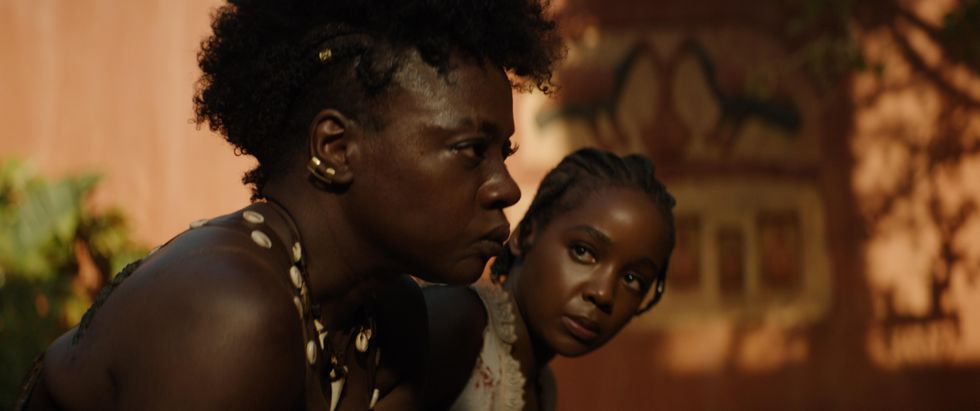 Viola Davis plays the warrior general, Nanisca, in The Woman King, who is a role model for Thuso Mbedu's Nawi.
Photo: Sony Pictures © 2022 CTMG, Inc. All Rights Reserved
"I realized, prior to shooting this movie, that I essentially was living my life apologizing for existing, simply because I was a darker-skinned Black woman and society had constantly silenced me; had told me, 'Your voice doesn't matter,'. Through the story, through working with Gina and Viola, my opinion mattered. As opposed to Cora, who still silenced herself, Nawi had an active voice that she used and made a change with."
The opportunity also provided Mbedu, who's now based in LA, with the chance to go back to her home province of KwaZulu Natal (KZN) to film. The production used KZN and Cape Town to re-create the backdrop of West Africa and lend its essence to the film, which features a cast of diverse actors from John Boyega, who plays King Ghezo, to Sheila Atim, who plays the Agojie's spiritual advisor, Amenza. It was a joy for the cast to shoot on the continent but for me, Mbedu, extra special: "Imagine touching down and being able to speak your mother tongue!"
The cast spent the first two weeks in KZN before going to Cape Town. "For me, it really was important," says Mbedu, acknowledging the historical contexts of both areas in a film that takes place within the context of the transatlantic slave trade.
"In Zululand, we still have the king and a monarchy, and I've had the privilege of going through and seeing the different places that are named after the history of what happened in that space. So you know exactly what you're stepping into, at every given time," she says. "I've also had the privilege of being shown the history of what the monarchy has done in KZN, and so finding out that we're going to start production in a space that understands what the story is that we're telling, was very, very meaningful to me."
Cape Town, which Mbedu says showed more of the colonizer's history, was used to re-create the slave port of Ouidah. "It was very significant to the story. The locations were very specific, very significant," she says. The beauty of the landscape shown through too. "KZN, Zululand, specifically, has a lot of untouched land, hence being able to see the animals and all the greenery," she adds. There's a waterfall scene that takes place between Mbedu's character and a slave-trader that was shot against a waterfall. "I heard someone ask, 'Was that a green screen?' That was real!"
Also real was the physical preparation Mbedu went through before shooting began. Like the rest of the cast, she had to undergo intense training, which she documented on social media. She did weapons and martial arts training, including Muay Thai, and also worked with a running coach to improve her sprinting. It was worth it; on screen Mbedu is thoroughly believable as a small, but powerful young fighter. And a worthy heir to Davis – not that she's going anywhere anytime soon. The 57-year-old actress is a formidable leader, both on-screen and off. It's her work that's paved the way for younger actresses like Mbedu and she is eager to pass on the reins.
"It's the only thing that makes my life meaningful," Davis told OkayAfrica. "Absolutely. Without a question. I always say that there's a difference between a goal and a purpose. A goal is just a goal. You can write a checklist, and check the box. A purpose requires vision. And for me, your only job, in your dash of time you have on this Earth is to do the best you can, to run your leg of the race and pass your baton on to the next great runner who's going to take the baton, and take their dash of time, and move our narrative further."
Davis sees Mbedu as one of the next great runners. "Viola is literally like, 'Take the baton, take it,'" says Mbedu. "She's fighting for us. She's fighting for this baton and giving it to us," she adds. In The Woman King, Mbedu not only runs with it, she chases it down.