You always remember your first time. Mine was November 2007. I can't remember the exact day, but I remember how I felt—so nervous. I had bought the necessary supplies and I was well prepared and all I could do was wait for the day to come. When it finally came, I packed my bags, headed to the airport and boarded the plane. For the first time, I would be traveling to a new country by myself.

---
I knew no one on the flight from London to Paris. I was slightly uncomfortable, wondering if people were looking at me oddly since I was traveling alone, but they weren't. No one was paying me any attention. When I landed in Paris, I was nervous. I was meant to meet a friend, but I couldn't find him. I hopped on a kiosk that allowed you to connect to the internet. He had not emailed me. We hadn't made proper plans and I didn't know what to do. I waited for an hour, checking my email incessantly. No new messages. I decided to book a hotel and send him the confirmation to meet me there. I knew nothing about Paris, really. I just booked a four star hotel near Champs-Élysées. It seemed safe. I asked for information on how to get to the hotel from Paris' Orly airport. I was told to take the train.
When I arrived in the city center, it seemed no one spoke English. I used my French to ask for directions, but the Parisians seemed exhausted by me. While my sentences were perfect, I am sure my accent was horrendous. After a long struggle trying to navigate the subway, I gave up and went above ground. I was in tears. I was frustrated and had no clue where I was going. I found a taxi driver and told him where I wanted to go. He gladly drove me the 15 minutes to the hotel. I later found out that where I'd picked up the taxi was a five minute walk from the hotel. Bastard. I checked into my room, expecting a big comfy bed that would swallow me whole and make me forget the whole ordeal. Instead, I walked into a cramped space with two hard twin beds. Welcome to France.
---
Since that trip to Paris I have traveled to over 20 countries alone on five continents. Sometimes I am "alone" the whole time, sometimes I am able to meet up with friends or friends of friends, but I would not change that first experience in Paris for anything. While thinking about that experience still makes me anxious, I survived and it helped me realize that I could really do this traveling thing. If you can survive being a tourist in Paris, you can survive being a tourist anywhere.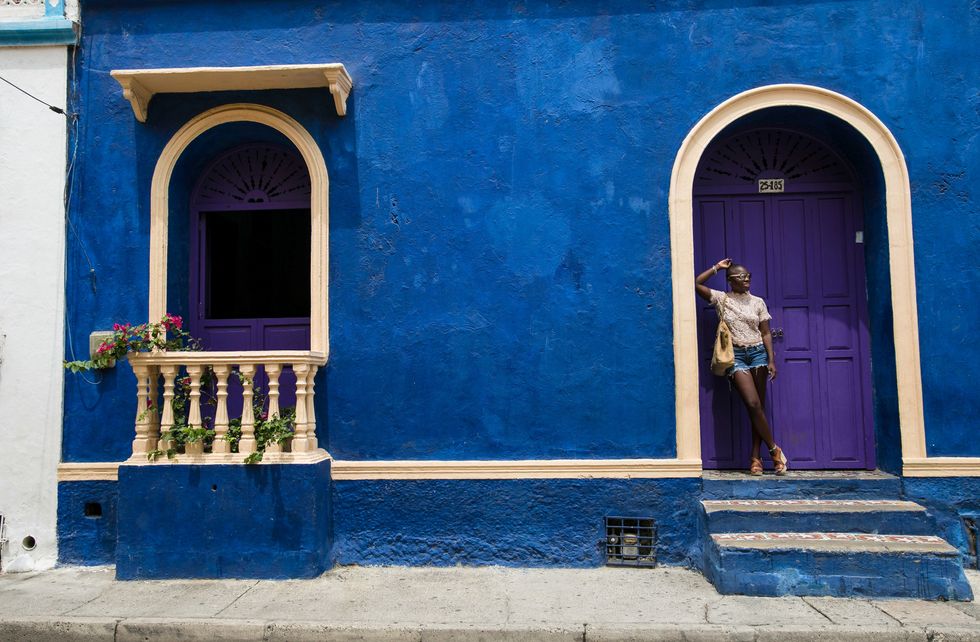 Cartagena, ColombiaPhoto courtesy of Jessica Nabongo
We have all seen the memes about group trips. In the planning stages it starts with 20, then falls to ten, then five and then it is just you. Many people rather cancel than to travel by themselves, but I am here to tell you to just go! Will your friends ever travel? Maybe, but what if they don't? Are you going to put off seeing the world until you can convince someone to go with you? By the time that happens the Maldives could be completely submerged.
Traveling solo is not as scary as you think, but as with anything you should ease yourself into it. Here are a few tips for first time solo travelers.
You are never really alone
Traveling solo is a great opportunity to meet new friends. Whether you are staying at a hostel, hotel or Airbnb if you are open to it, it is very easy to meet new people who you can travel with in the future! Try eating your dinner at the bar instead of at a table. That will make it easier to talk to people.
Pick a location where you will feel comfortable
When traveling solo, being safe is essential and the key to feeling safe is to be comfortable and confident. Finding a place where you feel comfortable might mean going somewhere where you speak the language or perhaps visiting a place that a friend has previously visited and can fill you in. Regardless of where you go, walk through the streets of the new city with your head held high so people are less likely to take advantage of you. Make sure you check your directions before leaving the hotel, rather than constantly looking down at your phone. This way you will also see more of the city. We miss so much by always looking down at our phones, plus someone can catch you off guard when you aren't paying attention to your surroundings.
Pick countries that are known for solo travels
Great places to start your solo travel journey are typically cities that have the infrastructure to accommodate solo travelers. Some good ones include: Kigali, Johannesburg, Cartagena, Chiang Mai, Bali.
Jessica Nabongo is a wanderlust, writer, photographer, entrepreneur, podcaster, public speaker and travel influencer. At her core, she is a dreamer crafting a life and career that interconnects her passions and talents. She has visited over 100 countries on six continents. You can follow here on Twitter and Facebook and Youtube.