The rise of Tokyo James in the fashion industry has been steady. Just a decade ago, he was a stylist and creative director, working throughout Europe and directing digital campaigns for brands like Puma and Brioni. Then came Rough UK, his digital magazine where he worked as an editor. And now, the British-Nigerian designer has become one of Africa's most celebrated fashion designers.

As a child, James didn't pay attention to fashion though he came from a very stylish and exuberant family who exposed him to an overwhelming width of Nigerian clothing. However, in James' teens, he discovered his voice and found an eccentric love for style.
James founded his eponymous menswear brand in 2015 with the mission to offer modern men a simplistic choice of fashion with an avant-garde taste. Bold and experimental fabrics are something synonymous with the brand Tokyo James. With more emphasis on texture, the brand operates with a traditional technique, using structured silhouette and unique sartorial sense for clothing to create unconventional elegance.
Currently, James is one of the 8 finalists of the 2022 LVMH Prize for Young Fashion Designers out of the 1900 applicants of this year's prize. In previous years, the prize has witnessed African talents like Thebe Magugu, Kenneth Ize, Bayo Oke-Lawal and Lukhanyo Mdingi.
OkayAfrica spoke with Tokyo James about his intro to fashion, growth, finding his brand and being a finalist of the LVMH prize.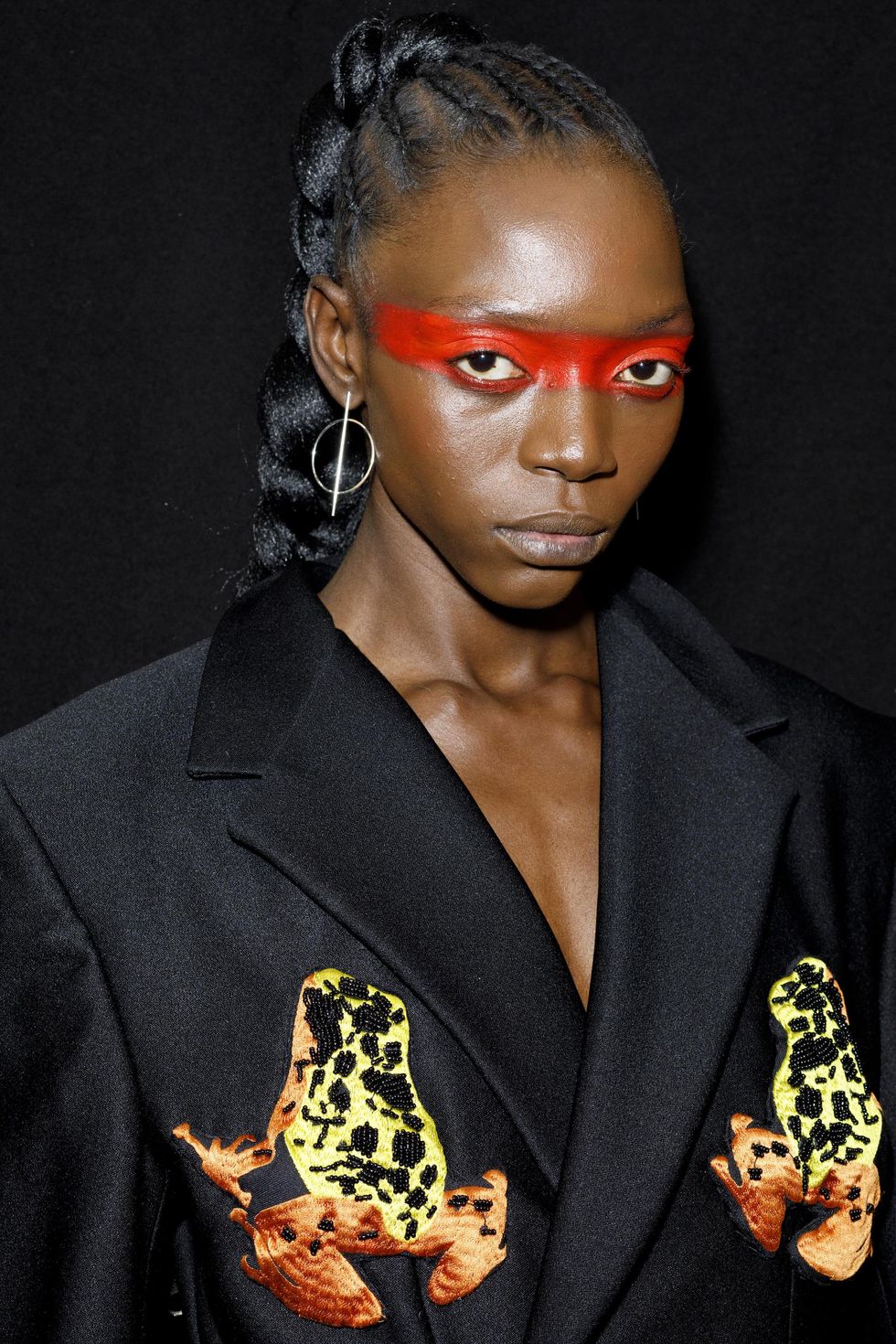 A model poses backstage of the Tokyo James fashion show during the Milan Fashion Week Fall/Winter 2022/2023.
Photo Credit: Rosdiana Ciaravolo/WireImage
You studied mathematics in University, what was it like doing that and then chasing a career as a fashion designer?
I did study Mathematics, but I never really fitted in with the course back in the University. So trying to get what I actually wanted outside university was my way out. I kind of had an active social life while studying mathematics especially because I was exploring the fashion industry. Because of my disinterest in Mathematics, I was styling music videos, doing digital campaigns for brands and I also had my own magazine at that time which I was concentrating on working on. So yeah, studying mathematics was just something I had to do to help me understand what I wanted to do in life.
Tell me about your brand? What inspired you and when was that.
As a brand, I kind of look at the touching point that celebrates true wealth and has emerged together. It could be from the most insignificant thing to something more significant that each culture or individual has in common with each other. We kind of merge traditional tailoring with the Nigerian sensibility when it comes to the style and aesthetic of how people dress but we keep it well-tailored because we are a tailored brand. I started my brand in 2015. At first, I never knew I wanted a brand because I was scared of having a brand. It was my mother's friend that told me to go for it.
Did you as a child have any close relationship with fashion and clothes?
I don't think I paid more attention to fashion as a child, I think it's when I grew up that I really did find my voice and fell in love with it. I come from a very flamboyant family growing up as a child. There was always a party. So, yeah, I can say I experienced fashion from a Nigerian sensibility while in London but I really did get to fall in love with fashion while I was a teen.
Your designs are bold and vulnerable. Did you center your brand on the notion to break the countless stereotypes surrounding masculinity and to express fluidity?

Yes, I started the brand as a means of giving men more options to wear, offering them a more stylish variety from what they are kind of used to. Guys are pretty much safe in what they do and how they look and express themselves. So I wanted to keep the masculine but at the same time make it bomb.
As a fashion designer, what specifically moves you about fashion?
People move me the most. In fashion, you get to meet so many amazing people and not including people you get to work with on a day-to-day basis but people around you. I think the biggest influence is the sensibility that you are in an industry with so many lovely people with simple ideas ready to educate and push you forward and that's what excites me most about fashion.
Tell me about the textile technique and inventory you fuse with your brand?
It depends on what garment you do. We invented new means of creating a new bag which is one of the silhouettes. We manipulated a lot of leather because people in this part of the world are not used to making things from leather so we teach them to manipulate the process.
What is it like being an LVMH prize finalist
I feel so grateful. All one could [feel] in these situations is gratitude because I'm amongst really talented people who made it to the finalist and also people who were part of the top 20 who were extremely talented and also well deserving of this position. So all I can say is I'm humbled and very grateful.
I'm preparing to showcase my old collections for the LVMH prize. After that, I'm starting my new season collection.